Singer Jason Wade of Lifehouse Talks About The Band's Album Who We Are, Their Hit "First Time" And Writing Their Songs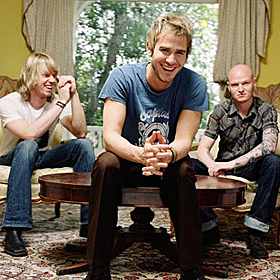 Jason Wade, founder and lead singer of Lifehouse, was only 19 when his hit song 'Hanging By A Moment' took his band from obscurity to pop stardom. One minute, the band's label Dreamworks was paying people to come to their gigs, and the next, the band was opening arena shows for Matchbox 20. On the just released Who We Are, Lifehouse's fourth album, Wade – along with bassist Bryce Soderberg and drummer Rick Woolstenhulme – gets back to the loose, freewheeling approach to writing and recording that led to that first hit and the band's subsequent success over the past seven years.
'Hanging By A Moment,' from Lifehouse's 2000 album debut No Name Face, was an across the board smash, hitting #1 on Billboard's Modern Rock and Adult Top 40 charts and #2 on the Hot 100. Impressively, No Name Face was certified double platinum. Then in 2005, Lifehouse scaled the Modern Rock and Adult Top 40 Charts again with the hit ballad 'You And Me,' which reached #5 on the Hot 100 and appeared on the soundtrack of the TV series Smallville. Notably, the band's albums Stanley Climbfall (2002) and the self-titled Lifehouse (2005) were both gold-selling efforts.
'First Time,' the debut single from Who We Are, is keeping the momentum going as the band tours the U.S. this summer with the Goo Goo Dolls. Upon its release in May, the single became the #1 most added track at Adult Top 40 Radio. The song, a fond look back at the excitement and initial rush of romance, quickly rose to the Top 10 on Billboard's Adult Top 40 Tracks chart.
In a recent interview, Wade discussed the exciting results of the 'nonchalant, less thought out' way he and his bandmates went about creating an album that fully lives up to its title, Who We Are. 'Last September, two weeks after we got off the road, we started writing on the spot in the studio,' he says. 'The interesting thing is that we recorded almost every single song on the day it was written. There was something amazing in just diving right into capturing the moment without even creating a demo first. It was great using so many first and second takes. In the past I've found that when you record the conventional way, doing the demo first, it's hard to recapture the initial magic. So we liked the process this time.'
'The time constraints worked in our favor, actually,' Wade adds. 'We knew we didn't want to take seven or eight months to write and produce the album, so we just went with the flow. My favorite experiences in the studio are the ones that happen unexpectedly and spontaneously. A perfect example on this album is the piano ballad 'Learn You Inside Out.' The three of us were trying to come up with new ideas all day and we were creatively tapped out and ready to go home. I sat down at the piano and came up with these chords. Then Rick started playing a drum groove, Bryce chimed in with a cool bassline, our engineer hit 'record', and we literally had the song done in 15 minutes! You never know when the inspiration will hit or that kind of magic will happen. But that's what we love about what we do.'
Another powerful moment during the making of Who We Are happened after 11 tracks were done and everyone thought that the project was completed. Wade took a trip to Nashville to visit a friend of his, Scott Faircloff, who was in the hospital in need of a new kidney. This friend was the one he says taught him his first chords when he was a kid.
'I was taking a much-deserved break on this trip and had no plans to write any music,' he says. 'I hung out with my friend and then went back to my hotel and tried to go to sleep. Hanging out with him, seeing him like this, was very upsetting. After tossing and turning, I got up and wrote 'Broken' in 10 minutes, with tears streaming down my face. I haven't written anything so quickly since the first record. The next day I played it for him, tracked it and later I brought the original demo home. Because I used the original vocal I recorded, I gave Scott the production credit on the vocal.'
In the past, Lifehouse has worked with several notable producers, including Ron Aniello (who helmed their first two records) and John Alagia, who produced and played multiple instruments on their self-titled 2005 album. On Who We Are, Wade and his band handed the reins to hit writer/producer/artist Jude Cole, who has also managed Wade since the singer was 16. Cole had executive-produced the band's previous album, which was recorded at Ironworks Records studio, which Cole co-owns with actor Kiefer Sutherland.
'Like everything else having to do with this project, Jude's coming on board as the hands-on producer came about very naturally and nonchalantly,' says Wade. 'He opened Ironworks to us as a place for us to start writing, and as we got rolling, he helped co-produce some of the tracks. It just evolved from there and felt very comfortable. I've known him forever and he knows every song in our catalog, so he was actually the perfect choice. I also like the fact that he knows where to push me vocally. He tried to stretch us and help us grow musically as well. The end product is great and I truly believe Who We Are will take us to the next level in our career.'
As a songwriter, Wade has long believed that there's simply no way to sit down with the intention of crafting the perfect song – if he's not inspired or honest with himself, it's just not going to mean anything to him or the listener. One song on Who We Are takes the singer back to his early days when he was first learning to express himself with music and lyrics; he wrote the album finale 'Storm' when he was 16 and going through some hard times. The original version of the tune was included on the band's first indie record, when they were known as Bliss and pressed a modest 1,000 copies; that version has been circulated over the internet by the group's fans and was even licensed by the TV show So You Think You Can Dance. Wade decided to re-record it when he realized how much it meant to people.
'Revisiting that song reminds me of how much things have changed since I first started writing, and dreaming of being successful in this business,' he says. 'When you're first getting started, nobody has any expectations, everyone leaves you alone to succeed or fail. But then suddenly, you have a hit and everyone wants to get involved and put pressure on you. I think if I could go back now, I would have soaked up and enjoyed the moments more because it was easy to get wrapped up in getting our feet on the ground.'
'The key to keeping a strong creative flow in spite of all the business aspects of being a working band,' he says, 'is putting yourself in a cocoon or bubble and not worry about churning out hits but write what comes from the heart. Recording Who We Are, I felt more comfortable in my own skin that at any other time since Lifehouse got started. We don't have to worry about where we fit in anymore and are really comfortable with ourselves. Since Bryce joined in 2004, this has really grown into a unit with its own personality and style. We established camaraderie on the road and gelled as a unit. This record defines 'Who We Are,' which is why that's the title of it. The sound fits where we're at right now.'
Jonathan Widran is a free-lance music/entertainment journalist who contributes regularly to Music Connection, Jazziz and All Music Guide. He can be reached at [email protected]. He is also on Google+