Indie Pop Singer/Songwriter Lauv Talks About His Hit "I Like Me Better," And His Other Early Songs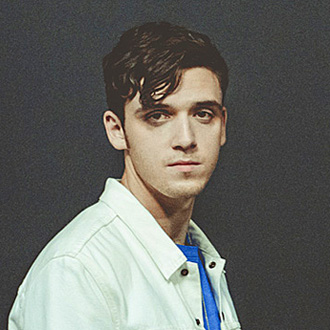 Last summer, emerging singer/songwriter Lauv embarked on his first U.S. tour and headlined at Summerfest and other festivals. This fall, the indie artist spent a month supporting Ed Sheeran on his Asian tour that included dates in Tokyo, Hong Kong and Bangkok. In addition, Lauv recently announced his upcoming 2018 tour which will include dates across the U.S. and headlining dates throughout Europe and Australia.
What makes the 23-year-old, Los Angeles-based artist's rise this past year so remarkable, is that he's grown his worldwide fan base without the benefit yet of a Billboard Hot 100 hit. This may be changing soon—his breakthrough single "I Like Me Better" has appeared on the Billboard Dance Club Songs and Mainstream Top 40 chart, and is bubbling under the Hot 100 chart. Impressively, his two videos (audio & official video) of "I Like Me Better" have a combined 41 million views on YouTube.
Lauv (whose birth name is Ari Leff), is a true example of how musical stardom can happen in this age of digital downloads and streaming. "I Like Me Better" has amassed more than 265 million Spotify streams and reached the Top 30 on the streaming service's Global Chart. In October, the single began receiving airplay on Z100 in New York, Sirius XM Hits 1 and Y100 in Miami. This track was the follow-up to the singer's debut hit "The Other," a song he wrote while studying at NYU (New York University). Lauv recently teamed with Spotify to debut an ongoing playlist project, titled I met you when you when I was 18, featuring all the songs he wrote at NYU. He also added his latest single, "Paris in the Rain" to the list in mid-November.
"The Other," which Lauv premiered on a friend's blog, became a huge viral hit and was included his 2015 EP, Lost in the Light. Relocating to Los Angeles, Lauv signed a publishing deal with Prescription Songs and scored his first major hit as a songwriter, co-writing "No Promises" by the DJ group Cheat Codes featuring Demi Lovato, which hit the Top 40 on the Hot 100.
"'No Promises' is a fun song that I started writing with some friends of mine from a New York artist group called Loot," says Lauv. "I'm friends with Trevor Dahl from Cheat Codes, and I played it for them and they loved it and started to develop it. It started from a track I made on my computer, and the trio built it piece by piece, and then we all collaborated on the production, lyrics and melody. It was a super collaborative process. Cheat Codes got their vibe going with it, and then they got together with Demi and she just crushed it."
Like all of the songs Lauv writes for himself as an artist, "I Like Me Better," which he co-penned with collaborator Michael Matosic, came from a more personal place. "I was reflecting fondly on the beginning of my relationship when I first moved to New York for school," he says. "I was in a place where I was honestly kind of lost. I didn't really know where I was going or exactly who I wanted to be. Out of nowhere, I fell in love. I didn't know about everything else in my life…I was trying to figure it out, but one thing I knew was that I was happier since I met that person.

Here's the video of Lauv's single, "I Like Me Better."
"It was the fastest song I ever wrote," he adds. "I sat down one day…I didn't have any lyrics and started playing some chords on my new synth that became the chorus. Then the post-chorus melody came to me and I hummed it into my iPhone. All these emotions were coming at me, and it was like they were flying around the room and I was trying to capture it. As he always does, Michael (Matosic) helped develop the song from those raw expressions into a beautifully produced track."
Something of a musical prodigy, Lauv started taking piano lessons at five, picked up the viola two years later and discovered the guitar at nine. As his family moved between San Francisco, Atlanta, and Pennsylvania, his tastes shifted between everything from Eminem and Green Day to indie bands Underoath and The Postal Service. During high school, the budding talent turned his attention towards production. After logging many hours in his bedroom writing and producing using his instruments and laptop, he entered the Music Technology Program at NYU. His original idea was to make music for other artists, but when he penned "The Other" and another song that became popular ("Reforget"), he put them online under the artist name Lauv. (Lauv is is Latvian for "Lion," a nod to his mother's roots in that country).
"I couldn't imagine someone else singing these words," Lauv says. "They were really special to me. I hadn't thought about being an artist for a long time. I put so much pressure on myself in high school, but this was something I had to do. It was the first time I was being vulnerable in a real way. It was exactly what I wanted sonically…I was being the most genuine I'd been to myself with this music.
"When I wrote my first songs, I had no inkling that any of this success would happen," he adds. "I went into the artist thing with no expectations. It was just an outlet to express myself. Part of me would love to say I had this vision of where I was going to go, but a lot of this process was discovering myself along the way. Things started to click at the end of 2016, when two years after it came out, 'The Other' got playlisted on Spotify. I have no idea how it got on there. A friend just texted me and told me it was there—and then it spread to other playlists and finally to Today's Top Hits. Every song I write brings me in better touch with myself. As a songwriter, it's my place to be totally honest and not try to be anything but real. I think people are connecting with that."

Here's the video of Lauv's new single, "Paris in the Rain."
Although Lauv's success as an artist came somewhat unexpectedly, he is happy to offer advice to fellow indie artists struggling to make such breakthroughs: "I feel like there are fewer gatekeepers than ever because of streaming outlets like Spotify, Soundcloud and YouTube. Some things are out of our control, but for an artist, the most important thing is to focus on the actual music and be as honest as possible. When I started posting my songs, I put it all on the line and my biggest concern is was being authentic and sharing what was in my heart. That's what people respond to, and when one person feels that special connection, he or she will tell their friends and soon everyone will be listening."
Jonathan Widran is a free-lance music/entertainment journalist who contributes regularly to Music Connection, Jazziz and All Music Guide. He can be reached at [email protected]. He is also on Google+