Lauren Daigle Talks About Her Hit Songs "You Say" And "Rescue," And Her Excellent Album Look Up Child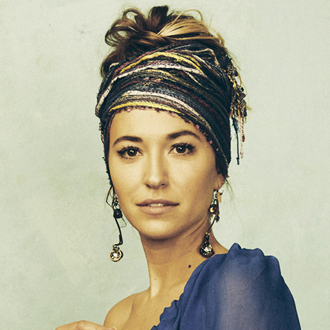 Update: Lauren Daigle won two Grammy Awards, for Best Contemporary Christian Music Album (for Look Up Child) and Best Contemporary Christian Music Performance/Song (for "You Say").
Daunted by the prospect of following her platinum-selling, award-winning debut album How Can It Be (released in 2015), Contemporary Christian Music star Lauren Daigle was haunted by the notion of the proverbial "sophomore slump." She prayed that each song would be potent, meaningful and true to her life experience, and pushed back the writing and recording of her follow-up album "four or five times" so that she could create it in the correct "heart and headspace." Pursuant to her faith that drives everything in her life and career, she need not have worried.
"You Say," the excellent lead single from Daigle's new album Look Up Child (which will be released on September 7), is the singer-songwriter's third #1 hit on Billboard's Christian Songs chart, and it became her first-ever single on the Billboard Hot 100 chart. It's clear that Daigle's powerful vocal performance and strong songs are propelling her to mainstream pop success.
Daigle's concerns were legit, considering her whirlwind three-year journey upon the release of How Can It Be. She earned Grammy nominations for Best Contemporary Christian Music Album and Best Contemporary Christian Music Performance/Song for "Trust in You," her first Hot Christian Songs #1, which stayed at the top of the chart for 18 weeks. She also earned two Billboard Music Awards, an American Music Award, six Dove Awards (including New Artist of the Year) and gold certifications for three singles. The singer also sold out headline tours and contributed the song "Almost Human" to the Blade Runner 2049 soundtrack.
Rather than dive right back into the studio with her longtime songwriting collaborators and producers Paul Mabury and Jason Ingram, Daigle took most of 2017 off, returning back home to Lafayette, Louisiana to once again, as she says, "appreciate the small things in life." She was present for the birth of her niece, and took trips with friends she hadn't seen for years to Tulum, Mexico and up the California coast. Obligated to visit Italy and Australia for business reasons, she took weeks off in both places to enjoy much needed vacation and creative recharging time.
"One of the things I try to do is write from a place of experience," Daigle says. "If I was going to create a follow-up album that was pure and true to me, I had to get experience under my belt separate from the craze of highs and lows, and get my life back to as simple a place as I could. Successful as it was, I didn't just want to regurgitate How Can It Be. I wanted to honor the fans and other people who were on the journey with me through that album, and give them new songs that were valid and beautiful—that could not only reach those who support me but also others who haven't yet heard me and maybe don't believe the things I do. I had to return to the beginning, to remind myself why I love what I do. Get out of the expectations and the pressure."
Reconnecting with the joyful surroundings of her birthplace gave Lauren the depth to say, "This is who I am. These are the truths I can hold onto and anchor myself to. Songs poured out of that place. I decided to go back to basics." She thought back to cherished memories, things like attending Lafayette's Festival International every year throughout her childhood. She thought about what was missing in the production of How Can It Be, and opened up this time to the gritty organic and handmade sounds associated with Louisiana's foundational music.

Here's the video of Lauren Daigle's hit single, "You Say."
Once in the studio, Daigle stressed to Mabry and Ingram that the aesthetic this time was going to include organic instrumentation, live musicians and a human, non-synthesized string section. She also dug deeper vocally, infusing the songs with a cathartic, raw and bluesy feel throughout. "There's something transcendent that happens in the studio or onstage when the trombone has something to say, the sax responds with its piece, and the drums kick in with its statement," she says. "I wanted that whole cultural community in that space. Especially on songs like 'You Say' and the title track 'Look Up Child,' I wanted to communicate that rootsy Louisiana soul-jazz element I grew up in. I thought about how my grandfather would teach me how to dance in the living room, that great cross-generational creative passion, and wanted to express that as well."
"You Say," which she penned with Ingram and Mabury, came from a place of being overwhelmed with the stress and obligations that success and fame were bringing into her life. "I remember thinking, like 'What is happening here?' Like I had gone from zero to 100 miles per hour before I knew what hit me. I was just waiting tables, and now I was on the red carpet holding awards. I was grateful for the appreciation and opportunities, but there was also this inner battle for my identity, like, Who am I? Both people, the Louisiana girl waiting tables and the so-called rising star at the Dove Awards, were me, but they were competing in my head. I needed to choose what my identity would be. So I went into these first writing sessions at Jason's studio feeling super restless. How could I collaborate when these expectations were all screaming in my ear?"
Jason and Paul picked up on this immediately and told Daigle that the key to making things work in this crazy new world was to get rooted again in what she believed in, and remember what it is God was saying about her in Scripture and via the proverbial "still small voice." The singer says the song is all about identity, the seeming dichotomy between how she may feel about herself on any given day—insecurities, fears and all—and the assurances of God that counteract those if only we let them in.
"I went in with all of that wrestling going on and the lyrics were birthed from that tension," she says. "I remember Jason sitting at the piano, playing a certain repeated chord and everything just seemed to melt into that. Maybe because of all these issues they were trying to help me resolve, it only took two hours to write. Amazingly, it was the first time we had collaborated since the first album. So we wrote it out of nowhere on an off day while touring. I thought it was going to take a long time to warm up and that we would have to write some bad tunes to get to the one we thought had hit potential. But we wrote it right away. Many of the other sessions went that way. For 'Look Up Child,' it was a combination of the three of us reconnecting with ourselves as children, and Paul's playing with his own kids. Those things led us to write a song designed to remind people that even as adults we can experience the hope and joy that we felt when we were young."

Here's the audio of Lauren Daigle's new song, "Still Rolling Stones."
Daigle grounds her advice for aspiring songwriters in this type of authenticity and the real life battles all of us fight every day: "Make sure you stay true to your sound and life experience. It may seem easier to cultivate a song that's inauthentic, but to be a true artist, the music should be about delivering something you can stand by and deliver with self-assurance and the security of knowing you have given it your all. There should be a natural ebb and flow with writing, so when you come across a brick wall, and it doesn't budge, don't be afraid of it. Just put the song aside for the moment and start something else."
Here's the link to Lauren Daigle's site: https://www.laurendaigle.com/
Jonathan Widran is a freelance music/entertainment journalist who contributes regularly to Music Connection, Jazziz and All Music Guide. He can be reached at [email protected]. He is also on Google+