Lauren Daigle Talks About Her Debut Album And Writing Her Songs "How Can It Be" And "Trust In You"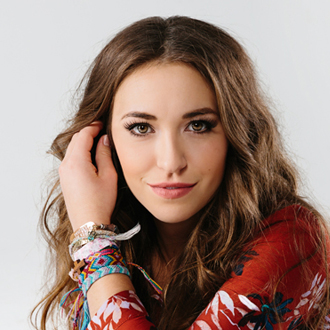 An emerging star in the Contemporary Christian Music world, Lauren Daigle enjoys referring to one of her favorite verses in Proverbs when she reflects upon the impact How Can It Be, her debut album on Centricity Music, and its inspirational title track are having on both the music industry and fans worldwide. "It says that those without vision will perish," says the 24-year-old singer/songwriter, "so I'm going to go all in for this and dream as big as I can and follow along the journey as my steps align. I feel that I'm still living in the vision, and only scraping the surface of what I see being the future, taking it one day at a time."
Daigle's deep faith and musical passion, combined with a unique sound that merges the soulful vulnerability of Adele and the spiritual fire Daigle admires in New Zealand superstar Brooke Fraser, has led to a series of high level accolades these past few years. In addition to being a 2016 Grammy nominee (Best Contemporary Christian Music Album) for How Can It Be, the Louisiana native—the fastest-selling new artist in her genre in the past decade—is nominated for two Billboard Music Awards (Top Christian Artist, Top Christian Album).
A three-time Dove Award winner (including New Artist of the Year, Song of the Year and Contemporary Song of the Year), Daigle's album hit #1 on the Billboard Top Christian Albums chart twice. Daigle is also a growing sensation in the video realm, with nearly 50 million YouTube and Vevo views and more than 200,000 subscribers. Her album was produced by Paul Mabury (Brooke Fraser, Hillsong, One Sonic Society, Chris Tomlin), with some tracks co-produced with Jason Ingram (Bebo Norman, Point of Grace). Notably, a deluxe edition of How Can It Be has just been released (in May 2016), which includes five new cuts.
"Being my first album, I wanted to make sure that everything I recorded was genuine, with songs that reflected experiences I have walked through and situations I discovered throughout my life's journey," says Daigle, who is credited as a co-writer on nine of the album's 12 tracks, including the singles "First" and "Trust In You."
"With authenticity as the primary goal, as the project evolved different themes started revealing themselves. I didn't realize, for instance, that my grandfather was going to pass away during the process. I learned so many things spiritually from his passing that I felt inspired to incorporate, including how to trust God when things look differently from what you expect, believe and hope for. That's where 'Trust in You' came from, which I wrote with Michael Farren and Paul. When I listen now to How Can It Be, I hear evidence of grace throughout the songs, how God finds a way to come and comfort every heart. Through the process of making the album, I learned not to run in the midst of shame because He offers us grace to walk through it."

Here's the video of Lauren Daigle's single "How Can It Be,"
which won the Dove Award for Song of the Year.
The story behind the penning of "First"—which Daigle co-wrote with Mabury, Ingram, Mia Fieldes and Hank Bentley—is one that a lot of first-time recording artists can relate to. Daigle released a five track EP (also called How Can It Be) in 2014, and its success prompted Centricity Records to request a full-length album to follow up. The singer was on the road at the time and had a four-day break scheduled, and wanted to devote that time to recording. She had just had a productive songwriter meeting, but at the time she didn't have enough songs written to flesh out the album. She became super-stressed wondering how she was going to make it happen. She didn't want to disappoint anyone, and the pressure was mounting. Wanting to put these fears behind her, she went home to take a long nap.
"I woke up and saw a post that a fan of mine had direct-messaged me," Daigle says. "It was Matthew 6:33: 'Seek first the kingdom and all these things will be added to you. I read more and was uplifted by another favorite Scripture, 'Who by worrying can add a single hour to your life?' I realized I had put too much expectation on my earthly perspective, and was focused on the wrong thing. I knew God would do a miracle and it worked out that way. I went into my next writing session with Mia and Hank and they said they had just come up with the song title 'First.'
"They wanted to hear what was in my heart," she adds, "and I shared my experience with them. We agreed that trying to control every aspect of the situation ourselves was wrong. Mia (Fieldes) began singing the melody to what became the opening line, 'Before I bring my need/I will bring my heart.' I knew God would do something crazy with this song and we immediately began developing it from that first line. It was just a matter of talking it out. One of us would come up with an idea, and the other two would critique and improve upon it. Every moment led the song to where it had to be."
Mabury and Ingram loved the trio's initial version of the power ballad, but felt that original bridge was too overwhelming considering the way the chorus soars. "They felt it would be better if it was a down bridge to balance the big and loud sound of the other parts of the song," Daigle says. "You have to have a thick skin in this business, because sometimes the first idea you're attached to is pushed aside to make the song stronger overall."

Here's the video of Lauren Daigle's single "Trust In You,"
which she co-wrote.
Beyond energizing frenetic audiences every night of the Winter Jam tour with her five-song set, Lauren has heard stories about how her music is literally changing lives. One woman came up to her after the show and told her that after hearing "How Can It Be," she felt convicted and decided to end an affair she had been having for 13 years with a married man. "She said the song's message that God had the capacity to love her beyond her actions gave her the strength to walk away," Lauren says. A young girl told Lauren that hearing "How Can It Be" and "Trust In You" prevented her from committing suicide.
Many of Lauren's fans know of her own traumatic period as a teenager when she faced a devastating immune deficiency illness that kept her out of school for two years. It was during this time that Lauren felt a divine hand guiding her to write songs and set her sights on a career pursuing her passion for music. "Now it's a great blessing to write and sing songs that help give people who are struggling with illnesses and other challenges strength and hope, to get past the bleakness of their diagnoses and in tune with the voice of God," she says.
"The keys to being successful as a songwriter in Christian music are being open to receiving your own divine revelation and developing an authentic style, rather than copying what other artists have already done. Writing meaningful songs is about learning how that expression is built inside of you. We all have an expression we're trying to emote, and it takes time to learn and a lot of work to make them unique. I know that being attuned to these revelations, and learning how to express them in song, can only be approached from the perspective of faith. I'm still on the journey, trying to figure it out myself, and every day is an opportunity to hear a new message and write something that can change people's lives."
Jonathan Widran is a free-lance music/entertainment journalist who contributes regularly to Music Connection, Jazziz and All Music Guide. He can be reached at [email protected]. He is also on Google+