Interview with Irish Rock Band Kodaline, About Their Debut Album, In A Perfect World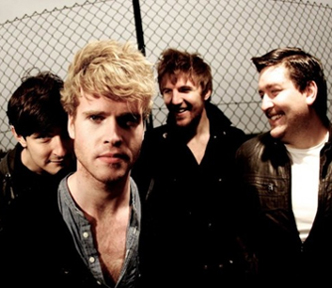 Excited about his band's first headlining tour of North America which coincides with the U.S. release of their debut album In A Perfect World, Mark Prendergrast, guitarist for Dublin-based alt-rock band Kodaline, finds it amazing that just a few years ago, they were begging friends to see their shows at the Sugar Club in Dublin. "It was just us and the bouncer a few times," he says. "And now we're selling it out."
The big game changer? It's part of the advice he and his cohorts—Steve Garrigan (lead vocals), Jason Boland (bassist) and Vinny May (drums)—share with other aspiring bands and artists who would love to be in their shoes, on the verge of stardom: "Being honest with ourselves, our music and our lyrics. When we started being honest, our songs got good."
The two years Prendergrast says they invested in "nothing but writing authentic songs" have paid off big time for Kodaline, which was recently nominated for MTV UK's "Brand New: For 2013" as well as BBC's "Sound of 2013." The music videos they created for their breakthrough songs "All I Want," "High Hopes" and "Love Like This" have totaled over 10 million views. Released in the UK and Europe in June, In A Perfect World debuted at #1 in their native Ireland, #3 in the UK (behind Kanye West and Black Sabbath) and in the Top 10 in the Netherlands. In the U.S., the album was preceded by the five track EP Love Like This, which included electric and acoustic versions of the title track.
Though it is not an official single from In A Perfect World, "All I Want" has been a driving force in the band's global success. Receiving early support from several SiriusXM channels, it reached the Top 3 in rotation on Alt Nation, Spectrum and Pulse. It has also enjoyed many licensing coups, including placement on Google's 2012 online spot "Year In Review," and on episodes of the TV shows Grey's Anatomy, Ready For Love and Modern Family.
Aside from heavy chart action and critical acclaim (the UK's Daily Telegraph raved that their "sleek, widescreen rock songs" would make them "big stars in 2013"), Kodaline performed at over 30 European festivals throughout the summer, as well as an opening slot for Bruce Springsteen in London. Though they have played such prominent festivals as Reading and Leeds and are set to headline London's O2 in November, Prendergrast most prominently recalls the audience reaction in other places.
"We had our fingers crossed before going on to every stage we played," he says, "and we were so happily surprised not only at the size of the crowds but also hearing the audiences sing our songs with us and back to us in places we had never been before. I remember that happened in Holland and at festivals in Osaka and Tokyo during our first trip to Japan. Experiencing new fans whose first language is not English singing our lyrics to us was a beautiful and exciting surprise. We love to lose ourselves in such moments. The four of us love to change songs around for the live shows, so they may sound different from show to show, which keeps things exciting for us. And sometimes it's fun to wander into the crowd with just my acoustic guitar for a stripped down version of one of our songs. That tune may also change from night to night."
In Kodaline's original incarnation as 21 Demands, the band's debut single "Give Me A Minute" made chart history in 2007 when it became the first ever independently released track to top the Irish Singles chart. Garrigan and Prendergrast grew up in Swords, Dublin and first met at age seven in the school choir; living just minutes apart, they forged a close musical band and learned to play guitar together. They encountered Vinny May playing with another band in their early teens and quickly recognized his talents. Kodaline's lineup was complete with the addition of Jason Boland in 2011.
"The foundation of everything for us is this chemistry we share that has its foundation in my friendship with Steve that extends back long before we thought about making music together professionally," says Prendergrast. "Vinny's an old friend too and Jason fits into the mix perfectly. When we're in the studio working on scratch demos, we'll be straight with each other and let things heat up into huge arguments if necessary if those opinions help us make the songs better. We're very detail-oriented and could spend weeks arguing over one note, but we work well as a team – and so no matter what happens, even if we don't talk to each other for a short time, we ride the storm out. We come out of that experience healthier and the songs are all the better for it. It's not good enough to just like the song, you have to love it if you expect other people to. What important for every band and songwriter is belief in the song and writing lyrics that are truthful. If they're half brilliant and half just okay, that's not going to be good enough."
Jonathan Widran is a free-lance music/entertainment journalist who contributes regularly to Music Connection, Jazziz and All Music Guide. He can be reached at [email protected]. He is also on Google+