Irish Rock Band Kodaline Discuss Their Album Coming Up For Air, And Their Hit Songs "All I Want" And "The One"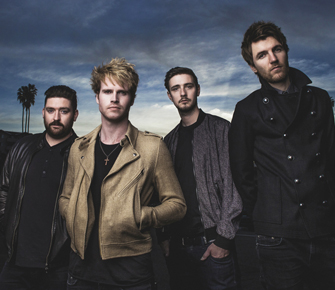 Testament to the international buzz that Kodaline stirred with their 2013 debut album In a Perfect World and its singles, the Dublin-based alt rockers have added to their growing fan base a crowd of musical celebrities, from Ed Sheeran to Ellie Goulding, Nicole Scherzinger, Randy Jackson and One Direction. They'll join thousands of other fans across North America on the Dublin based alt rockers' current 22-city tour in support of their new album Coming Up For Air. The collection's first two singles are enjoying a strong run, with "Honest" reaching #7 on the Irish Singles chart and "The One" being chosen as Radio 1's Track of the Day.
For Kodaline, which from 2005-11 performed and released songs in its native Ireland under the name 21 Demands, success began at home. In A Perfect World reached #1 on the Irish Albums chart and made the Top 20 on Billboard's U.S. Independent Albums chart. While the collection's debut single "High Hopes" hit #1 on the Irish singles chart and its follow up "Love Like This" made the Top 10, it was the fourth single "All I Want" which helped the band gain a foothold in the U.S.
The single was featured in numerous television, film and ad placements, including The Fault In Our Stars soundtrack, ESPN, Grey's Anatomy, Modern Family, So You Think You Can Dance and American Idol. Also last year, Kodaline released a cover version of Paul McCartney's "Coming Up" in celebration of Record Store Day, an annual celebration of the culture of the independently owned record store.
"Sometimes, you don't know how a song will catch on, but it's a wonderful thing when it does," says Steve Garrigan, lead singer, guitarist and co-writer. "I think it's a very emotional tune with a strange structure where the bridge is actually the biggest part of the song. As we've often said, when we became more honest with ourselves, our music and our lyrics, our songs got good. So we're sharing real stuff from a real, emotional place. I remember writing it after going through the intense experience of a really bad breakup—about the longing for someone that lingers. That intensity came across in words and sounds, and for whatever reason people have found a strong connection to it."
Garrigan penned "The One" in a single day for their engineer Philip Magee on the occasion of his wedding, as a heartfelt interpretation of their relationship. It is one of four songs Kodaline wrote with fellow Irish native and hitmaking producer Jacknife Lee, who also helmed those tracks. A versatile producer, Lee has worked with everyone from Neil Diamond and One Direction to U2, Weezer and Taylor Swift. Kodaline's other producers on the project include Steve Harris (who helmed In a Perfect World) and Jim Eliot (Ellie Goulding, Kylie Minogue)
"We had never really seen ourselves as working with anyone beyond Steve (Harris), but we couldn't turn down the opportunity to work with an established producer like Jacknife," says Garrigan. "Our first album was very acoustic and piano-based, but he introduced us to new sounds, like classic synths from the '60s and '70s and electronic based drums. We never thought about using those kinds of rhythmic textures before. It was like a whole new world opening up for us. And Jason (Boland) was in a sling because of his broken arm and could only use one hand, so we did a lot of the bass through synths. The whole experience took us out of our comfort zone."
Kodaline, which recently completed a sold out European and UK tour, has been traveling and performing seemingly nonstop since the release of In A Perfect World. This has made them true songwriting road warriors, and in fact their travels have inspired a lot of new ideas that might not have happened were they to dedicate specific studio time to the craft. Garrigan says that he and his cohorts never stop writing, and he personally jots down ideas in books at any given time—chilling out before or after a show, on the tour bus, wherever. He's happy to report that even as they're gearing up to promote Coming Up For Air, writing is well underway for their third album.
"Every song on Coming Up For Air tells a story about different moments we've experienced over the past few years, from 'The One' about the amazing couple to 'Unclear,' about the uncertainty of living and working in a fickle industry where short lived band careers are the norm. Making an album with that reality in mind really inspires us to up our game. A lot of the songwriting begins with me writing a piece from start to finish on a piano, then I bring in a stripped down piano and guitar tune to further develop with the band when we finally get in the studio. Sometimes the songs start with Mark having a great idea or a riff or something, but the process is completed as an ensemble with input from everyone."
Like most songwriters, Garrigan loves the fact that a person listening to a Kodaline song might interpret the lyrics very differently from the way he and his band mates intended—but he also has the unique belief that people don't usually listen fully to the words the first few times. He believes that gives writers like him the freedom to say just about anything as long as the melody is there to hook fans in from the get-go. He likes to say that as long as he's being honest and his gut feeling tells him a song he's writing is good, he can trust his instincts. But he admits that, years ago, he would feel that way about a song and later realize it was terrible. So there's a major learning curve involved in crafting a song that he and the band love that will also resonate with their fans.
"Sure, it's a bit cliché to say that what's most important is to write from the heart, but if you feel a certain way, and the song sums up how you feel in that moment, you're on the right track," Garrigan says. "With some success in this business comes pressure to continue writing hits, so to speak, but we try not to dwell on that. We take a step back and remember why we got into this in the first place—to express ourselves through music and write songs we love. We're never going to record songs we don't love. If this results in a big hit, that's incredible, but we never want success to inhibit our growth as songwriters. We want to keep writing, keep learning and keep getting better. It's our passion and we can't stop doing it.
"Sometimes," he adds, "we'll write a tune on the road and test it out with our fans immediately during a show. They may or may not feel it right away, but what's important is that it's something we love and we want to share it with those we trust. When people ask me the key to being a good songwriter I just say, the more you do it, the better you get. Everyone has something to say, everyone has a unique story so you may as well tell your own with music that makes you feel something."
Jonathan Widran is a free-lance music/entertainment journalist who contributes regularly to Music Connection, Jazziz and All Music Guide. He can be reached at [email protected]. He is also on Google+