Steve Kipner Writes Big Hits For Christina Aguilera, Olivia Newton-John, 98 Degrees And Chicago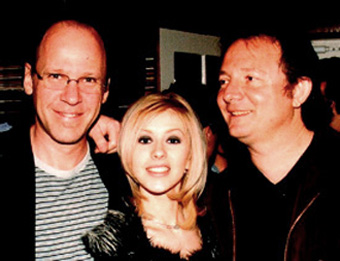 This special interview with Steve Kipner was published in 2003 and covers several decades of his hit songwriting. In 2009 Kipner co-wrote another big hit, "Live Like We're Dying" for American Idol winner Kris Allen.
With a career now spanning more than three decades, Steve Kipner remains one of the most successful songwriters in the business. Kipner, who has written 13 Top 20 Billboard hits (including the classics "Physical" and "Hard Habit To Break"), is on a new, hot streak. During the past three years, he has co-written and co-produced three, breakthrough Top 5 pop hits: "Genie In A Bottle" for Christina Aguilera (a #1 hit); "He Loves U Not" for Dream; and "The Hardest Thing" for 98 Degrees.
Kipner recently recalled his entire music career, dating back to the mid-1960s, when he was a hit, teenage artist in Australia. He talked about his early years as a lead singer in several bands, the major hits he has written for Olivia Newton-John, Chicago and Wilson Phillips, and his recently flurry of hits for a whole new generation of pop artists.
Kipner was born in Cincinnati, Ohio, but when he was one, his family moved to Brisbane, Australia (where his mother was originally from; his parents had met there during World War II). "I was born in the U.S., but my entire education and awareness is really Australian," explained Kipner. My father [Nat Kipner] was in the U.S. Air Force, and he was stationed in Brisbane when he met my mother."
Nat Kipner worked in the music business in Brisbane, and launched Spin Records, which subsequently signed Australian group, the Bee Gees, to their first label deal. The elder Kipner recorded the group's first #1 single in Australia, "Spicks And Specks." Nat Kipner was also a songwriter, and many years later, he co-wrote the hit "Too Much, Too Little, Too Late" for Johnny Mathis & Deniece Williams.
Growing up in this music environment, Steve Kipner decided to form a band when he was 16, called Steve & The Board. The group soonafter had a #1 hit in Australia, and they toured throughout the country. Two years later, in 1968, Kipner moved to England and formed a new duo named Tin Tin, which signed with Robert Stigwood's RSO Records (ATCO Records in the U.S.). Tin Tin had a worldwide hit called "Toast And Marmalade For Tea," which was produced by Maurice Gibb of the Bee Gees. With the success of this hit, Tin Tin joined the Bee Gees for a U.S. tour of East Coast cities in 1972.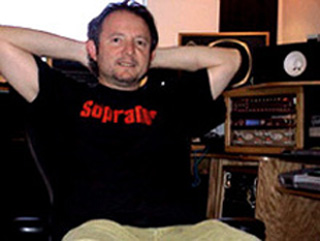 Then in 1974, Kipner was invited by Mike Curb's MGM Records to join a new band in Los Angeles. "I got a phone call to come to Los Angeles," recalled Kipner. "I had never been to California, and I ended up staying. I recorded an album in Los Angeles with a group called Friends (on MGM). In addition, I wrote several songs for the album, and one of the songs, 'Catch Me I'm Falling,' ended up being recorded by Engelbert Humperdinck. This became my first cut [with another artist]."
Eventually, Kipner recorded a solo album in Los Angeles called Knock The Walls Down. This album was produced by Jay Graydon, and it featured many of the top, L.A. session musicians, including David Foster, Larry Carlton and Toto band members, Jeff Porcaro and Steve Lukather. In between these sessions, Jay Graydon happened to be producing four songs on an Italian artist named Alan Sorrenti. Graydon encouraged Kipner to co-write with Sorrenti, and this became the first time Kipner wrote songs specifically for another artist to record.
"Up to this point, I had never thought of writing songs for other people," explained Kipner. "Then Alan Sorrenti and I wrote four songs together, and one of the songs turned out to be a major hit for him in Italy. Shortly thereafter, I received a phone call from an Italian music publishing company, and they offered me a substantial publishing deal for Italy only. I was thrilled; it was the first time that I saw I could earn a nice living as a songwriter."
It was during this period that his best friend from Australia, Roger Davies, became his manager. Davies, who went on to manage such major acts as Tina Turner, Janet Jackson and Sade, helped Kipner negotiate key label and publishing deals during this time. One of those deals was a subpublishing deal with CBS Songs, following the European success of a new, hit collaboration with Spanish star, Miguel Bose.
By this time, Kipner was becoming increasingly active as a songwriter, and collaborated regularly with other top writers. It was a momentous collaboration with Terry Shaddick which led to his biggest hit, "Physical."
"Terry and I were writing a song about the physical side of love, rather than the emotional side," recalled Kipner. "We finished the verse, and then the chorus just came very quickly. In the meantime, Roger Davies was working for Lee Kramer, who managed Olivia Newton-John. I played Roger the demo of 'Physical' at his office. By pure luck, Lee Kramer was in the next room, he heard 'Physical,' and then he played it for Olivia. Later on, after 'Physical' had been recorded, Olivia panicked, thinking the song was too rude to release. But by this point, all of the label promotion execs said 'Physical' would be a smash, and that it had to be the first single. Then it was Olivia's idea to release the video first, so people would think the song was about exercise rather than sex. Of course, the song was about sex, but her plan worked. 'Physical' received massive airplay, except in Utah and South Africa, where the song was banned."
"Physical" went on to become a worldwide smash, reaching #1 in November 1981, and staying atop the Billboard "Hot 100" singles chart for 10 weeks. It was during this period that Kipner signed a major publishing deal with CBS Songs, which years later was acquired by EMI Publishing. Kipner then followed-up his "Physical" success by writing two, additional Top 5 singles for Olivia Newton-John: "Heart Attack" (written with Paul Bliss) and "Twist Of Fate" (with Peter Beckett), which was featured in the film & soundtrack, Two Of A Kind.
Throughout this highly successful period, Kipner was continually honing his songwriting skills, and he also learned the value of collaborating with other talented songwriters. "I realized that if I worked with other writers, I could get through it much faster," explained Kipner. "What I am best at is writing melody, lyrics and arrangements. I am definitely not a great musician. I do play keyboards and guitars, but playing is not my strength. I like working with better musicians than me."
Following in 1984, Kipner continued his string of hits, co-writing (with John Lewis Parker) the Top 5 hit for Chicago, "Hard Habit To Break." Engineer/mixer Humberto Gatica had been working with producer David Foster on Chicago's album, and he told Kipner that they needed a smash ballad for the group. Kipner & Parker then wrote "Hard Habit To Break" for Chicago, and the group loved the song. However, unbeknownst to Kipner, there would be an urgent rewrite needed on the song, which occurred right as he and his wife Lizzie were in the midst of a winter, vacation trip.
"Lizzie and I had taken a trip to Big Bear [a mountain resort], and the weather was terrible," recalled Kipner. "We were in our cabin with a blizzard outside, and suddenly the manager of the cabin knocks on our door. He said there was an urgent message to call David Foster. There was no phone in the cabin, so Lizzie and I jumped into the car during the blizzard, and called David from a phone booth at a 7-11 store. He said the group was in the studio recording 'Hard Habit To Break,' and they needed a fourth verse written. So we sat in the car, urgently trying to write the fourth verse while the group was waiting for the lyrics back at the studio. Lizzie helped me write one of the lines, then I called in the lines for the fourth verse. It was pretty intense, writing the verse in a blizzard, then conferring with [co-writer] John Parker about the lyrics, then calling the studio."
"Hard Habit To Break" was the first of two singles that Kipner co-wrote for Chicago. The second song, "If She Would Have Been Faithful" (written with Randy Goodrum), became a Top 20 single in 1986. Kipner has always believed strongly in this song, and this past year, he re-wrote some of the verse lyrics, and recorded a new, duet version of the song. "If She Would Have Been Faithful" has now been placed with Monica (with a duet partner) for her next album.
It was in the early '90s that Kipner co-wrote (with Clif Magness) the song, "Impulsive," which became a Top 5 hit for Wilson Phillips. "We originally demoed 'Impulsive' as an uptempo dance song," said Kipner. "Clif Magness happened to play the song for producer Glen Ballard, and Glen thought it would be ideal for Wilson Phillips if it was changed into a slower, acoustic-type song. We changed the song around, and it worked out well."
In 1997, Kipner collaborated with songwriters Dane DeViller & Sean Hosein to write a pop/R&B song called "Invisible Man." This song was placed with a new vocal group on Motown Records called 98 Degrees. "Invisible Man" turned out to be the debut, hit single which helped launch the career of this major group. Kipner, with new collaborator David Frank (who was co-leader of the popular R&B group, the System, and a top writer/musician), wrote and produced a major hit, "The Hardest Thing," for 98 Degrees' second album. This was the first hit collaboration for Kipner & Frank.
"David Frank and I hooked up at songwriter Andy Goldmark's wedding in Los Angeles," explained Kipner. "David had just moved to Los Angeles from New York, and he bought a home in the Malibu hills near the beach, which is also where I live. He was in the area, so we just started writing. It turned out to be a great collaboration, and we've been working together ever since."
Kipner & Frank have teamed up (with co-writer Pam Sheyne) to write and produce two other hits ("Genie In A Bottle" and "He Loves U Not"), which helped establish the careers of Christina Aguilera and female group Dream, respectively. "For 'Genie In A Bottle,' David came up with a great groove track, and he played it for Pam and I," said Kipner. "Then we started writing the verse, and the song just flowed from there. Pam is a good singer, and she sang the demo."
"With 'Genie,' we knew we had a very good song, and we wanted to find the best artist to record it," explained Kipner. "Several artists wanted to record the song, but Christina Aguilera's A&R exec, Ron Fair [at RCA Records], was very persuasive. Ron said he had to have the song. The next thing that happened, Christina came over to David's house, and she sang 'Genie' for us. Christina sang it great, and it was obvious that we should produce it on her."
Kipner also recalled the story of how "He Loves U Not" was placed with Dream. "There was a major artist who was interested in the song, but we didn't completely know whether she would actually record it," said Kipner. "Then Big Jon Platt at EMI Publishing [with whom Kipner remains signed with, in an administration agreement] told us about a new group called Dream, which was signed to Puff Daddy's Bad Boy label. So David and I went to a dance studio to see Dream rehearse, and they were awesome, with amazing energy. Still, in order for us to pass on a cut with the major artist, we needed assurance from Puff Daddy that 'He Loves U Not' would be the first single on Dream. When he agreed to this, we decided to go with Dream."
Now with the success of "He Loves U Not" (reaching #2 on the Billboard "Hot 100") and their new Dream single "This Is Me," in addition to their other hits, the writing/producing team of Kipner & Frank is more active than ever. "I'm very pleased with the success we've had," said Kipner. "Working with David has been great. He is an outstanding keyboard player and composer, and we've developed a terrific chemistry as writer/producers."
"I am as enthusiastic now as I've ever been about writing and being in the music business," added Kipner. "Sometimes after a long stretch of work, I would feel like I needed to take a break or vacation. But then I would start missing writing and the music, and I would get back into it. I'm excited about jumping into the next thing in music, striving to write songs that not only sound contemporary, but also have real stories that people can truly relate to."
Dale Kawashima is on Google+