Interview With Kelley Lovelace, Hit Songwriter For Brad Paisley, Carrie Underwood And Other Artists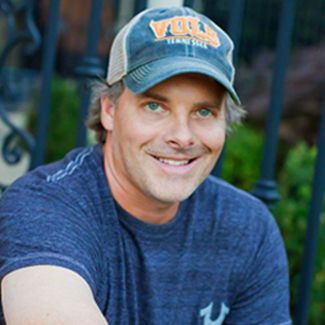 Relationships are important in the music business. That's a fact that hit country songwriter Kelley Lovelace, who has penned many chart-topping songs with Brad Paisley, understands all too well. He was buddies with Paisley at Belmont College in Nashville, and after a while the two friends started writing songs together. As life progressed, Lovelace began working and writing at Larry Butler's music publishing company, Perdido Key Music and in three years became the President of the company. In the meantime, he wrote at night with other tunesmiths like Paisley and Chris DuBois. It wasn't long, though, before Lovelace chose to write songs full-time and landed a songwriting deal with EMI Music Publishing.
Since then, he has seen 21 of his songs on the Top 10 Billboard country chart with 16 of those reaching the #1 position. For Paisley, he's had a hand in writing the CMA-nominated Song of the Year "He Didn't Have To Be," and the #1 songs "I'm Still a Guy," "American Saturday Night," "The World," "Ticks" and "Online," "Remind Me" (Paisley & Carrie Underwood), and "Start a Band" (Paisley & Keith Urban). Notably, Lovelace scored a Grammy nomination in 2002 for Best Country Song for Joe Nichols' "The Impossible." The Paducah, KY native also co-wrote the Carrie Underwood hits "Don't Forget to Remember Me" and "All-American Girl," as well as Terri Clark's "I Just Wanna Be Mad," and "Girls Lie Too," Jason Aldean's "Laughed Until We Cried," and Randy Houser's "Outta Moonlight."
In this new interview, Lovelace talks about his working relationship with Paisley, one of his favorite co-writes with Carrie Underwood, why he never wants to write solo, and why it's so difficult for new songwriters to get their creations into the hands of the right people.
BC: Many people know you as Brad Paisley's co-writer. How did that relationship begin?
Lovelace: Brad and I…we've been friends since 1994. We got to be buddies before we started working together. We have very alike personalities. Whenever he's in the studio, whenever he's writing and recording, I'm pretty much doing that. I'm trying to come up with ideas, feed him ideas and feed him songs and be as much part of that process as possible. It's a huge blessing to have that kind of relationship with any artist, much less one as successful as Brad as has been over the years. That's my first priority when he's recording.
When you're inside that scenario, other might people might say, "Gosh, I wish I was in there, getting those cuts or getting those singles." I'm glad I'm in there getting those cuts, getting those singles too. But somehow, you still need that more self-validation of getting cuts and singles on artists that you're really not as much in with relationally. I've really taken that as a challenge.
I'm always searching for that continuous validation. I guess that's the stigma of the music business and being a songwriter. It's not about what you have out right now. It's what you have coming next. It's a continual stressed-out journey. (laughs) Lord, please grant me with another hit idea.
BC: What's it like trying to hang with Brad and his wit?
Lovelace: It depends on what moment we're in. If we're just all hanging out like friends, we have very similar personalities. It's not like he's the artist when we're hanging out. We're just buddies. If it's during writing and recording mode and there's a lot of people around, then that is more of the artist mode and you don't interject as much.
BC: You've juggled two songs at the same time on the Billboard Hot Country Singles chart—Hunter Hayes with "21" and Paisley's "Crushin' It." What's it like having two hits on the charts at the same time?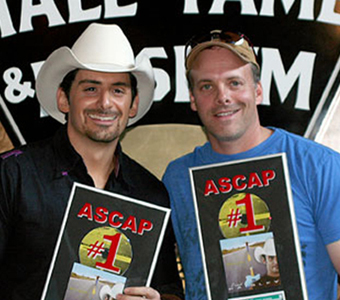 Lovelace: These days there are so many writers that have multiple songs like 3,4,5,6,7 out at a time, which is unreal. I think the most I've ever had out at one time several years ago was four. I thought that's pretty amazing. Now, if you have one out, it's like "Yeah, you're doing okay." Now one single is like an album cut because your competition has multiple singles, so now you seem to be working harder than ever because you want 2,3,4 out at time just to compete.
BC: What was the idea that kicked off "21"?
Lovelace: It was just a regular writing day with me and Ashley Gorley and Dallas Davidson. We have a great friendship and chemistry. Generally, if you have the right idea in that combination, good things can happen. I had it on hold for a long time for a couple of people. Someone recorded it and then they lost their record deal.
Hunter loved the song, but he wanted to make it more him lyrically, so he asked if he could change some things to make it more him. We loved it, and it did make it more him, and it actually made it a better song.
BC: You've also had a lot of hit songs for other artists too. Any certain songs that stand out to you for some of the songs you've done with other artists?
Lovelace: Ashley Gorley, Morgane Hayes and I wrote a song "Don't Forget to Remember Me." It ended up being on Carrie Underwood's first record. It went to number one. At the time, that kind of gave us the entryway to have one writing appointment with her for her second album, Carnival Ride.
We only had one day with her. Of course, nothing tragic happens if you don't write a hit. It's such a great opportunity…you want to take advantage of it. Ashley Gorley and I got together at my house for a couple of nights, brainstorming to get ideas. I had this idea that I came up with when he was on the phone with his wife, trying to see if he could spend the night over here so we could work longer, and of course, play shuffleboard, ping pong, and foosball and stuff like that. Hanging out is very key to coming up with ideas.
I was kind of messing around with the guitar, doing this little run. I didn't know what the words were, but it ended up being the melody over "beautiful, wonderful perfect all-American girl." Somehow All-American Girl" popped out. Immediately, I thought we've got something. He didn't like that idea as much as I did at first, so we pitched the other one.
Carrie said, "That didn't take long. I guess we've got time to write another one." That sounds like something that writers would say, not an artist on Friday at 2 pm in the afternoon with the sun out. My co-writer, Ashley, went out of the room for a minute. I got this one idea called "All-American Girl." She said, 'It's not about me, is it? No, it's about this guy who wants to have this all-American boy but ends up having this all-American girl. She says, "Oh, that sounds like my dad." You want to write that? She shrugged her shoulders. I thought gosh, that's not incredibly affirming. Ashley walks back in. We pitch some other ideas around to her. She was kind of like, yeah, that's okay or I kind of wrote something like that last week. I thought, I'm going to try this idea in a different way one more time. I said, "Ashley, I pitched her "All-American Girl" idea, but she hated it. She said, "No, I didn't. I said it was like my dad." I asked, " You want to write that?" She kind of shrugged her shoulders again like I don't know. I said let's do that. It was one of the most exciting times I've had in a co-write. All three of us were on at the same time lyrically, melodically. Once we started going it was really fun and painless, which sometimes writing can be painful. You can still have hits with a song that was painful to write.
For me, recalling the pressure of the moment of that day is one of my favorite stories, because it all lined up right on that day.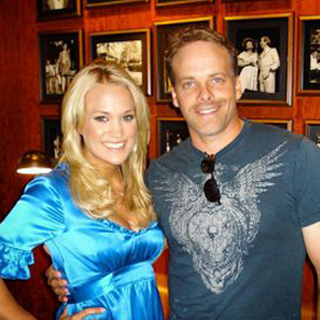 BC: How did you start as a writer?
Lovelace: As a kid, I wasn't into writing. I was ignorant of how a song is written. I didn't even think about somebody actually writing a song [for a singer]. If I heard something on the radio, I assumed George Strait must have written that too. I didn't even think about there being a whole different industry with writers. I did a lot of poetry, as a kid, mainly to get girls.
When I was in the Army in Fort Benning, GA, there was no war going on at the time. It was around 1988. They dropped me off to guard this equipment, and they forgot to come pick me up. I was there for about 12 hours. I was bored, so I took out this notepad I always carried, and I wrote my first song. I don't even know what made me do it. I hadn't written a song before that time.
After writing that song, I thought to myself, well, shoot, I'm going to come out of the Army and be like Elvis. I did get in bands for a couple of years. I realized I wasn't great at the singing thing. It wasn't in me to sing necessarily. I just did it because I thought it was cool, and girls kind of liked it.
A writer, Blake Lassiter, came to Chattanooga and was playing at a club called 27 South. He wrote in Nashville but lived in Chattanooga. He wrote for Don King Music Group. He had written some songs that he wanted our band to perform, to see how the crowd would respond to them. We had four lead singers. I was totally impressed with these songs. We got to talking—he said let's co-write one day.
BC: You co-write a lot. Do you ever like to write solo?
Lovelace: No. I like to brainstorm, and sometimes I'll have a whole chorus. I like to bring something that I think is great to other people that are great writers, so I know the end product is going to be better. I can do some melody, but that is not my gifting. If I thought I could write a hit on my own, I would because you would make more money. I feel I have a better chance of having a hit with other writers. I have a lot of respect for my co-writers, and I know that if I bring a certain person or a certain group of people the right idea, I know I have a really good chance of having a successful song.
Everybody has different gifts. Know what your weakness is and then find those people that can strengthen all that. To me, it's smarter and it's more fun.
If I'm writing with somebody who a publisher says, "hey this guy/girl is great, you need to write with them…you'll love it." My goal is to bring that writer something I think they'll love because my first validation is "I love that guy's idea." That's that initial part of the co-write that makes you breathe easy. We've got a good start here—I've done something to begin this co-write. Now, let's work. For me, that's when I feel the best. Not that it always has to be my ideas. I operate under the premise that I'm the only one that's going to have an idea when I get there. If I put that pressure on myself early, then odds are between me and the other one or two co-writers, surely to God we're going to have something to write.
BC: I want to talk about your book for songwriters, If You've Got a Dream, I've Got a Plan. Why were you interested in writing it?
Lovelace: We did this He Didn't Have To Be gift book with Rutledge Hill Press for step-fathers. During that time, that publisher asked me if I'd written any other books, because he liked some of the stuff I put in the gift book. I told him I've got this old songwriter manual. He read through it. He said "I think this is great—would you write a book for us?" I said, "That's kind of cool."
To write this book, it took me about four months of sitting there every day, not writing songs. The book is only 122 pages. But the problem is when a songwriter starts to write a book, then every line is like a song, every line has to be perfect. So, it took me forever to do that.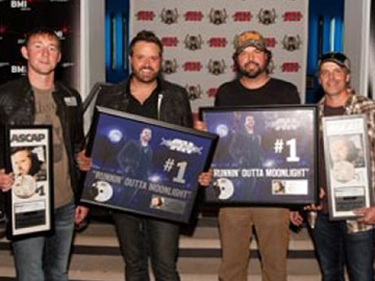 My goal was to help new songwriters coming to town. What would I want to know? What could save me some years? That was the point of that book. Give them my story and then give them some other tools to where they wouldn't waste their money or waste their time and hopefully give them a leg up.
BC: One of the questions I get from beginning songwriters is how do I get my songs to the right people? What is one piece of advice that you have?
Lovelace: That's one of the toughest things. Nowadays it's very difficult with legalities and lawsuits. Most songwriters are very leery to hear anything from somebody who's new to town. Now, it's a little bit harder. I used to do it (listen to songs) all the time. Now, not so much.
You have to find somebody in the business that has an idea of what a song is, whether it's someone at ASCAP or BMI, or you get lucky enough to have a publisher who listens to you. If you can get with that person that you respect, then you can get some valuable feedback.
That one guy's name for me was Jerry Taylor. I played him seven songs. I thought he was going to flip out when I played him these songs. I thought he was going to sign me on the spot and wonder where I came from. When I got done with my seven songs, he's sitting there smoking a cigarette, leaning back in his chair. He says, "Play me that first song again." I thought, "Oh, man, he can't get enough. I knew I was great." I got to the second verse, and he says, "Stop right there. That's it. That's what I was looking for right there." I said, "What?" He says "That first line in your second verse. I love that! That line could be a title to a song we could write." I thought, "Are you freaking kidding me?" I was ticked. I wanted to put my guitar in the case and go back to Chattanooga. But in that moment I looked around his office, saw the gold/platinum records and plaques, and thought, "Okay, maybe he knows." We sat there and wrote that song, and I learned more in that afternoon than I would have learned in the next five years by myself.
You're not going to be able to learn and grow as a writer outside of Nashville. If you want to compete in the country music industry, you can't grow as a writer if you're not here. If you're just writing by yourself, I don't know how you can grow as a writer unless you're here and plugged in. There is so much talent here. It amazes me all the time. Even as an idea guy, I keep digging every day. My idea's got to get better. These writers are getting better and better. There are a lot of successful, talented writers. It's humbling and challenging at the same time.
For new people, if you're around Nashville long enough, you are eventually going to run into somebody that you respect who knows songs. If you can just find somebody to listen, to help you, to establish where you are. Are you ready? Are you a year or two from being ready? Are your ideas good? Are your melodies good? Generally, people want to help people. They might at least plug you in with one of the co-writers to help you start.
There are people who come to town and think, if I could write with a hit songwriter, I'd have a hit song. That's the absolutely wrong thought, because everybody that I know—me, Brad Paisley, Chris DuBois, Frank Rogers—none of us had a hit (like that). We didn't get the big hit songwriters of the day to help us write. We came up with our own thing.
If you can get into your head as a new writer that you don't have to get with an existing hit songwriter to have a hit, you can find people that are just like you that can strengthen your weaknesses. You guys spend a lot of time together, come up with your own thing and in three, four, or five years, you might be that group that's the newest hottest thing in Nashville.
Bill Conger is a freelance writer for various publications including Bluegrass Unlimited, GACTV.com, Bluegrass Music Profiles and ParentLife. He can be reached at [email protected].He is also on Google+