Singer/Writer/Actress Kate Voegele Talks About Her Album A Fine Mess, And Writing Her Songs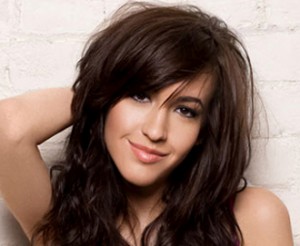 When we first profiled singer/songwriter Kate Voegele in early 2008, the story's big hook was the fact that she broke ground as the first artist signed to MySpace Records, which is affiliated with Interscope. That became a cool footnote in a hurry, as her debut album Don't Look Away became an indie smash, selling over 225,000 copies and debuting in the Top 10 on both the iTunes album chart and Billboard's Top Independent Albums chart. Billboard tapped Voegele as an 'Artist To Watch in 2008,' and she continues to fulfill that promise. Notably, her newly released follow-up album A Fine Mess debuted at an impressive #10 on the Billboard 200.
Aside from her powerful voice and strong sense of infectious melodic songwriting, one of the biggest driving forces behind her emergence and strong debut album sales was her recurring role as Mia Catalano on the popular CW TV series One Tree Hill. Between the start of the current season and her current U.S. solo tour, she's been jetting back and forth between L.A. and Wilmington, NC, where shooting takes place. Last season, Voegele had the opportunity to perform many songs from Don't Look Away, and in recent months she (as Mia) has debuted two key tracks from A Fine Mess on the show, 'Manhattan From The Sky' and most recently, her new single '99 Times.' She recently shot a video for '99 Times' co-starring Dancing With The Stars' Derek Hough and which was directed by Frank Borin (Red Hot Chili Peppers, Eminem).
'My song '99 Times' is about the different emotions you experience after finding out somebody you're close to has been feeding you a story that isn't true,' Voegele says. 'You end up feeling stupid and pissed off, and I guess I dealt with those emotions by putting on some black boots, messing up my hair, turning up the distortion on my guitar and getting in front of the mic to pretend I was Chrissie Hynde. That was pretty much all it took.'
She says the idea for the piano-driven 'Manhattan From The Sky' came to her while sitting in a plane, 30,000 feet above New York City. 'I was just thinking about how Manhattan looks like a little piece of Lego,' Voegele recalls, 'but once you're inside, it's totally crazy and messy and there's a wonderful chaos going on all around the city.'
Along those lines, Voegele likes to call A Fine Mess her 'unintentional album,' because she wrote the songs one at a time while caught up in the crazy whirlwind of touring, starring on a hit TV show and making guest TV appearances on show like Live With Regis and Kelly, The Early Show and The Bachelor over the past year. Following her tour with Hanson in the Spring of 2008, she opened for Natasha Bedingfield and the Verionicas on the Verizon VIP Tour, after which she headlined her first national jaunt, the 'Back 2 School Tour' sponsored by MySpace and the University of Phoenix; she followed up this spring with a 35-date sprint across the U.S.
'So many things have changed for me in such a good way since last year,' she says, 'and it's cool for me to look back on the journey, which includes a year on the road seeing America. I grew up a lot during that time and was inspired by all these exciting new experiences to write songs that to me are like stories of the road. They're about me becoming independent and doing different things with my life. Most artists set aside a few months of quiet time to write a new album, so everyone asks how I had time to write so much so quickly. But I write best when I'm really busy and living my life, in the middle of the chaos.
'I'd write ideas down on airplanes, sleeping in my bunk on the bus at night, keeping song ideas and lyrics in my coat pocket,' she adds. 'I'd write them down between radio station promo visits and be singing into a recorder at four a.m. When I was home in Ohio for the holidays, I threw down some demos with my dad and these formed the foundation of A Fine Mess. This was the perfect name for the album because it's kind of all over the place, sort of an amalgamation of the things I was inspired by and all these adventures. Things were chaotic but I was able to see the beauty in the chaos. Everyone's life is a mess in some way, and being part of a fine mess sure makes it interesting!'
While she tapped Marshall Altman (Elliot Yamin, Brooke Fraser, Marc Broussard) to produce her debut, Voegele and Interscope A&R Director Louie Bandak opted this time to run her songs by powerhouse producer Mike Elizondo, who has helmed projects for everyone from Dr. Dre, Fiona Apple to Eminem, Rihanna, Maroon 5 and Pink. Elizondo, who was immediately intrigued by the raw excitement and emotional content of Voegele's songs, impressed the singer with his innate ability to translate her musical vision to nuts and bolts reality. To accomplish this, he brought in some of the best young sidemen on the scene today, including drummers Matt Chamberlain (Tori Amos, John Mayer), Bryan MacLeod (Sheryl Crow) and Abe Laboriel, Jr. (Gavin DeGraw, Miley Cyrus) and keyboardist Patrick Warren (Fiona Apple, Bruce Springsteen).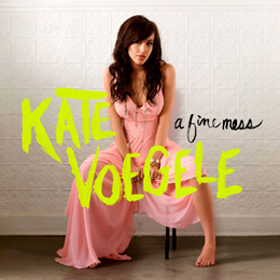 'It was such an amazing experience working with Mike,' says Voegele. 'I am a huge fan of everything he has done, all of his work with Dre, Fiona, Maroon 5, you name it. What's so great is the way he executed the end result I heard in my head. We worked well together and had very parallel visions, but he has the know-how to bring in just the right musicians and take my songs to the next level. He also did an incredible job giving these musicians some very basic direction and then letting them follow their own instincts. It was like a director giving a few notes to an actor but letting them loose to do their own thing.
'Some of these songs were just itching for that kind of spontaneity,' she adds, 'and Mike took them in their bare form and brought them to life with power and emotion. To make them artistic yet accessible and still poppy, he knew the little nuances to bring in and what to stay away from. Considering his track record, I was flattered that he wanted to work with me, and the results are beyond anything I could have imagined.'
Our previous article on Voegele concluded with her offering up and coming singer/songwriters advice on perseverance. This time, she chooses to wrap things up by discussing the core of all she does, her songwriting, and what it takes to write a song that resonates with listeners and endures: 'Songwriting is giving people something they can relate to. I want to write a song for every situation in the hopes that people will pick up the album even if they can only relate to one of them and say, 'I get where she's coming from, I've been there.' That's what makes a great song, taking a personal situation and elevating it to a universal level. My task is to write songs that people will relate to and be inspired by. It happens by blending accessible, singable melodies with a sincere and poetic, artistic lyric that really says something that's not surfacy or bubblegum. When I put those two elements together, magical things start to happen.'
Jonathan Widran is a free-lance music/entertainment journalist who contributes regularly to Music Connection, Jazziz and All Music Guide. He can be reached at [email protected]. He is also on Google+