Singer/Songwriter Kate Voegele Talks About Her Don't Look Away Album, And Her Single "Hallelujah"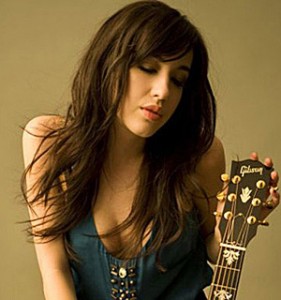 Anyone who wonders if 'Tom,' everyone's first friend on Myspace, really exists just has to ask Kate Voegele. After a few years of vigorously shopping demos, the Cleveland-based singer/songwriter met site co-founder Tom Anderson and MySpace Records A&R exec Jon Pikus, who signed her in October 2006 to be the first artist on their new label, which is affiliated with Interscope. The company released her debut album Don't Look Away last May and was in the midst of a slow-building grass roots promotional campaign when a funny thing happened. Voegele auditioned for a recurring role on the CW Network's hit series One Tree Hill, got the part, and since her January debut on the show is enjoying more mainstream success with her music than she ever could have imagined.
A few weeks before she appeared on the show, Billboard magazine had tapped Voegele as an 'Artist To Watch in 2008.' She fulfilled that promise much more quickly than expected, due to the opportunity to perform a handful of songs from Don't Look Away on the show. Her album, which was re-released to coincide with her first appearance on the show, quickly hit #4 on the iTunes album chart, and reached the Top 10 on Billboard's Independent and Digital Albums chart . In addition to all the digital activity, a revamped version of Don't Look Away with three bonus acoustic tracks was made available at Target for $9.99. And the place where it all began, her MySpace page, has racked up more than a million song plays over the past few weeks, bringing her total views to more than 4.5 million.
'Being on the show has helped the album blow up commercially a lot quicker than we ever expected,' says Voegele, 'but I was loving the way MySpace and Interscope were helping me build to this point. Their philosophy with me and the handful of artists they've signed since, is to do a soft release and let our fan base build through strong marketing efforts, adding friends to grow awareness. We were able to track how many friends I had in each city, which helped me coordinate where to play shows. I was doing well with the whole grass roots thing, touring with (Australian singer) Ben Lee everywhere from the Gramercy Theatre in New York to the El Rey in L.A.'
While Voegele, who began writing songs at 15, sees herself primarily as a singer/musician, she had always been interested in acting and thought playing an upcoming singer/songwriter like herself on One Tree Hill would be a unique case of art imitating life and life imitating art. 'I knew if I got the part I would have a chance to feature my music on the show, which has the perfect audience for me,' she says. 'I wasn't expecting it to happen, though, so it's been this incredible whirlwind. The first song I got to play was 'Kindly Unspoken,' which is this little acoustic piano and vocal tune at the end of the disc that hadn't been getting much attention. In later weeks, I was able to perform the energetic rocker 'No Good', then 'I Won't Disagree', 'It's Only Life,' 'Wish You Were' and 'Only Fooling Myself."
Even before signing with MySpace and hitting it big on TV, there were many signs that Voegele would ultimately achieve success. She was 16 when some rough demos she'd recorded with her dad led to an opening slot at a stop on John Mayer and Counting Crows' 2003 Shed tour, followed by second stage appearances in front of Aimee Mann, Mindy Smith and Patty Griffin. She later opened for Dave Matthews, the Wreckers, Howie Day, John Mellencamp, and performed at Farm Aid concerts (in 2004 and 2005), Summerfest, South By Southwest, CMJ and major club shows.
Long before signing with MySpace Records, Voegele released two indie EPs, The Other Side (2003) and Louder Than Words (2005) and was placing songs on the CBS dramas Clubhouse and The Ghost Whisperer, MTV's Newport Harbor and The Hills and the Lifetime movie Custody. 'I Won't Disagree' took first place over 4,000 entries in the New York Songwriter's Circle, winning Pop Song Of The Year, while 'Only Fooling Yourself' was the winner of the USA songwriting contest.
'The songs on Don't Look Away are an amalgamation of everything that's happened in my life the last three or four years,' she says, 'taking things that are personal in my life and connecting them to universal experiences that everyone can relate to. I want people to listen to what I'm singing and feel as though I'm speaking to them, as if this is what they needed to hear this week. The songs reflect all of these experiences where I've learned to become more confident and outgoing while realizing I can't run from the things that used to intimidate me. It's been great to realize that no matter what kind of setbacks I face, I know it's important to never give up on what I really want to do.'
'I grew up just an average Midwestern girl in Cleveland, with no music industry connections, normal parents, and a resume that includes being on the high school dance team. There weren't these major life catastrophes that a lot of songwriters have to draw from, but I've realized that people of all ages are connecting with the experiences I have had. Being successful as a writer comes down to writing relatable songs, words that people can hear and say, 'wow, I've been wanting to say that but didn't know how."
The notoriety Voegele achieved with her EPs and high-profile live performances earned her quite a bit of interest from major label A&R folks, but she found the experience of showcasing for these bottom line-oriented execs cold and intimidating. 'It was always about older guys in suits acting like I better impress them before they go on their lunch breaks,' she says. But the minute she walked into MySpace and saw the infamous 'Tom' hanging out in his trucker hat, surrounded by friendly people who showed a genuine interest in making her career happen, she knew that would become her label home.
'When I walked in, I really didn't know what to expect because the label was just starting out,' Voegele adds. 'But the atmosphere was really cool and so different from the other labels I had been to. Tom and Jon were easy to talk to and I felt comfortable right away. I played them a few songs and everything happened from there. I loved the fact that these guys were like the anti-label, unafraid to take risks and pioneer a whole new marketing approach that would rely on MySpace itself to promote their artists. All truly successful businesses and people are ultimately risk takers and I liked that spirit. Also, I'd been looking for a label where I'd have artistic freedom and they'd appreciate the music in its original form. They weren't trying to make me something I wasn't. They didn't mind that I was just a nice normal small-town girl without a gimmick to latch onto! I'm really happy to be their first artist and am excited about their plans for the label's future.'
In addition to Ben Lee, Voegele has shared tour busses over the last year with a band of new musical brothers, including Teddy Geiger, Matt Nathanson, Josh Kelley and Cary Brothers. Later this winter, she'll be touring with the Hanson brothers, whom she originally met during a songwriting retreat. 'It's so amazing to be on the road with these great artists who are also such wonderful people,' she says. 'I've learned so much that I like to say it's like being in college but instead of classes, we're out there playing shows and having fun every night. It's also nice to have the opportunity to meet young singer/songwriters out there who ask me if there's a magic formula for success. I just tell them, not everyone's going to immediately connect with you. but the key is to find the people out there who get what you do and understand who you are. It may sound a bit cliché, but besides making great music, everything boils down to not getting discouraged when you know you have something great to offer the world.'
Jonathan Widran is a free-lance music/entertainment journalist who contributes regularly to Music Connection, Jazziz and All Music Guide. He can be reached at [email protected]. He is also on Google+