John Rzeznik of the Goo Goo Dolls Talks About The Band's New Album, Boxes, And Writing Ther Songs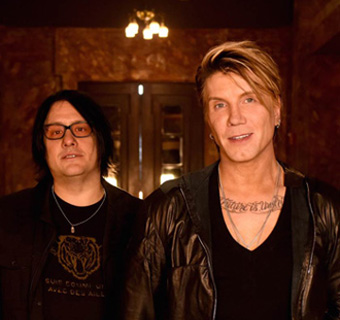 Although the Goo Goo Dolls didn't start their hit-making streak until the mid-'90s, when "Name" from their fifth album A Boy Named Goo reached #5 on the Billboard Hot 100, their new album Boxes marks 30 years since Buffalo, NY-based John Rzeznik (vocals & guitar) and Robby Takac (vocals & bass) first joined forces.
The three-time Grammy nominated band's first recording since longtime drummer Mike Malinin departed at the end of 2013, the new 11-track set keeps the essence of their trademark infectious melodies, heartfelt lyrics, power balladry and anthem-like choruses intact while pushing forward with fresh sonic ideas and dynamic production values. The lead single "So Alive" was the #1 most added song at Hot AC radio the week it was released, and reached the Top 20 on the Mediabase chart.
The Goos created some of the most iconic musical moments of the '90s with hits like "Naked," "Slide," "Black Balloon," "Dizzy and "Broadway" and catapulted to stardom with Rzeznik's acoustic ballad "Iris," their Top 10 hit which also reached #1 on Billboard's Adult Top 40 and Alternative charts. Appearing on both the City of Angels soundtrack album and later the band's Dizzy Up The Girl album, the song earned three Grammy nominations, including Song of the Year for Rzeznik. The band's success extended into a fourth decade when "Home," from their 2010 album Something For The Rest of Us, hit the Top 10 on Hot AC radio.
Reflecting on "Iris" as a turning point in The Goos' commercial fortunes, Rzeznik says, "The great truth about songwriting is that nobody really knows how or why something becomes a hit. We took a massive leap forward with that song and its sound was an enormous change for the band. I wrote it sitting alone in a studio, and when Robby and I stood behind the glass listening to it come to life with a 16-string orchestra, we looked at each other, and thought, 'We can't go back.' We knew if we put this song out, a lot of people, including fans, would probably hate us. But we didn't care because we knew it was good! I've always believed that if you write a song you plan to play every night, it damn well better be an honest extension of who you are. At that time, 'Iris' was."
When it came time to write and record the new album, the last thing that Rzeznik wanted to do was sit by himself in a room and try to write songs. He bluntly says, "I've been doing that for years and it would have resulted in the same old shit. When you've been doing this as long as I have, you need outside input—not just to keep you relevant, but to keep you sane and humble." Choosing to push himself past his comfort zone, he checked his ego at the door and brought in some of his favorite songwriters and producers (who are also good friends) to collaborate with—talented hitmakers who are, Rzeznik says, "completely West of where I'm at."
These included Gregg Wattenberg (with whom Rzeznik wrote four songs on the band's 2013 album Magnetic), Derek Fuhrmann (Wattenberg's production partner) and Drew Pearson (best known for his work with Phillip Phillips and OneRepublic). Boxes features four co-writes with Wattenberg (three of these with Fuhrmann) and three with Pearson. Rzeznik was also inspired by a 2014 collaboration with dance duo Cash Cash on a song called "Lightning"—an experience which introduced him to a different genre and a whole new process of writing and recording.

Here's the Goo Goo Dolls performing their new single "So Alive,"
on the Jimmy Kimmel Live! show.
One of the driving forces behind Rzeznik's desire to break out of his usual "box," so to speak, was listening extensively to David Bowie in the months before the legend passed away. The singer thought about how Bowie went from Scary Monsters to Let's Dance—and what an "insane, radical change" that was. "Everything he did was daring and different, and he always brought in different people to collaborate with while looking to grab little pieces of what was happening at the time in pop culture," Rzeznik says. "Part of his genius was that he could see something coming down the pike and he was willing to play around with crazy things. Previously, The Goo aesthetic was this slow sonic evolution, but I felt with Boxes it was time to put the hammer down, go for it and get some interesting influences in there and try something different."
While Rzeznik respects all the different ways pop songwriters approach their collaborations— including the craft of "guns for hire" who work with a different artist every day—his personal aesthetic is that songs have to start from zero. "So Alive" began with Rzeznik, Wattenburg and Fuhrmann in the room, with a simple drum beat and acoustic guitar strum, over which Rzeznik created the memorable melodic top line on piano while "just messing around." Fuhrmann came up with the melody for the soaring chorus, and from there, the singer remembers, "everything just started piling on top of each other." Once the basic song structure was solid, Rzeznik's cathartic lyrics, inspired by the emotional experiences of the past few years, poured out quickly.
"They were inspired by the changes I was making in my life, including getting married and getting sober for the 43rd time," he says. "I gained a lot of perspective in looking at the urgency of what life is about. I thought back to the way we coast through our 20s with this illusion of invincibility, and when you do music for a living, that extends to your 30s, and that's when you wake up and its gone, which is a really tough thing to look at. In getting sober again, I realized that I had a lot of feelings I never knew how to deal with. I had this habit of folding up into a ball and staying out of sight for months, because I had no capacity for dealing with emotions without drinking. I did that my entire life and I couldn't do it anymore. I was determined to get to the other side of that place without substances, and knew I couldn't do it alone. That's what 'So Alive' and some of the other songs on Boxes are about. And one of the biggest reasons I wanted to work with outside people was that realization that I couldn't do anything on my own."
The high-energy opening track "Over and Over" is the album's only track co-written by Rzeznik and Takac (with Pearson and drummer Craig MacIntyre). The Goo founders realized it had been a long time since they had written together, and they brought MacIntyre into the room to throw some fresh musical ideas around. They knew they wanted Pearson to produce it, and when they got to a certain point and realized it "wasn't quite there," they asked him to if he had any ideas to polish it off. "He mulled it over and had crazy ideas like that wild synth line, and I was like 'Holy shit, this is really fun.' The basic song was there, but he came in and pumped the chorus up and did an amazing production that took it over the top. I love working with great producers, because when they come in and start making a song sound incredible, a bunch of new ideas come out."

Here's the Goo Goo Dolls performing their new song "Over and Over,"
on the Jimmy Kimmel Live! show.
In further discussing his passion for songwriting, Rzeznik makes pointed mention of a documentary on a prominent boy band, in which the group members sat around a table picking the songs they wanted to choose for their album. "I found this so offensive, because more and more in the pop world, writers are treated like the hired help, where in actuality the songwriter is the most important person in the process," he says. "I always tell budding songwriters that to become great at their craft, they must keep their mind and eyes open, and listen, listen, listen. Find people who have had success in the field or have done things you aspire to do, and let them guide you.
"The greatest songwriters are very generous with their advice," Rzeznik adds. "I still remember a conversation I had in 2001 with Tom Petty, and the crux of what he said was, 'Say what you mean.' When you're ready to share your songs with the world, remember, you have to like it first because when they go out there, you have no control over what's going to happen. It was just like when Robby and I finished this album, we realized we had a blast hanging out and making music. We looked at each other like, 'Dude, we won! It's going out into the world, but let's not sweat it.' Just write and sing with your own voice and don't worry after that."
Jonathan Widran is a free-lance music/entertainment journalist who contributes regularly to Music Connection, Jazziz and All Music Guide. He can be reached at [email protected]. He is also on Google+