Interview With Joel Little, Grammy-Winning Writer/Producer For Lorde ("Royals"), Khalid ("Young Dumb & Broke"), Imagine Dragons and Other Artists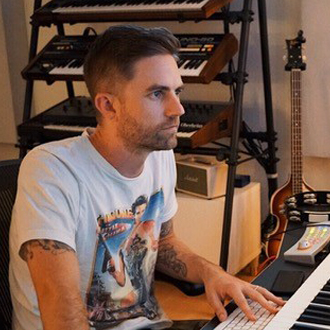 Joel Little, a writer/producer who is originally from New Zealand, has been known as a top hitmaker since he co-wrote & produced all the songs on Lorde's breakthrough debut album (Pure Heroine) in 2013. Impressively, he and Lorde won the Grammy Award for Song of the Year, for writing "Royals," which was a worldwide hit that was #1 on the Billboard Hot 100 chart for nine weeks.
Winning the Grammy Award was a culmination of an amazing year for Little, who made the transition from being a local musician in New Zealand to worldwide acclaim in about 12 months. It was also during this period that Little had a Top 10 hit with Lorde's single, "Team." Then in 2014, Little co-wrote & produced Lorde's hit "Yellow Flicker Beat," that was featured in the soundtrack from the hit movie, The Hunger Games: Mockingjay – Part 1. Notably, Little also co-wrote Lorde's recent hit "Green Light," which is from her latest album, Melodrama.
SPECIAL FEATURE: STREAMING AUDIO

Here's an excerpt of our interview with Joel Little, who tells how he first met Lorde and began collaborating with her, and co-wrote her #1 hit song, "Royals."
After his success with Lorde, Little became an in-demand writer/producer who has collaborated with other top artists including Khalid (the current hit "Young Dumb & Broke"), Imagine Dragons (their new single "Whatever It Takes"), Sam Smith, Ellie Goulding, Bebe Rexha, Tove Lo and Fitz and the Tantrums. In addition, Little co-wrote & produced all the songs for the New Zealand pop duo Broods' first album (Evergreen), and most of the songs on their second album (Conscious). He has also produced albums by Australian artist Jarryd James (Thirty One) and U.S. artist, Ruth B (Safe Haven).
Little, who is signed to a publishing deal with Sony/ATV Music, has been based in Los Angeles for the past few years.
We are pleased to do this new Q&A interview with Joel Little. He tells how he got started, how he met and worked with Lorde, and his other hit projects.
DK: Are you originally from New Zealand?
Joel Little: I am, yeah (laughs). Born and raised there. I've been out here in Los Angeles since things happened with Lorde. That whole experience (and success) with Lorde was completely life-changing for everybody. For a while, I went back and forth from New Zealand, but now I've been out here in L.A. for a few years.
DK: How did you get started as a musician? I read that you were the singer & writer for a band called Goodnight Nurse.
Little: Yeah, I was in that band for nine years. When I was a teenager, I was super into pop/punk music. I just loved the Southern California punk scene and bands like NOFX, Lagwagon and Blink-182. I remember seeing a Warped Tour show around 1998, and I saw that the bands were having such a good time. And some of them actually were not that great live. I had been playing guitar for a while, and I was like, "I can totally not be great live too" (laughs). So I decided to get with some friends and start playing some music.

Here's the video of Lorde's #1 hit "Royals," which was co-written
by Joel Little.
Our band was fairly successful down in New Zealand—we had two Top 5 albums down there and we got to tour and it was great time. It was just a good training ground for me in terms or playing, performing, and figuring out how to write songs. Being in the band was a great experience, but the thing I loved most about it was the creative side (in the studio) and the songwriting. And so when I had an opportunity to just focus on that, I took it.
DK: How did you meet and start working with Lorde?
Little: I had just set up a studio in New Zealand. [As a writer/producer] in New Zealand, in order to make a living, you kind of have to do everything…do every single thing that comes your way. So I got into producing a bunch of different stuff. I was writing music for TV commercials and doing some soundtrack work. The whole idea was that we would do the ad jobs, because it would pay the bills.
Still, I wanted to work with artists on their projects, and Lorde was one of the first people that came through. My manager saw her perform, and I'd been sent one of her demos. She was signed to a development deal with Universal (New Zealand). When I met her, we just started hanging out in the studio, and we would listen to a bunch of different music and talk about it, and try out little ideas. And then once we built a bit of trust and a relationship, we started piecing together full songs.
Lorde always had these amazing lyrics when she came in, and initially, she didn't really know how to put them into songs. And so it was a good exercise for me as well. I hadn't really written songs starting with the lyric. But because her lyrics were so amazing, it was a good exercise. I'd ask her, "What chords and melody and instrumentation would help strengthen what you're saying with this lyric?" And so once we kind of cracked down to that approach, it came together really fast.
DK: When did you and Lorde write "Royals"?
Little: I think it was the third or fourth time she came in. We blocked out a whole week, and she pretty much had all the lyrics for "Royals" and a few other songs. In that week, we wrote "Royals" and songs called "Bravado" and "Biting Down," which were on her first EP. And that's when we knew we'd figured out what her sound was, and where we wanted to take it.
DK: On Lorde's first album, in addition to co-writing and producing, did you play all the instruments on the album?
Little: Yes, she and I were the only two people involved across the whole album. I played every instrument and co-wrote every song…produced it, mixed it, engineered it. The only other person involved was the mastering engineer (Stuart Hawkes).

Here's the video of Khalid's hit "Young Dumb & Broke," which was
co-written by Joel Little.
DK: How did you become skilled at playing all the instruments?
Little: I think it was just more out of necessity (laughs). When I started to get into the production side and focusing on that, it just became a thing that I had to do. I never had music lessons or anything like that. Whenever I'd write a song, I'd try to figure out whether it needed piano, guitar or other instruments. Even though I played guitar, I was never really a shredder on the guitar…I would just hear these ideas in my head and then sit down and figure out how to do it. So I just did that with every instrument.
DK: Early on, when you were first working with Lorde, did you envision that she would become way bigger than a local New Zealand artist?
Little: I knew that she was special. But you know, being from New Zealand, those kind of things never really happen. And the whole plan initially, was that we were going to give it away for free. She was 15 at the time, and her approach was, "None of my friends have credit cards, no one can buy it." This was before Spotify (and music streaming) had kicked off the way it is now. And so she was like, "I want people my age to have access to my music, so I want to give these songs away for free." The whole plan was just to put the songs up on Soundcloud as a free download, and obviously once we did that it just snowballed. It was very unexpected that it got to where it did…it became a thing that was growing every day. We had another Holy Shit moment when somebody famous would tweet about it, or when it was added to a radio station. It was just a crazy, surreal experience for us, because we had no expectations or intentions for it to be a big thing.
DK: With "Royals" eventually reaching #1 worldwide, and you and Lorde winning the Grammy Award for Song of the Year, how did it feel to be having this amazing success?
Little:  It was just completely insane. It was hard to process, especially when we won the Grammy—that was the peak of the crazy year we had. I think it was about 12 months from when we released "Royals" to winning the Grammy. When I'd first started making music, all I ever wanted was to hopefully just make a living, and just make songs. It never even occurred to me that it was possible for us to win a Grammy (laughs). And when we did, it was just the most surreal experience.
DK:  Was it around that time that you decided to move to Los Angeles?

Here's the video of Lorde's hit "Green Light," which was co-written
by Joel Little.
Little: It was about six months after that. I have a family…I have a wife and two kids. So for awhile I was traveling back and forth and writing, and it was going well. Being in New Zealand, you just have this freedom—there's the isolation that gives you this freedom to do what you want creatively. So I wasn't sure it would work for me to come over here. But as I was going back and forth, I realized that there's a lot of people (in L.A.) who like to write, who aren't just trying to write big smash hits and just want to be creative. Not that there's anything wrong with writing big smash hits. But there are so many approaches to writing over here…people love to write in all sorts of different ways. So once I figured that out, I grew to love L.A. and made the choice to move the family over here. And we've been having a great time here.
DK: I noticed you wrote three songs with Khalid for his debut album, including his hit song, "Young Dumb & Broke." How did you hook up with Khalid?
Little: I think it was through my publisher—it was Sony/ATV that set up the session. At the time, it was in the early days for Khalid, before his song "Location" became a hit. I'd heard a Soundcloud link to "Location" and I thought it was really cool. When I heard his voice and the type of music he was making, I thought there was something really special about him. Then Khalid came around to my studio, which I have in my house, and we were there with a topliner named Talay Riley. And on the first day together, we wrote "Young Dumb & Broke." We'd written another song that day and it was really cool…a slow, dark track. We were about to finish up, but Talay said, "Hey. how about we try something else? We can do something that's a little more upbeat." And both Khalid and I looked at each other—we were quite tired…we'd been working pretty hard. But we said "Okay," and I just turned around and I made the beat and the chords on the spot. And within half an hour, the majority of the song was written. It obviously doesn't always happen quickly, but for some reason that song clicked into place straight away.
DK: Getting back to Lorde, her first single from her second album was "Green Light," which you co-wrote. Can you talk about co-writing this song?
Little: Yeah, that was actually a song that [Lorde and I] started. We had worked on the verse and pre-chorus parts, although it had a completely different feel and form. And then when Lorde was working with (writer/producer) Jack Antonoff, they pulled up the song and started playing around with it, and they added the chorus part to it. So it was different for me…it was an interesting way to come about a song. But it all came together and came out great in the end.

Here's the video of Imagine Dragons' new single "Whatever It Takes,"
which was co-written by Joel Little.
DK: You've also worked with Sam Smith, Imagine Dragons, Ellie Goulding, Bebe Rexha and other hit artists. Can you tell me about those projects?
Little: They were all really fun. Everyone that I've worked with has been super cool. The first story that springs to mind is, I worked with Sam Smith just before he really blew up. I had flown to London for the first time, and I gone there direct from New Zealand. I remember the session was the day after I arrived, and there's a 12-hour time difference. I was super jet-lagged and our session started at 3:00 in the afternoon. I got to the studio and remembered that it was 3 am back in New Zealand. I was feeling super spaced-out, and then Sam comes in and I mentioned that I was sorry about being jet-lagged. And Sam was just super lovely about it and said, "Yeah I totally understand." He was just very relaxed, and then we started playing around with a few chords and stuff, and the song ("Reminds Me of You") came together really easily.
For Imagine Dragons, I went to Las Vegas because the band is from there and they have a house that they use as a recording studio. I just went and worked with Dan (Reynolds) for a couple days, and we wrote two really great songs. "Whatever It Takes" (their new single) is one of them, and the other song will see the light of day at some point.
DK: Are there other projects that you're currently working on that you're excited about?
Little: Yeah, I really love this artist Noah Kahan who I'm producing. He's an amazing songwriter. He's on Republic Records. He's young, and he's another artist who has a unique and interesting voice. They just sent me this songs, and I wanted to be a part of it because I think the songs are great. It's a bit of a departure for me, in that its mostly live instrumentation with a lot of acoustic guitars. It was fun…the songs I've done with Lorde, Broods and other artists have been more synths and programmed drums. So it was cool to pick up the guitars again, and get on the piano and play live bass.
I've also been writing with Daya, who's really great. I will be working on the new Broods record, and Jarryd James (from Australia) is another artist I've worked a lot with. I've also recently worked with 6lack—he's a great hip-hop artist from Atlanta.