Jason Reeves Co-Writes Two Hits With Colbie Caillat, Releases Solo Album On Warner Bros.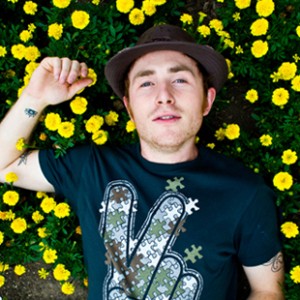 The ongoing phenomenon of Colbie Caillat's debut album Coco and its two hit singles 'Bubbly' and 'Realize' has provided a major boost for the solo career of singer/songwriter Jason Reeves, who co-wrote ten of the disc's 12 songs. In August 2007, when Reeves released his latest album, The Magnificent Adventures of Heartache (the full title includes the addendum 'And Other Frightening Tales'), it was a strictly self-distributed DIY affair which he sold via sites like iTunes and from his live gigs. Its sales on iTunes were impressive enough for the site to name it one of the Top Folk Albums of 2007, and Reeves also earned distinction as one of iTunes' Top Indie Singer/Songwriters. Early this year, Warner Bros. Records signed Reeves, and the label is making his album physically and commercially available on a grand scale for the first time.
Even before striking platinum with Caillat, the 23-year-old Reeves had built an small but popular and critically-acclaimed catalog of independent releases which he recorded in his home state of Iowa long before making the move to Los Angeles; these include Makeshift Aircraft (2003) and The Nervous Mind of Love (2004). He was invited out to California to work on his subsequent EP Hearts Are Magnets with producer Mikal Blue, who thought he might have some things in common with his other charge, aspiring singer/songwriter Caillat. This casual introduction led to one of pop music's most inspiring success stories of recent years, as Caillat parlayed her growing notoriety on MySpace into a major record deal with Universal Republic.
Besides Coco's success in the U.S. where it reached #5 on the Billboard 200, it has become a truly international hit, charting in France, The Netherlands, Germany, Switzerland, Greece, Portugal, New Zealand, Australia and Brazil. Caillat's breakthrough single 'Bubbly,' whose video has been viewed on YouTube over 22.5 million times, hit #5 on the Billboard Hot 100, and #1 on Hot AC, AC and AAA charts. It also went Top 10 in nearly 20 countries worldwide. Reeves is a featured vocalist on the follow-up single 'Realize,' which reached the Top 20 on the pop chart and went Top 10 AC. Though they haven't been released as singles, the informal videos for their songs 'Droplets' and 'Permanent' (featuring appearances by both Caillat and Reeves) are currently huge attractions on YouTube.
As a solo artist, Reeves boasts over five million plays on his MySpace page, and he was the site's #1 unsigned folk artist for over nine months. The Magnificent Adventures of Heartache, which appropriately enough, Reeves calls a 'musical fairy tale chronicling the many stages of a relationship,' debuted at #2 on the iTunes folk chart. A longtime presence at Hollywood's intimate taste-making club Hotel Café, Reeves' three-piece band has toured this year opening for Caillat, Tyrone Wells and OneRepublic. He also headlined for the first time at the El Rey Theatre in Los Angeles.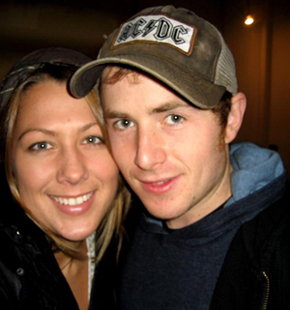 Reeves is typically humble in discussing his seemingly overnight transformation from struggling indie singer-songwriter to in-demand artist. 'Mikal (Blue's) manager Donna Rambeau found my songs online somewhere and hooked me up with him,' he says. 'We were in the middle of recording the EP when they told me they had this girl Colbie, who was also working with Mikal on some songs. They knew I was new in L.A. and figured we would have a lot in common. Colbie picked me up to just hang out one day and we hit it off really well. We went back to her house and started writing songs immediately. There was just this crazy magic that happened, and in fact the first song we wrote was 'Magic'! We're definitely coming from the same place as singers and songwriters and share a similar point of view on things in life. Both of us are strong writers on our own but benefit greatly from having the other's perspective. For me, it was cool to learn how girls perceive things. There's also something about the way our voices blend that brings out melodies that we might not otherwise discover.'
At the time, Reeves and Caillat were just two ambitious kids having fun writing in-between hanging out at the beach, hiking the Santa Monica Mountains and gaining inspiration looking at waterfalls. The out-of-the-box critical and commercial reception to 'Bubbly' caught both by surprise. 'It was something of a shock at first,' he says, 'but then it all started making sense to me. People are responding to Colbie's absurdly gorgeous voice, which I knew was special the first time I heard it. On a deeper level, I think these songs have connected because more people are grabbing onto real music. That's always been my goal as a songwriter, to make honest music where listeners can see truth in the lyrics and the production rather than just worry about the fancy studio costuming.'
To that end, Reeves on The Magnificent Adventures of Heartache paints 15 sophisticated portraits of some of life's most vulnerable and exhilarating moments. Anchoring every emotion with memorable melodies, radio-ready hooks and his inviting vocals, he crafts a musical journey full of love, loss and ultimately, hope. Reflecting his trip across the country to pursue his musical goals, the song 'Reaching' ponders the question of whether to abandon caution and the familiar in order to plunge headlong into the risk and potential reward of the unknown.  On 'Pretty Eyes' he idealizes the utopian moments in life when one is in love, while 'Never Find Again' reminds us that perfection is all too fleeting. Reeves is always striking a balance – the disc's first single 'You In A Song' is a feel good love song, while 'Just Friends' touches on that dreaded but familiar feeling of being told a lover wants to keep things platonic. His sweeter sentiments often give way to raw hurt on tracks where a relationship goes bad and his lover commits the ultimate sin, striking a match 'as she is covering my heart with 'Gasoline."
'I haven't shied away, unfortunately, from getting myself into those kinds of situations,' he says, 'but all of those experiences contribute to the idea I express on the album, that falling in and out of love sometimes feels like a dream even if it's real and literal. I've always believed that all songs exist somewhere in the atmosphere and artists are on a romantic search to pull them down and give them life. Whether I'm writing for a girl or a guy, for Colbie or myself, my job is to capture the voice of the artist singing. The key for up-and-coming artists making the kind of music we make is to believe that they can get to where they want to go as long as they never give up. If you don't ever fail, you won't ever learn not to fail.'
Jonathan Widran is a free-lance music/entertainment journalist who contributes regularly to Music Connection, Jazziz and All Music Guide. He can be reached at [email protected]. He is also on Google+