Top Indie Singer/Songwriter Ingrid Michaelson Talks About Her Compilation Album Be OK, Her Single "Be Okay," And Writing Her Songs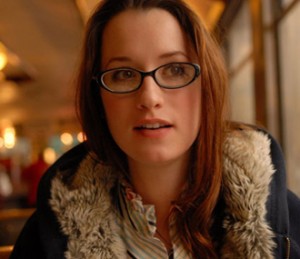 Since the night in January 2007 when ABC's Grey's Anatomy prominently used Ingrid Michaelson's 'The Way I Am' in one of its episodes, the New York-based singer/songwriter has been the poster artist for all aspiring indie musicians hoping to score a major career without the benefit'and the hassles'of being signed to a major label. The song, which was the first single from her second album Girls and Boys, took on a life of its own, racking up a million downloads, hitting the Top 40 on the Billboard Hot 100, reaching #2 on Billboard's AC chart and earning even more national exposure as part of Old Navy's Fall 2007 Fair Isle advertising campaign.
On the strength of 'The Way I Am' and other tracks like 'Breakable' and 'Corner Of Your Heart' which were also featured on the hit hospital drama, Girls and Boys reached #63 on the Billboard album chart and has sold 250,000 units to date. Another Grey's Anatomy song, 'Keep Breathing,' is included on her latest release Be OK, which debuted at #35 on Billboard with sales of 15,000 its first week; it has also reached #2 on the Independent Albums chart. Michaelson's songs have also been featured extensively on The WB's One Tree Hill and in the film House Bunny. Her success has led to appearances on Good Morning America, Live With Regis and Kelly, Late Night with Conan O'Brien and The Tonight Show with Jay Leno.
Gearing up for her 20-date late fall U.S. solo tour which launched October 29 in her hometown of Staten Island, New York, she opened for Jason Mraz on his recent European jaunt (performing in the U.K., Sweden, Denmark, the Netherlands, Germany and France) and on September 10, opened for Dave Matthews Band's Stand Up For A Cure charity show at Madison Square Garden. She's also opened shows for Ray LaMontagne, The Magic Numbers and Matt Nathanson.
Michaelson released Be OK, a collection of covers, live songs and a handful of new tracks, to keep her growing number of fans satisfied as she works on new material for her upcoming third, full-fledged album. Its title single and video are being used to raise money for Stand Up To Cancer, a groundbreaking initiative aimed at raising funds to accelerate cancer research and end cancer's reign as a leading cause of death. Notably, a portion of the sales from the Be OK album and single will be donated to Stand Up To Cancer.
'I wanted to put something out as a gift to my fans,' says the 28-year-old singer. 'I still feel funny saying the word 'fans,' but people who've responded really strongly to my music know a lot of these songs because they've heard me play them live. A lot of people have said they really wanted to be able to have them to listen to, and I wanted to give them that. I met two of the women at Stand Up To Cancer and they were looking for songs. I hadn't recorded 'Be OK' yet, so I sat in this little room and played it for them, and by the end, we were all crying. It may sound hokey, but everybody who was there can testify to how magical the moment was.'
While Michaelson released her 2005 debut Slow The Rain completely on her own'the way she originally put out Girls And Boys in 2006'she formed her own label, Cabin 24, for the re-release of Girls And Boys in 2007 and for Be OK, which came out in mid-October. She incorporated her own company so that she and her manager, Lynn Grossman, would have a better shot at hooking up a global distribution deal'which they snagged via a unique tie-in between Original Signal Recordings, which takes care of her marketing and radio promotion, and the Sony-owned RED Distribution. RED's other acts include Los Lonely Boys, Nine Inch Nails, Elliot Yamin, Radiohead, Dwight Yoakam and Bone Thugs-n-Harmony.
'As much as it would be cool to say I'm a completely DIY artist, it's virtually impossible to get an album into stores these days unless you have a distribution company'and you can't get that unless you have an actual label,' says Michaelson. 'As my career has taken off, I've also hard to hire my own web designer, internet guide, photographer and booking agents for different regions around the country. The reason there's been no temptation to sign with a major label is because as I was making inroads and gaining recognition, I kept wanting to see how far I could take this on my own. That was part of the story which got me so much attention, the fact that I was working hard to make things happen without a major label deal. My attitude has been, why sign if I'm doing okay? Let's just see how long we can go as an independent.
'But contrary to what some people have thought, I'm not anti-major label and I didn't say I would never sign a major label deal, just that I wouldn't do it right now,' she adds. 'It's always the wrong move for any artist if he or she signs the wrong deal or with a label that doesn't have their best interests at heart. The key to thriving as an indie are finding the right people to work with and who believe in you'but I don't look down on artists who feel that a major is the best way for them. If I ever do hook up with a major, I would probably consider a joint venture which would allow me to retain my independence, keep rights to my songs and maintain artistic control.'
Ironically, though Michaelson has a deal with a licensing company that pitches her material to film and television music supervisors, the person in charge of finding songs for Grey's Anatomy actually found the singer through her MySpace page. 'It was six months after I originally released Girls and Boys and they liked these songs, and the next thing I know, everything exploded and my career went to another level,' she says. 'I was very excited and nervous when I realized my music was going to be on TV. It's a very strange experience. But even though that helped my career take off and I've been lucky enough to have more TV and commercial placements since then, I'm aware that everything comes and goes in waves. I could get a ton of attention now and then in a few months everyone could stop calling. Which is why I do so many radio visits and I'm so focused on touring and staying in front of people. They may know my music, but I'm hardly a household name or face, so I have to rely on the songs and concerts to keep the momentum going.'
As one of the fortunate purely indie artists who have set the industry standard in developing a lucrative career, Michaelson is constantly being asked for advice by budding singer/songwriters on how to follow a similar path. 'Sometimes they don't want to hear me say it, but I think luck has as much to do with it sometimes as talent,' she says. 'There are some elements that are out of your control, but I always say work as hard as you can and with any opportunity that comes your way, to take it and milk it for everything it's worth. You can't let any chance to let people hear your music go by, you can't sit back and let others run with your dream.
'Don't expect anything,' she adds, 'but be prepared for everything. If you set your expectations too high, you will be let down and frustrated. I also stress that if you're doing this just to be famous, stop because it won't happen. Do it because you love it and are dedicated to making music for the rest of your life no matter what obstacles are in your way. The payoff for sticking to your guns comes when someone come up to you after a show and tells you how much your songs have affected his or her life. That intimate connection is one of the big reasons I worked hard to get to where I'm at.'
Jonathan Widran is a free-lance music/entertainment journalist who contributes regularly to Music Connection, Jazziz and All Music Guide. He can be reached at [email protected]. He is also on Google+