Inara George Of The Bird And The Bee Talks About The Duo's New Album, And Their Songwriting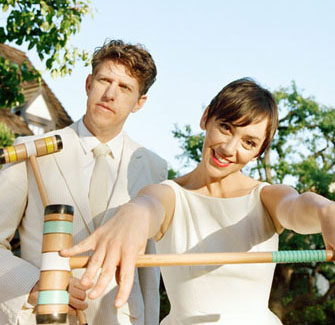 Ten years after discovering their mutual love of Brazilian and jazz standards, deciding to pool their talents and signing with Blue Note Records, The Bird and the Bee—singer/songwriter Inara George and songwriter/producer Greg Kurstin—continue to keep their unique musical chemistry flowing. On Recreational Love, their first album of original material since 2009, the duo strips away their previous trademark densely layered sound to let their easygoing melodies and quirky lyrics shine through.
Though they've never charted higher than #75 on the Billboard 200 with any of their four albums, the duo have remained critical indie darlings since scoring a #1 Billboard Dance Club Songs hit with their debut 2006 single "F***ing Boyfriend." Emerging on Blue Note with their EP Again and Again and Again and Again and their full length 2007 self-titled debut, they followed up with Ray Guns Are Not Just The Future (2009) and then mined the catalog of Hall & Oates, one of their chief influences as a pop duo, for Interpreting the Masters Volume 1: A Tribute to Daryl Hall and John Oates.
There are good reasons for their long recording delay between the Hall & Oates set and their new album Recreational Love—namely, George and Kurstin's busy and eclectic solo careers. George ("the bird") has released several independent solo projects and sings in the indie-folk trio The Living Sisters. Greg Kurstin ("the bee"), an accomplished jazz pianist, is a multiple Grammy nominee, top songwriter and producer for numerous pop stars, including P!nk, Beyonce, Ellie Goulding, Katy Perry, Dido, Beck, Sia and Lana Del Rey. In 2013, he was nominated for Grammys in the Song of the Year and Record of the Year categories for Kelly Clarkson's "Stronger (What Doesn't Kill You"). Two year later, he received Grammy nominations for Producer of the Year and Record of the Year for Sia's hit, "Chandelier."
The Bird and the Bee's prolonged, pressure-free process of writing and recording Recreational Love allowed for a deeper level of creative experimentation and exploration than George and Kurstin could engage in on previous projects. The two set aside as many Friday mornings as possible over the past few years to create their latest batch of retro-pop. George sees Kurstin's whirlwind schedule of high profile pop sessions as a plus when it comes to his writing and producing for The Bird and the Bee.
"I think this album has a more mature sound because Greg has been working with so many different artists since our last project and has honed his producing chops," she says. "I think another bonus to us having outside careers is that we never have any stress about selling a certain number of albums or how popular we are in the mainstream. We just want to make great records, period. Sure, we love the idea of having our songs on the radio, but our only goal creatively is making an album that pleases us. This freedom allows us to try out things that we might normally be scared to do, knowing the other person would always have our back. It's great to have that sense of, 'Let's see how far we can take this.' Thinking back, when Greg and I first started making music together, it was the most natural thing that's ever happened to me, and it continues to feel that way. Neither of us depends on the other to make something happen, so when we work together, it's only because we really just love to."
Another key factor in the duo's musical development is based on their experience with the Hall & Oates tribute, which George likens to "going through Hall & Oates college." In studying and re-imagining their songs, the two were struck by the uniqueness of their arrangements. The Bird and the Bee's sense of freewheeling playfulness comes infuses the new album's lead single, the bass heavy, discofied empowerment anthem "Will You Dance," as well as their crafty valentine to their mutual home city of "Los Angeles." George, who pens the majority of the lyrics, often likes to create a persona outside herself to tell a story. "Runaway," a la the film The Graduate, allows her to imagine herself as an older woman going after a younger man, determined to get what she wants without complicating anything with romance.

Here's the video of The Bird and the Bee's song, "Recreational Love."
Discussing The Bird and the Bee's unique collaborative songwriting process, George says, "We've always pretty much written the same way, where Greg will find the chord progression and I'll come up with the melody as he's developing and producing the track. Then I'll work on the lyrics, although on occasion Greg has contributed lyrical content and I'll always listen if he has a suggestion for improvement. We're like that with everything, always open to the other's opinions in the spirit of creating the strongest, catchiest songs possible. Greg and I bring out the best qualities in each other, and we're not afraid to take risks. He's a genius and brings a wealth of musical knowledge to the process. Every tool he's using with other artists, he can put into practice with the duo. There are no rules and we're not afraid to sound uncool or even silly. When I'm working on my solo material or with The Living Sisters, my songs tend to be less poppy, so when we get together, I feel more open to writing lighter, more accessible material. I can write from a different perspective."
The Bird and the Bee recently created a compelling video for "Los Angeles," which personifies its title as a lover in need of protecting. George says that while she and Kurstin both love their hometown, many see it negatively—and it was time to write a song in defense of it. The song emerged very organically. She says, "Sometimes when we get together, we have no idea what we're going to write. But going into this album, I knew I wanted to write a song about L.A. We grew up here and love living here. Still, it was a surprise the way it emerged. Usually, the track and melody will tell us what a song should be about. I didn't go to Greg's house that day determined to write the L.A. song but the groove and progression he came up with seemed like the perfect template for it. I was thinking of the nights here, that summer feeling in the air, and it has that dreamy feeling."
When asked about what makes a great song, George hesitates at first before stating a simple answer that speaks also of the special collaboration she shares with Kurstin: "It's a combination of an emotional lyric and a strong, infectious melody that would come across just as effectively without a lot of production. Some songs need all of that to have that kind of impact, but if it's got that magical combination, no matter the setting, it will perk up your ears. Lyrically, a great song must be meaningful to the listener. That can be something deep or something fun that gets you going. I love writing and recording with Greg, and I think, despite the time between recordings, we still have so much to say. As great as working in the studio is, the essence of us truly emerges when we perform live, just him playing the piano and me singing. It's so very rare when you bond creatively with someone who makes you feel so completely taken care of."
Jonathan Widran is a free-lance music/entertainment journalist who contributes regularly to Music Connection, Jazziz and All Music Guide. He can be reached at [email protected]. He is also on Google+