Singer/Songwriter Greg Holden Talks About His Album Chase The Sun, And Writing The Hit "Home" for Phillip Phillips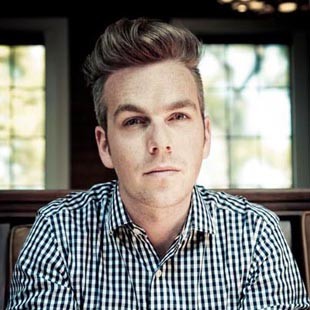 With two independent album releases and an opening slot on a tour with Ingrid Michaelson under his belt, Greg Holden was plodding along as an indie artist when an extraordinary thing happened: CEO Jimmy Iovine (of Interscope Records) chose "Home," a tune the Scottish-born, New York-based singer-songwriter had co-written, as the debut single for American Idol winner Phillip Phillips. Building on its global success as the best-selling Idol coronation song—with over five million copies sold in the U.S.—Holden is now emerging as a major label artist. His anthemic rocker "Hold On Tight" was released in January as the lead single to his Warner Bros. Records debut album Chase The Sun, produced by Greg Wells (Adele, OneRepublic).
One of 2012's biggest hits, "Home" not only debuted on the Billboard Hot 100 at #10 (peaking at #6), it became a pop culture phenomenon. While hitting on several different Billboard charts (including Triple A and Adult Contemporary), it was frequently used as a backing track in films (Trouble With The Curve), TV shows (Glee) and commercials (Walmart, Vizio, Mazda and Coldwell Banker).
Holden was most pleased that the final production of the Phillips track by Drew Pearson (who co-wrote "Home") included some of the original production they had worked on when the song was originally fashioned for Holden himself, including elements of his vocals. He had previously performed "Home" on tour but never officially recorded it. Discussing the creation of the song, Holden says, "It's a simple song Drew and I wrote in a few hours about a friend of mine who was going through some difficult times. It was like saying, 'Don't worry, someone cares for you, don't do anything crazy, someone's here. I wrote the lyrics, and Drew and I worked on the melody together. On a personal level for me, it reflected a change for the positive in my own life. It was a way to say something important that's sad and thoughtful, but with a positive sound and a sense of feel-good hope by the time you get to the end."
Holden, who received an ASCAP pop award for co-writing "Home," then reveals something fascinating about the songs' trademark wordless vocal hook: "That was a lazy moment for us that we just got lucky with. We were in the studio looking at the clock and saw that rush hour was coming along soon, so we knew we had to move things along. We tapped into this catchy melodic riff and suggested it for the chorus but didn't take the time to write words. Yes, we wanted to go 'Home' – and that's the part of the song people sing along to now!"

Here's the video of Greg Holden's new single,"Hold On Tight."
Holden had enjoyed a bit of success on his own before "Home" launched a new phase of his career. His song "The Lost Boy," inspired by the book What is the What by Dave Eggers about a Sudanese refugee, was released as a charity single in late 2011 and became a surprise hit in the Netherlands, hitting the top spot on the Dutch iTunes chart while raising over $50,000 for the Red Cross. Within two weeks of being featured on the long running FX crime drama Sons of Anarchy, the track sold 30,000 downloads in the U.S. and hit Billboard's rock chart. Ironically, the high debt he incurred touring overseas in the wake of its success in Holland—along with being unable to promote his 2011 album I Don't Believe You when the indie label went bust—almost led him to give up his music career entirely. Fortunately, he saw the success of "Home" as a sign which led him to continue his career.
While grateful for the success "Home" brought him as a songwriter, Holden saw it mostly as motivation to jump start his solo career. In February 2013, Holden embarked on a life-changing seven-week trip to India and Nepal that gave him a new perspective on his life and largely inspired the material on his new album. "I realized just how lucky I was, and the fact that I can make music for a living is a miracle," he says. "I came home from India and wrote most of my new album immediately."
The chorus of "Hold On Tight" states this theme plainly: "I don't take my life for granted/I'm gonna hold on tight to what I've been handed." Holden realized that his previous album was brutally honest, but pointed the finger in the wrong direction, projecting his problems onto everyone else. He says that Chase The Sun is about looking at his own life and realizing that he is indeed blessed to have this opportunity. "We're all lucky and we don't know it and we should," he says. "I really want to make people think with my songs. I'd love for them to take on a more compassionate way of thinking and start considering others besides themselves, myself included."

Here's the video of Phillips Phillips' hit single "Home,"
which was co-written by Greg Holden.
Holden wrote "Hold On Tight" in collaboration with one of his best friends, renowned Nashville singer/songwriter Tofer Brown. "We started talking about what I was going through and decided to write a really positive, feel-good tune designed to help people celebrate their lives a little more. It was the start of a new era where I looked at the big picture. That's why the album is called Chase The Sun because I'm looking forward and up, not being bummed out by anything. To me, what makes a great song is being genuine. That's the most important thing you can do with songwriting.
"Too many people compose tunes based on what others want or might think, or by what the radio might play, and they don't think about what they really have to say," he adds. "For me, the best songs are always the ones I don't force. Inspiration often comes to me in unique moments of weakness. That allows me to be vulnerable, but also forces me to look inward to say something meaningful. And that in turn hopefully succeeds in forcing listeners to think more deeply about themselves as well. I'm very proud of 'Home,' but I'm psyched about releasing Chase The Sun because I want to be more than just the guy who wrote a big song for another great artist."
Jonathan Widran is a free-lance music/entertainment journalist who contributes regularly to Music Connection, Jazziz and All Music Guide. He can be reached at [email protected]. He is also on Google+