Gavin DeGraw Talks About His Album Make A Move, His Single "Best I Ever Had," And Writing His Songs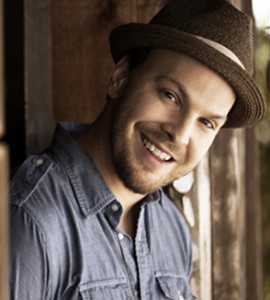 Fully reflective of the title of Gavin DeGraw's latest album Make A Move (on RCA Records), the New York-based singer/songwriter has taken a wildly different approach to songwriting on his last two recordings, collaborating for the first time on Sweeter (2011) and now the new album with heavyweight co-writers and producers Ryan Tedder (OneRepublic, Beyonce) and Butch Walker (Fall Out Boy, Pink) and a host of other top names on today's pop/rock landscape.
Well known for his earlier hits "I Don't Want To Be" (Top 10 pop in 2004) and "In Love With The Girl" (Top 30 in 2008), DeGraw has expanded his creative palette these past few years with "Not Over You" (a co-write with Tedder from Sweeter which hit Top 20 pop) and "Best I Ever Had," (his recent single from Make A Move which was a co-write with Martin Johnson). By design, the singer has gone from writing every original song himself on his second album Gavin DeGraw (2008) and its organic, stripped down down follow-up Free (2009), to co-writing four songs on Sweeter and now all 11 tracks on Make A Move.
Aside from exploring new themes and sonic possibilities, one of the key factors in DeGraw's decision to reach out to other writers and producers was efficiency. Without the structure of scheduling, he was finding it harder to finish songs he had started pounding out. "That's part of it, plus I had started to feel like a hermit in the songwriting world, the Lone Ranger without a Tonto," he says.
"It was really kind of a lonely process. When it came time to do Sweeter, my first album on RCA after J Records merged into them, I decided to co-write for the first time. Writing those songs with Ryan and then Andrew Frampton, who had done a lot of work with one of my favorite bands The Script, was a good experience, and I found that I could get a lot accomplished in a small amount of time. It's important to keep that momentum going. Likewise, I didn't want there to be a long lapse between Sweeter and Make A Move, so I expanded my range of collaborators."
One of the reasons DeGraw has been so concerned about momentum is the five -year delay between the release of his debut album Chariot in 2003 and his self-titled follow-up. Though fans embraced DeGraw and his hit "In Love With The Girl" as if he had never left the charts, there was a point where the singer was frustrated with the halt in his career and fearful about his survival as a viable artist.
"So when I had the opportunity to record a new album so quickly after Sweeter, I jumped on it," he says. "I thought, it would be great if we could get this thing out as soon as possible, but how can we do that? Co-writing accelerated the process and so the concept really became all about working with other people. Doing that really helped me put the album together in a timely way, and hopefully that in turn would help me keep the momentum I had going from the success of the songs 'Sweeter' and 'Not Over You.' It's also exciting to have an album that's more diverse than any others and that fans are listening to and saying that this is actually pretty cool. In my opinion, the pop landscape is full of so many talented people, and while everyone on that level is always busy with numerous projects, I was hopeful that the guys I wanted to work with would make the time and we could make the logistics of scheduling work."
DeGraw had fond memories of writing "Sweeter" with Tedder at Blackbird Studios in Nashville, "a wonderful place" owned by John McBride, husband of country superstar Martina McBride. Hoping to repeat the magic, he invited Martin Johnson there as the cross country process of writing and recording Make A Move got underway—and the two emerged with "Best I Ever Had." DeGraw wrote the songs "Need" and "Finest Hour" with Tedder at 9,500 feet in a makeshift hotel room studio in Telluride, where the OneRepublic frontman had a concert event. "Ryan and I have several different ways of writing together," the singer says. "Usually it takes 15 minutes to an hour and we emerge with a big chunk of a song. Essentially, we start with a groove with a countermelody and then write over the top of that. Once a pattern is established, something that's hypnotic, we can lay something down on top of that. The thing about working with guys like Butch (Walker) or Ryan is that they are always so specifically themselves, and it's exciting to have that kind of diversity on my album."
Other A-list producers contributing to Make A Move include Busbee (Jason Aldean, Kelly Clarkson, P!nk), Kevin Rudolf (Justin Timberlake, Black-Eyed Peas, Nelly Furtado), and Benny Blanco (Bruno Mars, Katy Perry, Maroon 5). DeGraw recalls one anecdote that sums up the magic that Blanco can bring to a session: "I was with songwriters Dan Omelio, Ammar Malik and Benjamin Levin at a café working on what became the title track. We were sitting around a piano and pulling our hair out trying to figure this thing out, trying to come up with the perfect melody, but nothing would stick. I got Benny to come in later and he tied what we had together. Benny is the ultimate A&R guy, he knows what's going to work or not, and he helped turn it into a great song."
Speaking generally about working these past years with so many fresh writers, McGraw says, "The main thing is letting your guard down. Though I knew it would ultimately help my career and result in better overall songs, I was very apprehensive initially to work with others. But at the same time, I wanted to try something vastly different, and that could only happen with other personalities involved. The main thing is that these collaborators have helped diversify what I do artistically. I still want to have my own stamp and musical trademark, but at the same time, I want people to hear the album and notice that it's different, even deeper than the last one and takes me to another place musically.
"The worst thing I could ever hear as an artist," he adds, "is that once you've heard one of my albums, you've heard them all. I wanted there to be an element of shock but I also wanted it to sound beautiful. Including some not so beautiful things would help accentuate the beauty in other areas of the album. So I balance the pretty track I wrote with Busbee, 'Who's Gonna Save Us', with the one I wrote with Kevin Rufolf, 'Leading Man.' The grace of 'Who's Gonna Save Us' makes 'Leading Man' sound that much more cocky."
Jonathan Widran is a free-lance music/entertainment journalist who contributes regularly to Music Connection, Jazziz and All Music Guide. He can be reached at [email protected]. He is also on Google+