Gavin DeGraw Talks About His Album Finest Hour: The Best Of Gavin DeGraw, And Writing "I Don't Wanna Be" And Other Hit Songs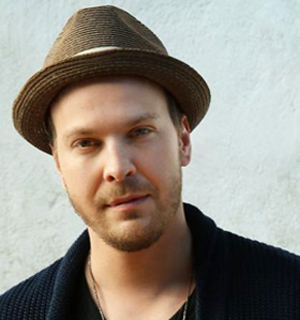 Singer/songwriter Gavin DeGraw has been a popular and acclaimed artist for the past decade. Starting with his platinum debut album Chariot in 2003, he has released five studio albums and has had four singles make the top 30 on Billboard's Hot 100 chart, plus other chart singles. He's been nominated for a Grammy award, and he's become a headlining, touring act in the U.S. and overseas.
To commemorate his decade of recording success, DeGraw has just released his first "greatest hits" album, called Finest Hour: The Best of Gavin DeGraw (on RCA Records). The album contains his big hits such as "I Don't Want To Be," "Chariot," "Follow Through," "In Love With A Girl," "Not Over You," and "Best I Ever Had." It also include key songs such as "We Belong Together," "Soldier" and the title cut "Finest Hour," which has been produced in a new version by hitmaker Ryan Tedder (of OneRepublic).
In addition, the album contains two new songs: the anthemic, current single "Fire" (co-written by Johan Carlsson & Ross Golan) and the ballad "You Got Me," which was written by Diane Warren and was featured in the movie Dolphin Tale 2.
We are pleased to present this new Q&A interview with Gavin DeGraw. He talks about several of his hit songs, his songwriting process, and his new songs. It was nice speaking with McGraw—he conveys a positive energy and a likable personality.
DK: I like the lineup of songs on your Best Of album. How did you decide on which songs to include?
DeGraw: When I was putting together the album, I wanted to pick songs that would be the best overview of my music for new listeners, plus serve as a good collection for people who know my music.  Many of the songs were singles of some kind. Releasing this album was also a great excuse to promote my new single "Fire," which I'm excited about. I wanted to put this song out right away, rather than waiting to include it on my next album.
DK: How did you write your song, "Fire"?
DeGraw: I was in the studio with Ross Golan and Johan Carlsson. Ross came up with the piano part which leads into the verse. We were excited about writing this song—it felt empowering, like an anthem. Anthems are fun to sing…it gets you excited and feeling victorious. It's also a good song to sing live.

Here's the video of Gavin DeGraw's new single, "Fire".
DK: On this album, do you have songs which are your personal favorites?
DeGraw: There are certain songs which mean different things to me. "I Don't Want To Be" is special, because it was at the beginning of my career and it was my lucky break. "Chariot" was also at the beginning of my career. But I want people to hear songs from my other albums and my new songs too.
DK: You've recorded a new version of your song "Finest Hour" for this album. Was there something about this song that you wanted to change?
DeGraw: I wrote this song with Ryan Tedder and it was released on my last album, Make a Move. But I wanted to get a fresh take on the song and I gave Ryan a call. We recorded a new version which we're very happy with. I really like "Finest Hour" and we feel this song could be a hit.
DK: I noticed that you wrote about half of the songs on the album by yourself, and the other half you co-wrote. These days, do you prefer writing by yourself or co-writing?
DeGraw: I love writing songs by myself and I still write a lot on my own. "Soldier" is a song that I recently wrote alone. But I really like co-writing, which is a different animal altogether. At first, I had to get over the hump of trying to co-write after just writing by myself. But I found that it really works for me. Co-writing is really interesting and it adds a new dimension to the songs. I'm really glad I began co-writing…it's the best thing I ever did, to write with other people. It adds more diversity to the albums, and it also adds to the dynamic of the live shows.
DK: Do you like to write songs mainly on piano, or on guitar? What's your songwriting process?
DeGraw: I write on both piano and guitar…whatever (instrument) is closest! (laughter). Once in a while, I come up with a lyric phrase first. But for me, the main thing is the music and I usually start with that. I follow the music arc and then write the lyrics that go with it. Within (the song's) parameters, finding the notes that fit into the melody. At the same time, the lyric subject matter is important too.

Here's the video of Gavin DeGraw's recording of "You Got Me"
(written by Diane Warren). which is included on McGraw's
Best Of album and featured in the movie, Dolphin Tale 2.
DK: On your album, I noticed the song "You Got Me" was written by Diane Warren. How did you decide to record this song?
DeGraw: She gave me a call. We've been flirting about doing something together. She said "I've got a song for you," that she felt would work well for me. She then sent me "You Got Me" and it was such a beautiful song. It was a beautiful (lyric) story that fit the sincere, heartfelt sentiment of the film (Dolphin Tale 2, which starred Harry Connick Jr, Ashley Judd and Morgan Freeman).
DK: You've built a large following over the past decade. These days, is it still about trying to write the big radio hit, or is it about just writing songs which are meaningful to you?
DeGraw: It's still very important to write the hit. When I write a song, I'm hoping that not only is the song special, but could be picked up for a hit. There's an art in choosing the right song and (releasing it at) the right time. I'm always hoping for more radio hits—I want people to like the new songs and not just what you're known for in the past.
DK: Thank you for taking the time to do this interview. Is there anything else that you'd like to mention?
DeGraw: I'd like to thank my fans for supporting my music, for giving me a chance to release a Best Of album. I'm in New York today, and I've had a chance to walk around the city. There's a lot of talent in New York that has yet to be discovered. I know a lot of talented people who never got that lucky break (like I have).
Dale Kawashima is on Google+