U.K. Singer/Songwriter Foy Vance Talks About His Album The Wild Swan, Signing With Ed Sheeran's Label, And Writing His Songs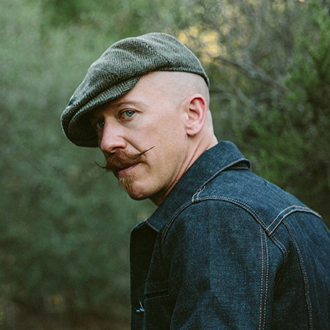 A natural storyteller with a powerful, soulful voice, Foy Vance was a busy gigging musician with a single EP under his belt when a 13-year old Ed Sheeran and his dad began attending his shows in the mid-2000s. Years later, after the Irish-born singer/songwriter had done several gigs with the superstar, he found out that Sheeran had seen him live nearly 50 times before they finally met. Sheeran's enduring love for Vance's music led to two co-writes on X, Sheerans' multi-platinum, two-time Grammy-nominated #1 album—the tracks "Tenerlife Sea" and "Afire Love." When Sheeran formed his label Gingerbread Man Records (a division of Atlantic), he signed Foy, who released his major label debut album, The Wild Swan, in May of 2016. The collection, produced in Nashville by Jacquire King (Tom Waits, James Bay, Kings of Leon), reached the Top 30 on the U.K. Albums chart and the Top 10 on the Irish Albums chart.
Elton John, who served as the collection's executive producer, invited Vance to support him on the U.K. and European legs of this past summer's Wonderful Crazy tour. Following previous opening worldwide tour stints with Bonnie Raitt and Snow Patrol, the singer also did select opening dates in the Summer of 2016 for Josh Groban. Invited by Sheeran to dinner at Elton's house in Los Angeles, Vance and the legendary artist hit it off talking about music and hot current bands all night. Elton asked him to send him the latest songs he was working on, and became a fan, then an encourager and sounding board on the material that was drawn from to include on The Wild Swan.
"Being able to have the likes of Ed and Elton in my corner has been incredible, and when I've supported Ed at Wembley Stadium or Elton at any of his stadium gigs, it's quite something to behold," says Vance, who turns 42 in November. "Being on an Atlantic-affiliated label means I got to work in a better studio for The Wild Swan and employ more musicians than I did on my last album, Joy of Nothing. Yet when it comes to creating music and writing songs, my approach and process has not changed at all. Despite the greater notoriety now, knowing that I'm not aiming to be a big pop star or a singles artist has been very liberating. If I happen to write a song that someone feels compelled to push to radio, then we'll be all guns blazing. But that's never my starting point.
"Everything I do has an effect on my life and how I see the world," he adds, "and I think things often affect me subconsciously when I start writing. I record lots of ideas on the road, then when I'm back home I pluck through the ideas and pick the ones that feel the most relevant to me. It's never lost on me that I get to make music for a living, and the amazing beauty of my life as an artist is that I have opportunities to follow creative trails that I find most appealing. I'm hit either with a lyrical, melodic or chordal idea, which I make sure to document on my phone. I can tell if a song has solid DNA in it because even before I conceptualize it, I am connected to the emotion at its core. The thing that intrigues me about music is that there's always this transcendental element far beyond its component parts. If you get the rhythm, melody, chords and lyrics right, they start working together in a way that's beyond anyone's ability to articulate."

Foy Vance performs his song "Upbeat Feelgood" on The Late Late
Show with James Corden.
Over the years, in addition to his collaborations with Sheeran, Vance has written songs with everyone from reggaeton duo Plan B to Sheryl Crow and British band Rudimental. When it comes to his own recordings, however, he's most comfortable taking care of everything himself. "I'm not snobby about it, but I wouldn't feel comfortable writing with other people for myself, because that feels like my own private joy," he says.
"I don't mind collaborating if the song is for the artist I'm working with or for someone else," Vance continues. "In that case, I'm far more open to connecting with their sensibilities and where they want to take it. With someone like Ed, I'm valuable in those moments when he gets stumped because I'll throw a curveball to help him unblock his thoughts. Sometimes, even an offbeat idea we'll never use can trigger a fresh open door. He'll take a song places I wouldn't go melodically or lyrically, which makes me think about the choices I make. My original spin on 'Afire Love' (co-written with Sheeran & Snow Patrol's Johnny McDaid) was very much from a boy-girl perspective. He turned it into a tribute his beloved grandfather, who passed away after suffering from Alzheimer's disease for 20 years."
One of the impetuses behind Sheeran's founding of Gingerbread Man Records was to give musicians he truly believes in full artistic freedom. Sheeran told Vance to make the record he wanted to, and the singer immediately thought of Jacquire King, who had produced one of Vance's favorite all-time albums, Tom Waits' Mule Variations. "I actually flew out to meet Jacquire in person before I agreed to work with him because I wanted to look in the whites of his eyes and make sure we'd be on the same page. I didn't want something too clean, polished and commercial."
Vance's whimsical storytelling and compelling imagery infuses tracks with intriguing titles like "Noam Chomsky Is A Soft Revolution," a roll-call of musical, philosophical and literary insurrectionists; "Ziggy Looked Me In The Eye," which references David Bowie's "Ziggy Stardust" and inspires the notion of radical personal transfiguration; and "The Wild Swans on the Lake," a Celtic ballad inspired by Irish poet W.B. Yeats' work "The Wild Swans at Coole." Vance's more personal reflections are the gentle, acoustic guitar ballad "Coco" (inspired by good friend Courteney Cox's daughter, who is a friend of Vance's daughter Ella) and the inspirational, gospel music driven "Burden."

Here's the video of Foy Vance's song "Coco".
Vance likes to joke that while his dad would say he wrote his first song when he was 6, he believes he was 24 before he started writing songs that weren't just "shit I made up." In his late teens, he was in a grungy band "writing songs full of contrived philosophy, speaking about things I had no clue about." He later sang in bands that did soul covers. It was only when he started writing songs for the sheer joy of it that he was able to launch a solo career he could be proud of.
"I didn't get into music to make money or be well known, I just knew that every time I picked up the guitar, it was something I loved and I had no idea how to explain it," Vance says. "I loved singing and loved music, and as I got into creating my own songs, I found something of my own that got me excited. So I say to anyone who aspires to be a songwriter, just do what pleases you and let everything else follow. Don't write for radio play or to try to pitch to a specific artist, just make the music you enjoy making. That kind of passion and authenticity will translate, and people will feel it. Another bit of honest advice is, be prepared for a road where you don't make a lot of money. Just let music be your joy. And don't give yourself timetables. I know that if I had even a modicum of this kind of success in my 20s, it would have gone straight to my head, messed up my creative spirit and led me down a much less fruitful path."
Jonathan Widran is a free-lance music/entertainment journalist who contributes regularly to Music Connection, Jazziz and All Music Guide. He can be reached at [email protected]. He is also on Google+