Alt-Pop Duo Flora Cash Talks About Their Hit Single "You're Somebody Else," And Their Other Songs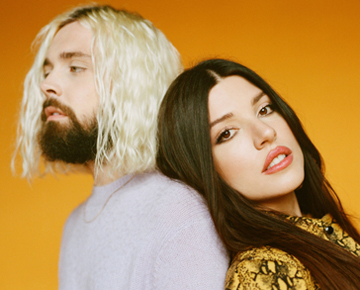 The success this year of alt-pop duo Flora Cash could only have happened in this digital age. Six years after they met commenting on each other's tunes on SoundCloud, Minneapolis native Cole Randall and Swedish-born Shpresa Lleshaj's "You're Somebody Else" is a hit on several platforms, reaching Top 10 on Billboard's Alternative Songs and Adult Alternative Songs chart. The single also made the Top 15 on Billboard's Hot Rock Songs chart.
The track has surpassed 15 million streams on Spotify and the lyric video on YouTube has over 11 million views. In its first 10 days, the duo's official video—which includes poignant clips of fans relating how the song has impacted them personally—scored over more than 335,000 additional views. The song is also a Top 5 at Triple A Radio and is quickly climbing at Alternative Radio. Now based in Sweden, the duo—who married in 2013—recently performed "You're Somebody Else" on The Late Late Show with James Corden and Last Call With Carson Daly, along with their song "Roses on Your Dress." Both tunes are from their second album Nothing Lasts Forever (And It's Fine), which they released in the spring of 2017.
Prior to their breakthrough in America, their 2016 debut album Can Summer Love Last Forever, released on the Swedish label Icons Creating Evil Art, earned them nominations for two GAFFA Awards from Danish music magazine Gaffa, as Swedish Artist of the Year and Swedish Newcomer of the Year. They recently signed to RCA Records for their next single "They Own This Town" and an upcoming album.
Though not originally considered for release as a single by their label at the time, "You're Somebody Else" started getting traction when it was chosen by major Latin American telecom company Movistar for use in a commercial in Mexico promoting safety for young people meeting each other online. "It was a pro bono thing, and we were happy to lend the song for that cause, never dreaming what it might turn into," says Randall. "It's ironic, because we had other material that we felt hadn't been given a proper push and promotion that we felt could have done better. There's a good lesson here for indie artists and writers who are struggling to have their songs noticed. If it hadn't been picked up in that ad, our indie label would never have invested in it. The theme of the song is super relevant to a lot of people and we are grateful that this opportunity came up to receive widespread recognition."
"You're Somebody Else" came to Randall and Lleshaj one night when they were staying at her sister's apartment in Stockholm. "She and her fiancé had gone on a trip to New York and asked if we would like to stay at their place for a change of scenery," Randall recalls. "It was nighttime and we lit a candle in the kitchen. We had not planned to write anything, but the guitar riff came to me and we started voicing these chords. We didn't realize they were the most common pop progression until we started producing it later.

Here's the video of Flora Cash's single, "You're Somebody Else."
"Shpresa and I just started humming along to it," he adds. "The chorus came first in the form of a melody, and the main lyric 'you look like yourself but you're somebody else' emerged organically from that melody. Once we had that, it felt like the song wrote itself. No matter what we write, if we've come up with a poignant hook line, it inspires us to finish. One thing that runs throughout the album is a theme of modern anxiety, whatever that means for each of us. This track really touches on that."
Llesha says that "You're Somebody Else" perfectly represents the duo's simple aesthetic to always stay true to what they like. "We have a motto," she laughs. "We like to write music that we would want to listen to that simply doesn't exist yet. The vibe we have evolved from our different musical backgrounds and simply growing together as both artists and spouses. When we met, Cole was doing what he calls unpolished and raw Americana folkie music and I was writing more atmospheric electronic songs. There was a definite overlap, and the sound that we have created as Flora Cash is a combination of how we have changed in terms of our individual tastes and how we our synergy has grown over the years."
All that development traces back to the moment when Randall's music caught the attention of Lleshaj, who stumbled upon his SoundCloud account and started leaving comments under the songs. Subsequent Facebook messages gave way to an introductory phone conversation, which snowballed into marathon Skype sessions, which eventually led to Randall relocating to Sweden and the duo recording their debut EP Mighty Fine and ultimately getting married.
The dreamy mystique of the music they create offsets the deep passion for life and music at the foundation of their union. The duo stitched together a singular style from threads of personal anxiety, struggle and ultimately triumph. Long before "You're Somebody Else" became a viral and radio hit, they were receiving critical acclaim from indie tastemakers for Nothing Lasts Forever (And It's Fine).
Having recently signed with a major label and coming off a North American tour in support of indie rock bands Joywae and Sir Sly, Flora Cash are excited about the future and establishing themselves well beyond the current phenomenon. When asked what kind of advice they would give to aspiring songwriters, they capture in a nutshell the essence of what drives them. LLeshaj says, "It has to be about the passion of writing, the want and need inside you that has to be let out. Anyone can be taught how to write, but for me, everything begins with hearing those melodies in my head and setting them free as musical expression."

Here's the video of Flora Cash's song, "Roses On Your Dress."
Randall adds: "Songwriters and artists often make it a priority to write a hit, and it's certainly okay to think about what other people may like. Music after all is a social art form that's there to make people happy and bring joy to the world. But your first priority should be creating music that you yourself like, a melody and lyrics you love so much you need to share them. If you get those reversed, and focus too much on pleasing everyone at the expense of what truly motivates you, you run the risk of getting stuck creatively and doubting what you've done. We both loved 'You're Somebody Else' right there when we wrote it at the kitchen table, and based on the response, it was clearly universal enough for many people to apply to the unique details of their own lives."
Jonathan Widran is a freelance music/entertainment journalist who contributes regularly to Music Connection, Jazziz and All Music Guide. He can be reached at [email protected]. He is also on Google+