Pop Singer/Songwriter Ferras Signs With Katy Perry's Label, Metamorphosis Music, Releases EP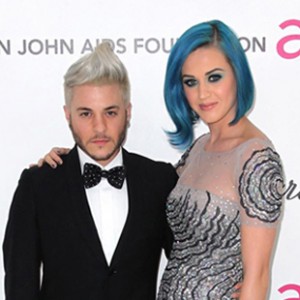 During the North American leg of her Prismatic World Tour, Katy Perry is introducing her legion of fans to her longtime friend, singer/songwriter Ferras—who, as the first artist signed to Metamorphosis Music (Perry's joint venture label with Capitol Records), recently released his new self-titled, 5-track EP. After opening with a 30-minute set, the Jordanian-born, L.A.-based performer returns to the stage for an acoustic segment in Perry's show that includes their powerful duet, "Legends Never Die," one of the featured tracks on his EP. While no official single has yet been released, "Speak In Tongues" is the official "buzz track," and Ferras is working on lyric video to help promote it.
"I think of every song as having its own world," he says of the EP, whose top name producers include Greg Wells, A.C. and Billboard, Benny Cassette, the Monsters and the Strangerz, and Jesse Shatkin. "I try not to categorize it. It's a pop record with many different textures, but it's definitely dark in places. I feel like people are responding so far in a positive way. I know some of that is because Katy's fans are so nice and kind and pay attention because she's been so instrumental in helping me get my music out there. I participate in all of her meet-and-greets, and one of the biggest compliments is when people meet me and say they found out about me through Katy but now they're paying attention because of me and the music. Some have even told me that my music has helped them and even changed their life. It's very gratifying."
Ferras and Perry became friends in 2007 when both were newly-signed to Capitol Records. Ferras released a critically-acclaimed debut album Aliens & Rainbows, whose single "Hollywood's Not America" hit the Billboard Hot 100 and was featured as the exit song during the semifinal round on Season 7 of American Idol. When a new team arrived at Capitol and management at EMI changed hands, the singer was let go from his contract. Perry became a superstar in the interim, but the two remained close. Ferras was devastated for a time, but continued performing and found success writing songs for Adam Lambert ("Aftermath," which hit #1 in Finland), Michael Paynter featuring The Veronicas ("Love the Fall," co-written with Gary Clark), Ricky Martin and recording artists in Germany and Australia.
During some of these sessions, renowned songwriter & producer Desmond Child introduced Ferras to fellow singer/songwriter Sarah Hudson. The two became instant friends and formed a creative bond which has led her to become Ferras' main collaborator, co-writing four of the songs on the EP. Later, Ferras and Perry were both at Fashion Week in Paris when Perry "blew my mind, emoting on me" about how she loved his music and wanted to sign him as the first artist to her new label venture.
"Katy and I had been good friends for years," he says, "and over the years, as I was sort of staging a comeback in my mind and working on songs trying to define my sound, she had been supportive of my music and was always available to offer her opinion. I would send her songs here and there, and she would give me great advice, but she based her decision to sign me on a song I gave her called 'Only Loner', which sparked a business relationship between us. It became even more comfortable for me to send her new material and get her input. She had always been a fan of my music but now we were at a whole different level.
"The greatest surprise was her deciding to duet with me on "Legends Never Die'," Ferras adds. "As my label head, she set up my first official recording session with Greg, who is a genius and whose track record with pop hits speaks for itself. I brought Sarah in and the song just happened and had a magical energy about it. When it was finished, Greg sent it to Katy and she texted me to say she was over the moon about it. Just as we were getting ready to release the EP, I asked her if she wanted to join me on any of the songs and she chose that one. It was appropriate because it was inspired by some of the special friendships among a group of our mutual friends. It's an ode to unabashed free spirits with wild hearts that burn forever."
When it comes to his songwriting process, Ferras says that it's different when he's writing tunes for himself as an artist vs. those he writes for others. "It's much more difficult to write the songs I will be recording, because I am an extreme perfectionist and need to make sure everything I am doing is very authentic. I have to figure out a way to say things that reflect exactly the way I would say it in a conversation. It's a more emotional experience for me. I usually write from a place of having no other way to get something across but through music. The key to writing for others is finding a way to capture their headspace and give them the same thing I seek as an artist, that emotional connection."
Ferras has a unique songwriting partnership with Hudson, a co-writer of Perry's #1 hit "Dark Horse" and onetime member of the club-pop group Ultraviolet Sound. "Sarah's my best friend. We're like soul mates in a way, with that kind of relationship where we don't have to talk, we just have to look at each other to know what the other person is thinking. So when I'm writing songs for me to record, the dynamic energy we have together, that unexplainable magic, is a crucial part of making things happen. We both come from the Desmond Child school of songwriting, where every lyric tells a story. Desmond was a mentor to both of us and he played a big part in helping us develop.
"Generally," he adds, "I'll play a melody on the piano and Sarah will start singing something, then I'll say it's making me feel this way and take it in a certain direction based on that feeling. Then we'll come up with the right title and collaborate on a rough lyric that may be revised a hundred times so that it's making perfect sense. She'll say a word, then I'll say another, and then it just flows. Beyond a catchy melody you want to sing over and over and a thought provoking lyric that makes you feel something meaningful, I think another key to a great song is when the artist has such a strong connection to it that you can't imagine anyone else singing it."
Jonathan Widran is a free-lance music/entertainment journalist who contributes regularly to Music Connection, Jazziz and All Music Guide. He can be reached at [email protected]. He is also on Google+