Top Songwriter Evan Bogart Talks About His Hits with Beyonce and Sean Kingston, and The Writing Camp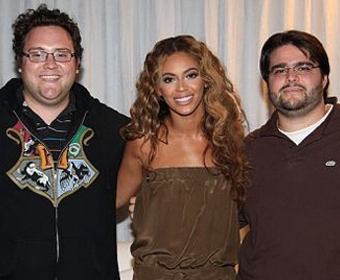 Update: Evan Bogart also co-wrote the Top 10 hit "Tonight, Tonight" for rock/pop group, Hot Chelle Rae.
Hot off of Beyonce's 2010 Grammy-winning "Halo," the track Evan "Kidd" Bogart penned with Ryan Tedder and Beyonce, there's a glow of momentum around this in-demand songwriter and son of the late music legend, Neil Bogart, founder of Casablanca Records.
Bogart's belief is that the music industry is entering a new era of respect for hit songwriters.  After a long period where hip-hop and pop producers held sway over the chart — and, according to Bogart, artists seemed to care more about the sound they created than great songs — Bogart's become a major part of a renaissance where songwriters can be stars in their own right.  He thinks Ne-Yo helped start the new era, where writers like Ryan Tedder, Kara DioGuardi, Sean Garrett and Ester Dean pen hit after hit for major artists.
But for Bogart, the key is not doing it alone. "What I love most about the songwriting process in my own career is the art and fun of collaboration.  I co-write everything because I don't like to be by myself in that proverbial room. I get restless."   Bogart adds that for him, collaborating on songs is like a party for him, being paid for a career he loves where every day is full of exciting creative possibilities.  "To me, a great song is one with an incredible hook, a strong lyrical concept and a jaw dropping melody that just won't let go and you never know where and how those elements are going to come together until you're up against a deadline and right in the heart of the battle. And as in any battle,' he jokes, 'it's much more fun fighting together, than fighting alone!"
Bogart began his career working as an intern at Interscope Records when he was only 16.  By 18, he was promoted by former Interscope Records President, Tom Whalley into the A&R department where he worked on various projects, including 2Pac's multi-platinum posthumous, "R U Still Down (Remember Me)," and Eminem's Slim Shady LP.   By 21 Bogart had launched his own management company, BAT Management, where he helped launch the careers of Maroon 5, Planet Asia, Mystic and Styles Of The Beyond.
But it wasn't until 2002, while managing Dreamworks' artist, Vishiss, when Bogart met multi-platinum producer, and BMI songwriter, J.R. Rotem, that Bogart finally turned his attention back to making his own dreams of songwriting come true.
Working with Rotem and music executive Zach Katz, they put together the R&B trio Raw Candy, but while the group wasn't able to catch on, the songs written by Bogart & Rotem for the artists got the attention of the entire music industry and changed the trajectory of Bogart's career for good.  While the band was never signed, the Bogart/Rotem compositions included what would go on to become the worldwide #1 single "SOS," for Rihanna.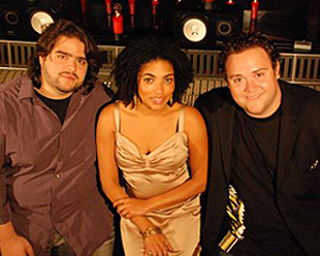 From that moment on, Bogart never looked back, immediately going on to write four songs for Sean Kingston's debut album including the Billboard pop Top 10 single, "Take You There."
In 2007, Bogart's journey led him to his current co-writing team,  Erika Nuri and DQ Quinones, as the three went on to form The Writing Camp, a songwriting collective with the intent of creating a modern day Brill Building environment, where every writer in the stable would bring their own, personal passion along with something unique and different to the table.  From there, the concept has continued to grow with membership now up to six permanent songwriters in the Camp with a roster of songwriters and artists that's growing fast.
Since scoring their first big hit with Brandy's "Right Here (Departed)" in 2008, Bogart, Nuri and DQ have gone on to pen tracks for a virtual who's who of today's Hot 100 — including Adam Lambert, Rihanna, Jesse McCartney, Sean Kingston, Ashley Tisdale, Beyonce, Britney Spears, Donna Summer, Fantasia, Hilary Duff, Jennifer Lopez, Leona Lewis, Kylie Minogue, Jason DeRulo and the Pussycat Dolls.
For Bogart, The Writing Camp concept was an opportunity for him and a mix of participating songwriting veterans to mentor up and comers who have the potential to become major players in the industry. "It's wonderful to work with people and come up with new ideas as a team," he adds, 'the majority of hit songs today are written as collaborations, it's not only the way it really is, but to me, the way it always should be.'
Perhaps that's what led to Bogart and The Writing Camp's newest adventure as they now prepare to enter the world of television.   Partnering with True Entertainment (The Real Housewives of Atlanta) a nationwide search has begun for the Bravo Network's Next Great Competition Breakout Series, Hitmakers: The Search For America's Next Great Songwriter, a concept stemming directly from Bogart's original vision for what The Writing Camp was always all about.
Bogart encourages even the most insecure aspiring songwriter to come out and audition for the show, because 'you never know how many people are out there noodling on their guitars who might just be the next big Hitmaker."
Bogart concludes, "Hey, for some new, undiscovered talent still struggling out there today?  With this show, their dreams could now be just a beat away."
Jonathan Widran is a free-lance music/entertainment journalist who contributes regularly to Music Connection, Jazziz and All Music Guide. He can be reached at [email protected]. He is also on Google+