Actress/Singer Emmy Rossum Discusses Her First Album, Inside Out, And Her Songwriting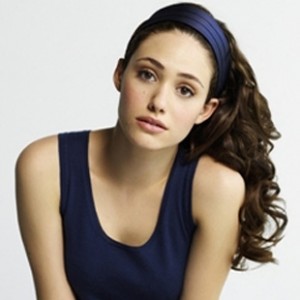 Best known for her Golden Globe-nominated role as Christine Daae in the 2004 movie version of Andrew Lloyd Webber's musical Phantom of the Opera, 21-year-old Emmy Rossum put her thriving acting career on hold this past year to write and record her debut album Inside Out, which will be released in October on Geffen Records. An EP of three songs from the project, including its first single 'Slow Me Down' and an 15-minute 'making of' documentary, was posted on iTunes July 31 and became an immediate hit. Within the week, it was #8 on the Top Album chart and #2 among pop albums.
While Phantom, which earned $150 million worldwide and showcased her powerful operatic voice in addition to her impressive acting skills, is the vehicle that made Rossum a star, longtime fans remember her in a wide variety of roles since she starred in the soap opera As The World Turns at age 13. After being nominated for a Young Artist Award in 1999 for her work in the TV movie Genius, she went on to play the young Audrey Hepburn in The Audrey Hepburn Story and made her big screen debut in 2000's indie film Songcatcher. This role earned her an Independent Spirit Award nomination for Best Debut Performance and gave her the chance to sing a duet with Dolly Parton.
Rossum broke through to major studio films when she played Sean Penn's murdered daughter in Clint Eastwood's acclaimed Mystic River and was later featured in the summer disaster thriller The Day After Tomorrow, which came out just months before Phantom made her a bona fide star. Rossum promises she'll get back to acting soon – her last film was 2006's Poseidon – but these days, she is completely focused on her music.
Working with producer Stuart Brawley, whose producing and engineering credits include Brandy, *NSYNC, Nick Lachey and Celine Dion, Rossum co-wrote every song on Inside Out. She was excited that Geffen had enough confidence to encourage her, as a first-time artist, to find a direction that she was at home with – even if that meant trying things slightly out of the box. She recently shot her first video for 'Slow Me Down,' which is a smooth, inspirational song she wrote as an antidote to a modern world that's always rushing; do that too much, she says, and 'you miss out on what's important, like love and special moments.'
'The music is who I am,' Rossum adds, 'and I'm telling honest stories about things I have been through emotionally in my life. In the movies, I've always felt like one piece of the puzzle. But this is all me. Inside Out is my baby, and I get to write, direct and star. That's the most fulfilling thing and everything I've always wanted to do. I chose the title because over the years I've learned the importance of being comfortable in my own skin. Everyone should have the courage to follow their dreams and be confident in being themselves. When I first went to school, everyone's hair was blond and mine was short, dark and curly. Everyone was thin and I was chubby. But the more I tried to be like everyone else, the more problems I had. This happened when I did my early films, too. If I delivered lines like I thought people expected me to, I was less successful. When I stayed within myself and did it naturally, it was much better.'
Trusting her musical instincts and following her heart on Inside Out, Rossum creates a uniquely lush, almost ethereal vibe that seduces listeners with gentle, sensual truth, rather than show off her mighty operatic vocal range. While the album features strings, loops and live drums by Abe Laboriel Jr., the foundation of the sound is what she calls a 'warm musical landscape' created by multiple vocal textures behind her lead vocal part. 'Slow Me Down,' for instance, is made up of more than 150 different parts and harmonies, every one of them sung by the Rossum herself. Her vocal textures also create the percussion on many tracks.
This approach might surprise fans that expected her debut to fall in the pop-classical vein of Josh Groban or Sarah Brightman, who originated the Christine role on Broadway. Some may think it's a case of opera burnout; after all, by the age of seven, she was singing with the New York Metropolitan Opera, performing in more than 20 separate productions in six different languages at Lincoln Center alongside icons like Placido Domingo and the late Luciano Pavarotti. But Rossum insists that it's more a matter of being eager to explore her vast non-operatic influences for the first time. These include everything from jazz and bluegrass (a style she sang in Songcatcher) to some rap and the esoteric sounds of the Icelandic ambient post-rock band Sigur Ros.
'I felt I had exhausted the operatic part of myself,' she says. 'I've been exposed to a lot of different kinds of music since that period in my life. People have heard me hit the high 'E' in Phantom and I'll use that range to occasionally add different colors. But I wanted to create a kind of music that would allow me to use my voice as another instrument. I sing the parts that would be played by guitar or piano. I tried to discover, how much can you do without instruments? What is the boundary of the human voice?'
Despite the unique vocal textures that dominate the production, Rossum says that Inside Out is full of heartfelt, organically created 'glass half-full' songs that could easily be sung with just vocal and piano. 'Lyrics are just as important to me as the music and I love telling a story that opens me up in a way that I have never experienced before,' she adds. 'This album is about figuring out who I am. It's the real Emmy Rossum. For the first time, I'm not speaking someone else's lines. I feel the most open and able to express myself in a song. It's a little scary, because it's all me!'
'And yes,' she adds, 'making an album this way instead of what some might have expected is a risk for me. But in a sense, I would rather be true to my heart and not play it so safe. I've never played it safe in my life and things always work out for the best. I didn't think I'd get the part in Phantom auditioning after more famous people and I did, so you just never know. I'm happy that Geffen is behind me on this and I know when you create a different sound, it takes time to develop an audience. It may not blow up commercially right off the bat, but that's okay. When artists like Amy Winehouse, Norah Jones or Michael Buble came along, they were different too. But eventually, their music caught on and it appealed to everyone. So it's good to try something new. When you're singing about subject matter that is deeper that what's happening 'up in the club.' you're able to touch people in a deeper, more enduring way. To me, that's worth taking the chance.'
Jonathan Widran is a free-lance music/entertainment journalist who contributes regularly to Music Connection, Jazziz and All Music Guide. He can be reached at [email protected]. He is also on Google+