Elle King Talks About Her Excellent Album Shake The Spirit, Her Hit "Shame," And Her Songwriting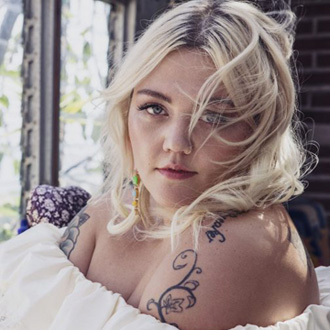 Rock/soul/alternative singer/songwriter Elle King broke through as an artist in 2015, when her sassy, playful hit "Ex's & Oh's" steadily moved up the charts to reach the Top 10 on the Billboard Hot 100, and was a hit in several other countries. Now in 2018, King has returned with her new album Shake The Spirit (on RCA Records), a powerful, no-holds-barred record that shows she has grown as an artist and songwriter.
King has been open about the emotional, traumatic period she went through during the writing and recording of Shake The Spirit. In recent interviews, she has described how she struggled with mental health and substance abuse issues. However, the writing & recording of her new album turned out to be a cathartic and therapeutic process for her, particularly when she closely collaborated with her band members, known as The Brethren.
King's new album is off to a strong start, with the success of "Shame," her lead single. "Shame" has reached #1 on the Billboard Adult Alternative (Triple A) chart, and has also done well on the Alternative and Hot Rock Songs charts. King has made chart history, by being the only artist to have four #1 charting singles on the following radio charts: Triple A, Alternative Songs & Adult Pop (with "Ex's & Oh's") and Country Airplay Chart (for her featured performance with Dierks Bentley on the hit "Different for Girls").
Shake The Spirit contains a good balance of fiery, spirited rock cuts, bluesy, soulful ballads and unique midtempo songs. The key uptempo tracks include "Naturally Pretty Girls," "Talk Of The Town" and "Baby Outlaw," and there are heartfelt, aching ballads such as "Good Thing Gone," "Sober" and "Chained" (a duet with Cameron Neal). Notably, the final cut is "Little Bit Of Lovin'," a midtempo, assertive song about empowerment, that is one of King's favorites on the album.
In addition to the songs she wrote with her band, King collaborated on two songs ("Baby Outlaw and "Runaway") with hit writer/producer Greg Kurstin (known for his work with Adele and Sia). She also co-wrote songs with Ben Gibbard (of Death Cab for Cutie), Tim Pagnotta and Matt Pence.
In a recent interview, King explained why she called the album, Shake The Spirit. "I decided to call it Shake The Spirit because I was shaken to the core over the last year and a half. I was literally talking to ghosts. But making the album not only changed my life, it saved my life. It's like when you see somebody who is struggling, you want to shake them. Putting this record out is like shaking myself awake."
Currently, King is busy promoting her new album, and she's launching a headlining tour, playing intimate venues in the U.S., Canada and the United Kingdom.
Elle King Interview
We are pleased to do this new Q&A interview with Elle King. She discusses her experiences in making her new album, and writing songs with her band The Brethren, and with other collaborators.

Here's the video of Elle King's hit, "Shame."
DK: With your new album Shake The Spirit, you're following up the success of your hit "Ex's & Oh's" and your first album, Love Stuff. Can you talk about the making of your new album?
Elle King: When I started the whole process of my second record, I kind of said to my label (RCA), "Hey, I did pretty good [with my first album], and I want to make this record by myself and I don't want to work with big producers." On my first album, I had worked with producers and I didn't do the album with my band. So this time around, I wanted to work more with my band, The Brethren. The band is my family and I wanted them to be celebrated, too.
I said to RCA, "If it doesn't work, I'll work with whoever you want." I do have a good relationship with my label…I actually enjoy the people that I work with. And they really didn't try to tell me what to do.
DK: What was it like, collaborating with your band, The Brethren, for this album?
King: I was going through a rough period, but my band helped me get through it. We spent a lot of time together, and they helped get through some of the rough times I had. At the time, I had some mental health issues and some substance abuse. I can be honest about these issues because it's out there. But I'm doing much better now and I've got a clear head.
I've been playing with most of the guys in the band for four or five years, so they're just family. We 100% made this record together.
DK: Did you feel more in control of your new album, in terms of the songwriting and production?
King: Definitely. There's just this different level of excitement, because I was involved in every single note, every word—all of it came through me and with my boys (in the band) who are my best friends and my family. There's a togetherness with this record that I've never felt before in anything that I've created or done, which makes it that much more exciting. And when you have this group of people behind you, and they're just as excited because they're invested, it's a really wonderful and beautiful thing.
The guys could see that I was at my happiest when I was playing music and just expressing myself, so we made this album, and it really turned my life around. Making the album was very therapeutic. When I'm playing music, I'm the best version of myself.
DK: I like your new hit, "Shame." What's the lyrical theme of this song?

Here's a video of Elle King performing her new song, "Little Bit Of Lovin'."
King: The theme for this song is one I like to run with. Last year, I hung out with some pretty bad influences. Sometimes you want to hang out with the bad kids, just out of curiosity. What do they do? How much trouble do they get into? I get into a lot of trouble, too. "Shame" is like me…I can be the bad influence. I'm kind of like a bad kid with a good heart.
DK: I read that you wrote "Shame" with Tim Pagnotta (writer/producer & leader of the band, Sugarcult).
King: When my label suggested I work with him, at first I didn't want to write with him because he produced the hit "Shut Up And Dance" (by Walk The Moon), which we were competing against when "Ex's & Oh's" was on the charts. But then I met Tim, and he was the sweetest and most lovely person. It was great working with Tim on "Shame."
DK: How would you describe the music and genres that's on your new album?
King: I think it's definitely a lot more rock than the last album. It's more rock and soul, with a lot of angst in this. We recorded about 30 songs, so a lot of the songs didn't make the cut.
DK: Which of the songs on the album are your favorites, that you're most proud of?
King: I'm very proud of writing "Little Bit Of Lovin'," which is like my favorite song on the record. The lyrics for this song have a lot of meaning to me. Writing the song was a turning point, when I was coming back from a dark place.
I'm also proud of "Chained," which I wrote with my very good friend, Cameron Neal, I'm so proud of this song that Cameron and I did together.
Another favorite is "Naturally Pretty Girls," which is something that people can relate to. I'm not singing about my mother on this song, but I grew up with a very beautiful mom and very beautiful cousins. And I was always compared to them, and I was always more chubby and more awkward looking. This was just this song that came out. Not everyone can wake up feeling so beautiful and perfect every day, so I think people can relate to that.
DK: You write really fresh, creative lyrics that are honest and get to the point. How do you come up with your lyric ideas?
King: Sometimes I would come up with lyric ideas when we were playing the music. And sometimes, the lyrics would come out…very stream of consciousness. I also write lyrics in a notepad. [The lyrics] are true stories. I write about my different relationships and different things I've gone through in my life.

Here's a video of Elle King performing her new song, "Naturally Pretty Girls."
DK: Thank you Elle for doing this interview. Is there anything else that you'd like to mention for this article?
King: I want to advocate for female rock artists. There are others who are out there leading the way but I wanted to [push that forward].
Also, I'm really proud of my music and the songs and my band…it's the most exciting time. I think that I've grown as an artist and as a songwriter and musician. Making this record was a cathartic process for me. It bought me the time to become this much stronger person that I am now. I know that I can look at this thing and see that a lot of these hard times are behind me, and I've got this tangible piece of work that's about everything that I went through. This whole record was me climbing my way through. So some of it's kind of aggressive, some of it's intense, some of it's soft and sad, and there's some soulful stuff in there too.
Here's the link to Elle King's site: https://www.elleking.com/