Sydney Sierota Of Echosmith Talks About The Band's New EP Inside a Dream, And Their Songwriting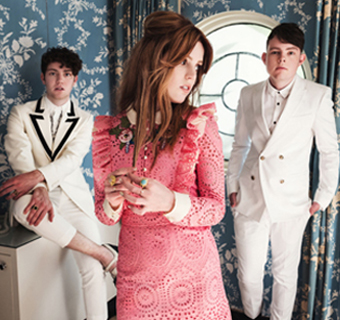 Bringing the great tradition of sibling groups into the contemporary pop landscape, the Los Angeles-based alt-pop band Echosmith (consisting of Sydney Sierota, Noah Sierota & Graham Sierota) broke through in 2014 with their infectious hit single "Cool Kids," which reached #13 on the Billboard Hot 100. It was Warner Bros.' fifth best-selling digital song of the year, with over 1.3 million downloads sold. Released from the Sierota family's gold-certified debut album Talking Dreams, "Cool Kids" was that rare crossover hit that received airplay on modern rock, hot AC and contemporary hit radio stations. Warner Bros. laid the foundation for Echosmith's new follow-up, the seven track EP Inside A Dream, by releasing the cuts "Goodbye," "Future Me" and the acoustic song "Dear World" as singles.
A song about teenagers longing to be noticed by the in-crowd, "Cool Kids" made Sydney (lead vocals, keyboards), Noah (vocals/bass) and Graham (drums) an immediate sensation, appearing on The Ellen DeGeneres Show, The Tonight Show Starring Jimmy Fallon, The Today Show, Late Night with Seth Meyers, The Late Late Show with James Corden and other shows. In addition to sold out shows throughout Europe and the U.S., the band joined Taylor Swift as a special guest on her 1989 tour stop in Philadelphis to perform their hit. They followed up with another Top 40 chart hit, "Bright." Reflecting a unique communal approach to songwriting, both songs are credited to Echosmith and their father, producer & songwriter Jeffery David. The family collaborated on "Cool Kids" with upstart composer Jesiah Dzwonek and on "Bright" with hit songwriter, Mozella.
The EP Inside a Dream marks a fresh direction for the group, showcasing a more mature and evolved sound. Part of that is a reflection of the young band's coming of age over the past few years. Graham is now 19, Noah is 22 and Sydney is 20. She says, "We were able to be more honest and vivid with our lyrics, and dedicate ourselves to more personal stories than we were able to share on our debut, simply because my brothers and I are four to five years older and have lived more life and have more interesting experiences. When you're writing at 14 or 15, you're kind of making things up or writing about love songs rather than living those experiences."
Another major change is that the tight-knit siblings had to come to grips with the departure of their older brother Jamie, whose guitar was an integral part of their earlier sound. Jamie chose to leave after the last album to spend more time with his wife and son. "At that point, we never had another musician on stage with us," Sydney says. "That literally forced us on a journey of having to discover this sound. We still had electric guitars, but they weren't the center of the music anymore. We had to figure out who we wanted to be outside Jamie and how we would sound. The keyboards, pads, percussion and vocals became the focal point. We began recording and writing constantly at the same time. We wanted to write as honestly as possible. There were no narratives. It was all life experiences and truth."

Here's the video of Echosmith's song, "Future Me."
Noah describes Inside a Dream as "the culmination of a year and a half of tirelessly working to define who we are. We not only grew as musicians but as people. The stories we've told on this EP are our stories that we're living right now."
Any fears that Echosmith had about their continued ability to thrive as songwriters were calmed within the first few minutes of their first post-Jamie writing session. Hit songwriter Mozella asked them what was going on in their lives, and encouraged them to write about something personal. Echosmith, Mozella and their father, Jeffery, wrote the autobiographical "18" in about two hours. Sydney describes it as a "coming of age song and how hard and awesome it is to be that age." She adds, "There are so many challenges to becoming an adult. You think you have to have everything figured out by then, but you don't." The germ of the song started with the initial conversation with Mozella and the lyrical catch phrase "Hurts to be 18" that emerged from it. Interestingly, the lyrics "Take me on a ride/So I don't feel invisible. . .So I don't fade away" relate thematically to the outsider theme of "Cool Kids."
"'18' started with those lyrics, and with Noah and my dad coming up with chords on the piano," Sydney says. "Then, Mozella, Noah and I worked together to develop the melody and lyrics. Because we're family, there's an innate chemistry going on, which is awesome because you want to have that natural chemistry and don't want to force anything when it comes to songwriting. When it's just us and our dad, it's naturally a little more comfortable, and even if what we come up with sucks, there's no judgment. We do a lot of tunes that way, but it's always exciting to bring in an incredible hit-maker like Mozella. It's great to let that new energy come in the room. She's always go-go-go and it's fun to pick up on that dynamic and see where it leads us."
At the heart of Inside a Dream, Echosmith cling to the message that drove them from the start, which is their mission statement, "to spread hope and love through music to the whole world." That message is driven home by the last track on the EP, and most recent single, "Dear World," which is the band's heartfelt journal entry to the world, encouraging positivity and unity. As a unit, the band states that the acoustic song is "our love letter to the planet. In the midst of all the chaos going on right now, we wanted to share this song in our best effort to share some hope. We feel like we can all be part of the solution and now it's our chance to be the change!"

Here's the video of Echosmith's new song, "Dear World."
In May 2016, Echosmith tweeted that the rock band Switchfoot was a huge influence on the band, and one of the reasons they started making music. Sydney says that the San Diego alt-rockers' concert was one of the first the Sierotas ever saw as a family. So it was a huge thrill when the group's frontman Jon Foreman agreed to join them for a songwriting session. "My dad, Noah and I had the words 'Dear world, I'm writing a song for you," and we asked Jon what he thought. He loved it and came up with these magic lyrics to help develop the song from there. We spent a few hours in the studio vibing back and forth. Besides being hilarious, Jon is an amazing lyricist and some of the lines he came up with were genius. There are no need for word 'placeholders' when Jon is in the room."
Sydney has to reach back into her mid-teens to recall the songwriting process behind "Cool Kids," but she remembers that they had a solid melody before they came up with the inspiring lyrics that made the song a hit. "It was so hard to write that it almost didn't make the album," she says. "I remember we were going back and forth on the lyrics for the verse when dad came up with the great idea to tell the story from a narrative standpoint, with a girl speaking in the first verse, and a boy in the second, even though it was our own personal story. Doing that made the song more universal. It's a very vulnerable song, but one we can all relate to—about the desire to fit in and want to be like somebody else. I am thankful that people of all ages have told us that they either feel that way or have felt that way at one point or another in their lives. It comforts me as a songwriter to know that we created a song that everyone can connect with. That's why I tell everyone who asks what the key is to writing a great song—just write from the heart, and the rest will follow."
Jonathan Widran is a free-lance music/entertainment journalist who contributes regularly to Music Connection, Jazziz and All Music Guide. He can be reached at [email protected]. He is also on Google+