Interview With Top Attorney Donald Passman, Author of "All You Need To Know About The Music Business"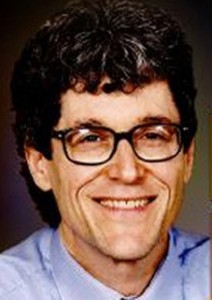 One of the leading attorneys in the entertainment field, Donald Passman practices law with the Los Angeles-based firm of Gang, Tyre, Ramer and Brown, Inc., and he's also known as the author of the best-selling book, "All You Need To Know About The Music Business," which has sold over 300,000 hardcover copies and has been updated seven times since its initial publication in 1991. Having specialized in the music business for over 30 years, Passman's clients include major entertainers, publishers, record companies, managers, producers, and others in the music industry.
Responsible for the record-breaking 'mega' deals for both Janet Jackson and R.E.M., the University of Texas and Harvard Law School grad is listed in The Best Lawyers in America, and has also worked with a number of other major artists. He currently represents Green Day, Radiohead, R.E.M., Stevie Wonder, Paul Simon, Randy Newman, Tom Waits and Pink. Passman has lectured extensively on the music industry, including teaching a course at the USC Law School's Advanced Professional Program, and lecturing for the UCLA Entertainment Law Symposium, Harvard Law School, the American Bar Association, the Practicing Law Institute, and the Los Angeles Copyright Society.
In a new interview for SongwriterUniverse, I had an opportunity to talk with Passman about his best-selling music industry book, how the business has evolved since he first published it, and the state of the industry today.
JW: When did you first decide to write 'All You Need To Know About The Music Business'? How many times have you revised the book?
Passman: The book was first released in 1991 and I have updated it every three years since, so we're currently on our seventh edition, which was published in November 2009. Things change so rapidly that it makes sense to revise on a regular basis to stay current. When I first wrote it, I was still talking about vinyl! The basics are still there, but it's almost a different business today. The one thing that hasn't changed is the fact that great music is still the power that drives the train. What's different of course in the digital age is the way music is distributed and delivered, and the way record companies are structured. The one thing that's actually gotten easier is the way royalties are computed. Companies have done away with a lot of the smoke and mirrors and it's a more simplified system now.
JW: What are some of the most important issues for young artists, which are discussed in the latest edition of the book?
Passman: The biggest mistakes they tend to make is getting tied up in long-term agreements with managers, record companies and producers, without any ability to get out of their contracts if those people fail to help the artist achieve success. They get tied up in a way that can hamstring their career momentum. It's not just up-and-comers. Big names like Bruce Springsteen have had this problem, too. Younger artists can fall into the trap if they're struggling and seeing no progress and someone comes along promising the moon and doesn't deliver. It's always exciting when someone wants to put money and energy into your career, but problems arise if they don't do the jobs you expect them to. The easiest way to protect yourself is to put a stipulation in the contract that you can get out if they don't help you earn a certain amount or sell X amount of albums. Most reputable industry pros will have no problem putting that sort of clause in.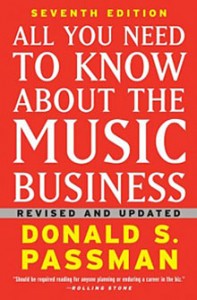 JW: What are some of the most important issues for songwriters, which are discussed in the book?
Passman: Surprisingly, the songwriting side of the business has not changed as radically as the recording side of things. Music publishers are relatively healthy and not affected as greatly by the changing economics. Publishing deals haven't changed much, but writers now have more power. They can get their songs back more easily than in the past, and can work out deals so that they only give up half their publishing. When songwriters start out, they own their own publishing, and unless they are desperate for money upfront, my suggestion is that they're better off betting on themselves and hanging onto their own publishing.
JW:  What advice would you give to young songwriters and artists who are trying to break into the business?
Passman: Things haven't changed much in this area, either. Publishers like to sign artists who are already hooked in with a writer/producer, or who write and produce themselves, or who already have the potential through their connections to have their songs recorded. Pure songwriters have a harder time getting a deal, but it helps if you write songs that any artist could easily cover as opposed to obscure pieces that no one will play commercially. Whether you're an artist or strictly a songwriter, I would still say it's important to make the best demos you can because the people making the decisions don't always have good imaginations. When you're shopping yourself to labels, you have to have strong, polished product to work with.
If you're a band, the larger the following you have, the more clout you can bring with you to a label deal. If you're a niche artist happy in that niche, you probably can go the DIY route, but if your music is mainstream and you want to break through to a larger audience, an established label is, at least right now, the best way to make that happen. For indie artists, there are more opportunities now than when I first wrote the book, and as the old system breaks down, more grass grows between the cracks, so to speak. The old economic models aren't working for everyone so spaces are being filled by smaller labels with a different economic model. They don't need to sell as much to be successful. If you're a songwriter only, it's more difficult, but some publishers will want to work with you, help nurture and develop you and help you collaborate with others in your position.
JW: How does a '360 Deal' work for an artist who signs with a major label? Do artists have to give up part of their publishing? What percent is common these days to give to the label?
Passman: 360 deals, in which the label gets a percentage of ancillary earnings from things like touring, publishing and merchandising, are surprisingly varied in their percentages. Labels can get anywhere from 10% to 35%. All of this is negotiable based on the individual artist's bargaining power. These days, virtually everyone has to give a piece of their 360 rights to get a deal.
JW: If a writer/artist signs with a music publishing company first, does the record label still ask for part of the publishing?
Passman: Yes, they'll ask for a percentage of the writer's or publisher's income. Some want to own part of the publishing, and all want a percentage and usually get it.
JW: For a new artist who is trying to decide whether to sign with a major label, or stay independent, what advice would you give?
Passman: It's that niche thing again, and it depends on who wants you and who could do the best job for your kind of music. Artists definitely get more focused attention with a smaller label, but there is no one-size-fits-all answer.
JW: The music industry has been in slump for many years, especially record sales (CDs and digital). Is there any hope that things can turnaround?
Passman: The business is in horrible shape due in large part to piracy. It's hard to compete with 'free.' If competitors are giving away music for free, it's hard to charge people for it. We're also going through an interesting transition time now because soon the manufacturing of CDs is going to stop and there's no format to replace them. Nobody truly knows what the next step is. I think a big part of the future will be streaming on demand, a cross platform media set-up where you can receive music in your car, on your home stereo, on your personalized device and even on an airplane, all for one subscription fee. Downloads will stick around for a longtime, as will Pandora-like services.
JW: What issues will have to be worked out for a turnaround to happen?
Passman: We have to create a new model that people want and are willing to pay for, and we're all still fumbling with that. It's not the greatest time in the music industry's economic history, but you can't worry about it. Some artists will still make it and be successful because they have the talent, passion and drive to go for it. The winners will always be the passionate ones.
JW: Last question'how does someone find a good music attorney? What questions should they ask an attorney they are considering?
Passman: I devote a whole chapter in book on that! Basically, make sure to check their references and make sure they check out. When you meet them, feel out the vibe and make sure you can communicate well with them and are comfortable with them and the way they do business. Also make sure they are not representing anyone who would create any sort of conflict of interest for you.
Jonathan Widran is a free-lance music/entertainment journalist who contributes regularly to Music Connection, Jazziz and All Music Guide. He can be reached at [email protected].