Dido Talks About Her Album, Girl Who Got Away, And Writing Her Songs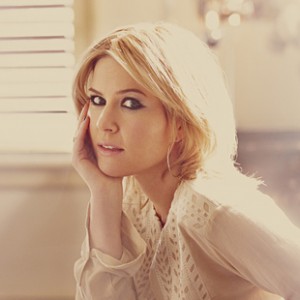 In naming her fourth album Girl Who Got Away, British singer/songwriter Dido found a clever way to explain her four-year absence since the release of her Grammy-nominated 2008 platinum album Safe Trip Home. "It sums up the last few years for me," she says. "Taking a step back from it all and going off to have the whole happy adventure of starting a family and making an album that I am so proud of."
Featuring songs of defiance, hope and heartbreak, Girl Who Got Away finds Dido vibing in the studio with many top songwriter/producers, including Jeff Bhasker, Rick Nowels and Greg Kurstin, in addition to her brother, Rollo Armstrong. Rollo and Nowels worked with the singer on her breakthrough 1999 debut No Angel (which sold 21 million units worldwide) as well as the singer's 2003 follow-up Life For Rent, which sold over 12 million. Girl That Got Away's first single, the anthem-like "No Freedom," was released in January.
The track that had the most impact on Dido's early career was "Thank You," which not only reached #1 on three Billboard charts (Dance, Adult Pop and Adult Contemporary) and #3 on the Hot 100, but was also a foundational sampling element in Eminem's rap classic "Stan"—whose video featuring Dido was nominated for multiple MTV Video Awards. The other popular singles from Dido's debut album were "Hunter" and "All You Want." The singer's 2003 single "White Flag" (from Life For Rent) became one of her biggest global hits and was Grammy-nominated for Best Pop Female Vocal Performance. Safe Trip Home featured collaborations with Questlove, Brian Eno and Mick Fleetwood.
Dido received an Oscar nomination in 2011 for co-writing "If I Rise," the theme to the film 127 Hours with A.R. Rahman. Dido performed the song with Rahman at the Academy Awards while being pregnant with her son Stanley, who was born that July. "I wrote everything on this album before I got pregnant," she says. "And a lot of it was recorded while I was pregnant. It's really fun to think back to when I was singing these songs. Like the title track 'Girl Who Got Away.' I remember the baby was kicking me to the point I thought I was going to fall over!"
Impending first-time motherhood spurred the overriding sense of optimism that shines throughout the new 11-track collection, which Dido completed late in 2012 after taking a year off to spend quality time with her son Stanley and her husband Rohan Gavin. That upbeat energy (driven by waves of infectious beats) infuses the Rick Nowels co-write "No Freedom" (conceived as an ode to true love); the life-loving "Go Dreaming"; and the dynamic "Let Us Move On," which was co-written and co-produced with Jeff Bhasker and features a guest spot from rapper Kendrick Lamar, who MTV recently named the "Hottest MC in the game." Dido is also in good spirits waxing eloquently about redemption in the folksy, autobiographical "Sitting On The Roof Of The World." Fans of Dido's edgier ironic side will enjoy the unique dichotomy presented by "End of Night" with its hardcore breakup lyric couched in lively grooves.
"I felt really free on this record to make a mixture of all the music I love, and that resulted in an incredibly fun, natural and easy experience," says Dido," who wrote and recorded the album in numerous settings: alone at her kitchen table, in various home studios, and in hotel rooms on either side of the Atlantic. "Girl That Got Away has dance music, ambient, dubstep, hip-hop, folk and pop. The kind of creative freedom I experienced reminded me of how I felt making my first record, so it's as if I have completed a big circle with my career. I really feel things deeply and that's why I write songs.
"While I've grown as a songwriter, the way I see the world hasn't changed much," she says. "I write based on how I see and feel things and sometimes based on emotional experiences people share with me. It's all about transferring how I see the world into a song. I wrote and recorded Safe Trip Home during a darker time, and in some ways I enjoyed writing about darker themes. But I'm definitely in a different place in my life now and the upbeat songs on Girl That Got Away reflect that. The album feels really fresh to me and I feel like a new artist, but with confidence that I didn't have at the beginning."
Jonathan Widran is a free-lance music/entertainment journalist who contributes regularly to Music Connection, Jazziz and All Music Guide. He can be reached at [email protected]. He is also on Google+