American Idol Winner David Cook Talks About His Album This Loud Morning, And Writing His Songs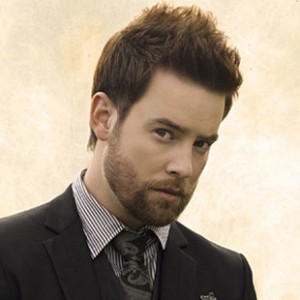 On April 21, two days after the digital & radio release of David Cook's new single "The Last Goodbye," the rocker performed the song to a rousing reception on the American Idol stage where he shot to stardom as the winner of the competition in 2008. While the song is about a relationship that has lingered on a bit too long, it's clear that the singer/songwriter's relationship with his fan base is as strong as ever. Since winning American Idol with a record-setting 56 percent of the nearly 100 million votes cast after the Season 7 finals, Cook has set several Billboard chart records and did a 150-plus show tour in 2009. His second post-Idol album, the Matt Serletic-produced This Loud Morning, is set for release June 28.
One week after being declared the winner, Cook rewrote chart history when 11 of his songs debuted on Billboard's Hot 100 chart — the highest number of new entries in a single week by an artist since the Beatles in 1964. Topping the list was "The Time of My Life," which debuted at #3, making it the highest new entry on the Hot 100 of 2008. It was also a #1 Adult Contemporary hit. Cook went on to sell over a million copies of his self-titled debut album.
Collectively, the songs from David Cook (including the singles "Light On" and "Permanent") sold over 2 million units. Earlier this year, Cook recorded this season's "farewell song," a remake of Simple Minds' "Don't You (Forget About Me)," which is played every week as another contestant leaves the show.
Cook's notoriety, combined with his desire to collaborate with other songwriters, led to some top collaborations on the David Cook album, including co-writes with Espionage, Ed Roland (Collective Soul), Zac Maloy (The Nixons), Jason Wade (Lifehouse), Kevin Griffin (Better Than Ezra), Chantal Kreviazuk and Raine Maida of Our Lady Peace, one of Cook's favorite all-time bands. His debut was produced by Rob Cavallo. Looking to up his game even more on This Loud Morning, Cook continues co-writing with Maida, Kreviazuk, Maloy and Tiemann, who is now the lead guitarist of Cook's band The Anthemic. The new collection also features tracks co-penned with David Hodges, Ryan Tedder, Kevin Griffin and Marti Frederiksen.
"Being able to spend so much time on the road with my band since the first album allowed us to gell and figure out what we do best," says Cook. "Going into the studio this time, the driving question was, 'How do we capture the energy of the live show on a recording. The result has more scope than my debut because we had time to find the right sounds for the right moments. There's a lot of unique instrumentation, including the use of a theramin, which is an early electronic musical instrument that operates on frequency and radio waves. There are also a lot of cool orchestral arrangements, plus some fascinating experiences to draw from, like standing onstage in Manila for 115,000 people as part of a USO tour, in which we visited seven bases."
One of the most compelling elements of Cook's personal story during his time on Idol was the ongoing battle his brother Adam was fighting with brain cancer. In May of 2009 at the Race for Hope in Washington, D.C., Cook announced his brother's death during his awards speech. He finished the 5K with a time of 28 minutes and his team raised over $136,000 for the cause. Proceeds of the sale of Cook's Season 8 Finale performance of "Permanent" on iTunes went towards brain cancer research. During his recent Idol appearance this season, he announced that he would be participating in this year's event.
"My brother died during my tour and I purposely didn't process it so that my show and tour could be a priority," Cook says. "The heavy emotions re-emerged through the writing on the new album, which comes across as very therapeutic. It's not a dark album but there are raw moments. As I infer with the album title, everything has its antithesis, and while going through all those difficult times, there was always a bit of good in the bad and bad in the good—a vibe that flows through these songs so that nothing is really black and white. I enjoy the collaborative process because working with different writers helps pull different things out of me. But to make sure it's ultimately the album I want to make, I came into the process confident and assertive about what I wanted to do. My co-writers will attest to how stubborn I can be. I know what I want to say and how I want to say it. They were great about helping me realize my vision."
While Cook wants to leave the ultimate theme of This Loud Morning open to the listener's interpretation, there are several clear influences behind the dreamlike concept of the opening song "Circadian" (about falling asleep and escaping the day, using sleep as a reprieve), the songs in the middle middle of the album (loosely about the gestation cycle of a relationship) and a track like the David Hodges co-write "R.E.M. (Rapid Eye Movement)" about waking up from a dream and having to face the reality of the next day. Life has been a whirlwind since Idol and sleep is an escape from the craziness and pressures that go along with the joys of fame. Sleep is also a possible diversion from the heavy emotion over his brother's death that Cook began to process when he finally got off the road.
"Sometimes, there is a beauty to having the ability to escape what is bothering you," he says. "A lot of people were wondering what kind of record I would make to follow up my debut, and I have to give 19 Records and RCA credit for letting me and my collaborators do things our way and allowing us to see it through. The record company and I both had very strong ideas where it should go, but in the end RCA trusted me to deliver a collection that would please both sides. Ultimately of course, its fate rests in the hands of my fans and I'm encouraged with the early response to the single and other songs people have heard."
Cook says his favorite part of his post Idol journey has been the live performances. "For me, it's the immediacy of it all, being able to connect with the audience and see how they react during and after a song. It's more fun to vibe them right away. The crazy part of Idol was performing a tune for two minutes and having to wait 24 hours to see if everyone liked or hated it. Getting that immediate response wasn't possible on Idol because of the concept of the show. But Idol taught me to prepare my performance the right way and be ready for and grow from both the positive and negative feedback. I had DIY'd it a long time before Idol, so in many ways I had always been working for the moment that I could be out there, making music for people and having, as my song says, the time of my life. Everything begins with the song, and I've been working at songwriting since I was 14. I would tell anyone who wants to enjoy a meaningful career in music to cultivate their talent and write every day. It's like a muscle. You have to work it for it to take you where you need to be."
Jonathan Widran is a free-lance music/entertainment journalist who contributes regularly to Music Connection, Jazziz and All Music Guide. He can be reached at [email protected]. He is also on Google+