Pop Artist Conrad Sewell Talks About His Debut EP And Writing His Hit "Start Again"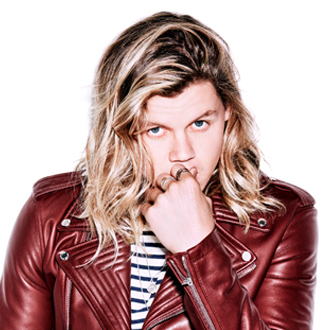 With the release of his debut EP All I Know on the 300 Entertainment label (dist. by Atlantic Records) and a recent U.S. tour opening for British hit artist Jess Glynne, Conrad Sewell is excited about the opportunity to expand Stateside the success he has achieved these past few years in his native Australia. Now based in Los Angeles, the London-born, Brisbane-raised singer/songwriter recently earned 2015's Australian Recording Industry Association (ARIA) Award for Song of the Year for his ballad "Start Again," which topped that country's pop chart and knocked Taylor Swift out of the country's #1 spot. The track also caught the attention of Ed Sheeran and Maroon 5, who tapped Sewell to open for them during the Australian dates of their world tours in late 2015.
Sewell emerged earlier in the year with "Firestone," the international hit that he co-wrote and recorded with Norwegian producer & DJ, Kygo. In addition to amassing over 360 million streams on Spotify, it was a Top 10 hit in Australia and many European countries, hit #1 on the UK Dance chart and reached #12 on the US Hot Dance/Electronic Songs chart. The singer includes an acoustic version of the song on All I Know. "I actually wrote the song for my own album a few years ago and met Kygo through our mutual managers when I was going around and pitching it to various DJs," Sewell says. "He added his own thing to it, building an atmospheric tropical vibe to the simple piano and vocal track I gave him. He added the beats and trumped it up perfectly."
His first solo single, "Hold Me Up," was released a few months later. A Top 40 hit in Australia, it received praise from Entertainment Weekly, Rolling Stone, Perez Hilton, Idolator and other media while accumulating over seven million Spotify streams and earning airplay in the U.S. Sewell's latest single is "Remind Me."
Continuing to build his network of collaborators, Sewell works with an all-star team of writers and producers on All I Know, including Jamie Hartman (Christina Aguilera, Joss Stone, Jason Mraz), Jay Kash (Maroon 5, One Direction), Brian Lee (Lady Gaga, Icona Pop, Carly Rae Jepsen) and Louis Bell. He has also worked with Dr. Luke and Ryan Tedder on other projects. The singer's songwriting process begins simply, with him sitting at the piano and thinking about how to tell stories from his own life experiences. "This can be anything from relationships with girls and going out with friends or whatever else comes to mind," he says. "I try to write songs that are real yet which tread classic ground that anyone can relate to. I always write on a real instrument because if you start writing to beats, you get stuck in a single lane—but with a piano, you can create any kind of vibe and then add the production later.

Here's the video of Conrad Sewell's single, "Hold Me Up."
"The inspiration could come from anywhere," Sewell adds. "Sometimes, I'll wake up in the middle of the night and write a song, but in general, I'll go to the studio every day when I'm in writing mode and start creating whether something is on my mind or not. It's a great challenge to sit down and try to come up with something great every day. It's rewarding because on any given day, I have the potential to write a song that could change my life—and maybe the lives of those who hear it. The reality is, as a songwriter, you can only be successful in such a competitive market if you write a song that really connects with people."
Sewell wrote his hit "Start Again" with Hartman after breaking up with his longtime girlfriend to move to L.A. to pursue his career. "This was my first real heartbreak, and the first time I had been single in four years," Sewell says. "During those first weeks alone, I went through all the usual initial breakup thoughts and really felt that lonely feeling, like, 'Wow, this sucks.' I had the chorus idea in my head from the start and later brought Jamie the song as I played it on the piano. He tweaked things and finished it up and made it what it became with his great production. Jamie always got my voice a little bit more. He brought something out of me that hadn't been touched on before—the soul in what I was doing vocally. From there, we just started writing a bunch of tunes that were more vocally driven. They're all about heartfelt songwriting and an unbelievable performance on the mic."
Sewell was recently tapped by Coca-Cola to collaborate with Swedish EDM star Avicii to create the iconic brand's new anthem "Taste The Feeling." The song, recorded in December in Avicii's studio in Sweden, is available as a free download at Coca Cola's music site. The Coca-Cola collaboration on "Taste The Feeling" marks a shift in the global brand's marketing strategies as, for the first time, all Coke Trademark brands will unite under one global creative campaign. An acoustic version by Sewell is being featured in various TV spots for the new campaign, and the lead single with Avicii will be released soon.

Here's the video of Conrad Sewell's single, "Start Again."
Not surprisingly, in light of the success he has achieved working with so many top songwriters, Sewell thinks that up-and-coming songwriters can all benefit from collaborating with other people. "This is a way to figure out whether or not your ideas are strong and worth developing, and a way to keep humble, because you'll learn along the way that you're not always right," he says. "I liken songwriting to running a tap. If you leave the faucet on long enough, you'll get rid of all the dirty water and eventually something clean, fresh and palatable will emerge. From there, you can draw from your experiences to follow your instincts.
"On the business side," he adds, "you should do what I did, having 50,000 beers, many botched relationships, lots of fails and trying everything I could do to just get into the industry. Every time I felt like I wasn't as good as I thought I was, something exciting would happen. I felt like if I stuck it out, my stars would align. Go with people who believe in you and your potential as a recording and performing artist, not just because you have one good song. And do this for the right reasons. When I get on stage, I want to impress every single person in the audience and create moments they will never forget."