Cindy Wilson Of The B-52s Talks About Her Solo Album And Tour, And How She Co-Wrote The B-52s' Classic Hit Songs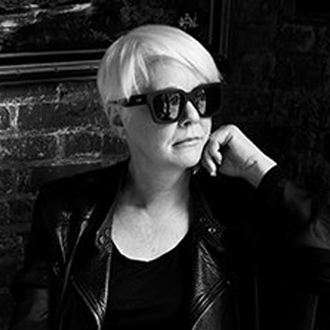 Cindy Wilson is best known for being one of the longtime members of the classic pop band, The B-52s. The group is celebrating its 40th anniversary, and she still tours with the band. Notably, she co-wrote many songs with the band, including their biggest hits, "Love Shack" and "Roam."
In addition to her work with the B-52s, Wilson has recently embarked on a solo career. She has been collaborating with several other musicians from her hometown of Athens, Georgia, and she has released two solo EPs: Sunrise (released in September 2016); and Supernatural (February 2017). On top of this, Wilson has just released her first solo album, Change, on the Kill Rock Stars label.
For her solo projects, Wilson has teamed up with three musicians who also contribute to the songwriting. She collaborates with Ryan Monahan (writer/producer), Lemuel Hayes (drummer) and Suny Lyons (producer/musician). Her album, Change, was produced by Lyons in Athens.
SPECIAL FEATURE: STREAMING AUDIO

Here's an excerpt of our interview with Cindy Wilson of The B-52s, who discusses the band's songwriting process, and how they wrote their hits "Roam" and "Love Shack."
Change consists of a wide range of fresh, creative compositions plus a couple of cover songs. The album contains several high-energy, electronic dance songs, as well as some slower, moody ballads. Some of the key cuts are "Mystic," the title track "Change," and "Brother."
Wilson first met Monahan nearly a decade ago, and they began teaming up for gigs, beginning with rock band R.E.M's 30th anniversary event. Wilson and Monahan then got together with Hayes and eventually with Lyons. They first began recording in 2014.
Now with the release of her solo EPs and full album, Wilson has decided to launch her first solo tour. She has already played several concerts in the U.S., and her tour will reach many cities in the U.S. through December. Then in February (2018), Wilson & her band will travel overseas to play shows in the U.K., France, Germany and Denmark.
We are pleased to do this new Q&A interview with Cindy Wilson. She discusses her solo album and tour, and she also talks about the B-52s and their songwriting, and how she co-wrote their hits "Love Shack" and "Roam."
DK: You've been with the B-52s for 40 years. What made you decide to record a solo album and then tour?
Cindy Wilson: Well, it just happened at the right time and right place. All the planets were aligned. I had some extra time, and it was just a good time to get creative and you know, get into music. It's a wonderful [collaboration] for us—Ryan Monahan, Lemuel Hayes and I put together a few songs and it was fantastic. That started our musical relationship. [We later worked] with Suny Lyons, and it became immediately clear we had to bring Suny in to be a part of the band.
DK: With Ryan, Lemuel and Suny, did you co-write with them for your new album?

Here's the audio of Cindy's Wilson's new solo song, "Mystic."
Wilson: They're my partners. I brought a couple of things in, but everybody brought music in and the songs in. It's been a real school for me—I've been loving it.
DK: You've also begun a solo tour with your band. How are the new shows going?
Wilson: It's been really fun. We've got (singer/songwriter) Olivia Jean opening for us, as well as Sarah Jaffe and the Material Girls. We started in Atlanta and we've been going around the country. We recently played shows in Salt Lake City and Denver.
DK: I read that your concert is a conceptual, multimedia-type show. Can you talk about this?
Wilson: Yes, we have video synched up with our tracks and music, so it's definitely more of a show. It flows…it's not like a stop-start. It's beautiful, and we're putting more uptempo songs in our set, so that's really happening.
DK: Will you be performing any B-52s songs in your solo show?
Wilson: Well it's funny. I get up onstage with Olivia Jean, and at the end of her show we do "Hero Worship," which is a song I sang on the B-52s first album. And it's really rockin' and we're having a good time doing that.
DK: Besides your solo album and tour, do you have plans to go back on tour with the B-52s?
Wilson: Oh yes, we continue to work…we've never really stopped. We do four or five dates a month. It's an easier way for the B-52s to tour, and it keeps the machine going.
We went to Australia for a tour last year. But in America, it's easier for us to just keep the machine going and do clusters of shows. We're celebrating our 40th anniversary (as a band). We're expanding songs and changing the set, and enhancing the live show. It's amazing how many people are still coming to see us…we're having a great time.
DK: With the B-52s, what is the group's songwriting process? How did you co-write the hits "Roam" and "Love Shack"?
Wilson: Well, each song was different, but usually our process is that (guitarist/keyboardist) Keith Strickland would bring in the music, and Fred, Kate and I would jam over the music, and we'd construct the songs.

Here's the video of the B-52s classic hit "Love Shack," which was
co-written by Cindy Wilson.
With "Roam," a friend of ours (Robert Waldrop) brought in a poem, and Keith wrote the music. Kate and I wrote the vocal melody and the harmonies, and we turned the poem into more of a song structure with Keith.
With "Love Shack," we again loved doing the jamming. It's a long process creatively, but it's always fruitful and we have a lot of happy accidents that you don't necessarily get by just sitting down and writing the song. So those are always keys to the B-52s' writing. One of my favorite things to do is just let your free-flights fly and tune into the universe, and bounce off of people and just jam. And then we have to listen back and put the pieces of the puzzle together. It can be really frustrating, or it can be very elating. But it's a creative process…it's art. And I guess it's unique, the way we do it.