Singer/songwriter Charlotte Martin Talks About Her Debut RCA Album, On Your Shore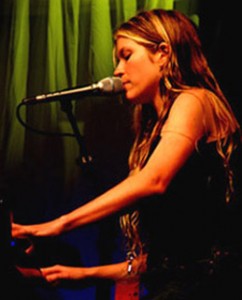 'Music means everything to me'and the next [biggest thing] would be a really nice, big piece of halibut,' notes young singer/songwriter Charlotte Martin. She says this as she basks in the sun outside the Hampton Casino Ballroom in New Hampshire, where Martin is winding up the Chicks With Attitude tour (featuring Liz Phair, the Cardigans, Katy Rose and Martin). She has been touring in support of her first, full-length album on RCA Records, On Your Shore, which was released last month (August 2004).
The Illinois native majored in opera in college, and from a young age was classically trained at piano. After the death of a friend in college, Martin used music as an outlet for her emotions, and wrote her first song for her friend's funeral. From there, she just kept going. Leaving her desire to be an opera singer behind, she relocated to Los Angeles with the goal to sign a record deal and release her album. A year and a half later, she had accomplished that goal via RCA. A diligent artist, Martin has already begun to work on a follow-up to this release, and in the meantime is setting up several new tour dates.
After one listen to Martin's music, there is no other way to classify her than as stunning. Her voice is magical, weaving in and out of melodies, electrifying its listeners and stirring everyone in the room. Her lyrics are captivating, emotive and honest, and when she sings them, you feel them. Martin puts everything into her performances, never holding back, entrancing every audience who is fortunate to see her. Things, however, were not always like that, as it initially took her a year to book her first show in L.A.
Martin moved to L.A. to pursue music as a career, but wasn't exactly sure how she would do it. The first year she was there, she saw no one. She stayed in her apartment and wrote songs. 'My path, I knew, was I didn't have good songs, so I stayed at home and wrote until I felt I had good songs,' she recalled. 'And once I did, my plan was to meet a couple people who could help me books shows. And I did. From there I got a manager and a record deal, but I spent the whole year preparing for those two shows that I did. I wasn't out there just schlepping around, I was trying to [create good music] so I knew that when I finally did play, maybe it would be the right place at the right time and it would work out. It was scary though, like living in a black hole all the time.'
Though the year she spent writing paid off in the end, there were times she had doubts. 'You just put blinders on and you do it,' she said. 'What helped me was giving myself a time frame (to get signed). Even though I broke the time frame. First, it was six months, and then it was a year, but then I got signed at a year and four months. But at six months, I was like, 'I'm going home!' But by then I had already moved to LA and I thought, 'I can't give up now."
What helped Martin to keep pursuing her music career, was knowing that the path is different for everybody. Everyone makes different records and has different people that work with them, so it was difficult to find who would work best with her. 'I didn't know what kind of record I wanted to make,' she said. 'I knew that I loved to write songs and I wanted to express myself. But it was hard trying to piece together the dots of what you should do and what your path should be.'
After Martin's year of writing, she decided it was time to perform live. She decided to play everywhere she could; she played parties, played at residences, and even opted for the expensive route of hiring a band. Martin was soon after signed to RCA Records, and released her In Parentheses, her four-song EP. She was then asked to support Howie Day on his Fall 2003 tour, and she claims that the tour really helped get her road legs, and get serious about her performances. She has since toured with artists such as Five For Fighting's John Ondrasik, Sondre Lerche, and the Pat McGee Band.
Martin's steady touring has helped build a solid following for her, and create strong interest in her new album, On Your Shore. Filled with lush compositions, complex melodies and the soaring vocals of Martin, it is an extraordinary album. The stellar production (which ranges from simple & organic on some songs to orchestral on others) allows Martin's true musical talents to shine through, and her riveting lyrics to truly speak to the listener. It opens with the title track and the lyrics, 'I dig my heels into the dirt/cause this one's gonna hurt,' and then propels the listener through the upbeat and catchy 'Limits Of Our Love,' the graceful 'Your Armor,' and the momentous first single 'Every Time It Rains.' Martin also does an amazing rendition of the Rolling Stones' 'Wild Horses,' which she does elegantly, adding her own touch to the mesmeric song.
'I recorded the songs for the album very classically; I recorded it live,' she explained. 'It was all recorded with me playing and singing, and the drums playing along with me. My goal was to keep it as emotional as possible.' The writing process for this album was very complex, and Martin came out with a collection of songs that tell a sometimes dark, but triumphant story of facing obstacles and overcoming them.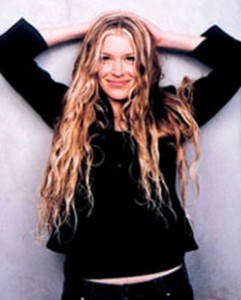 'Sometimes, you work on something for so long, you get a little numb to it, that's why I kept writing and writing,' she said. And the writing process for Martin, is never the same. 'It's different every time. Sometimes I'll start with lyrics, sometimes I'll start with piano, sometimes I'll start with emotion, sometimes I'll start with color. I'll think of a color and want to write a song that sounds like that color. A lot of the songs on this record are the colors of the sky'like that,' she says as she points to the sky, the bright August sun sitting in the midst of the blue sky, framed by white clouds. 'This record is very blue and bright yellow.'
Most of her lyrics are captured within her journals in what she calls word trees: free-flowing links of words in poetic form that capture an idea or feeling. 'I have 18 books filled. Most of my songs come from these. I write to get to the idea, and then the idea will come to me. I had to write through subjects and words and other things to get the idea.'
Martin's songwriting is truly inspirational and compelling, but for a long time, she had no desire to write, and still sees herself doing something different in the future. 'I [initially] had no desire to write. I wanted to sing opera, or go to school and teach. I never wanted to do this,' she said. But it was in college that this route came to her, and though she loves her artist career now, she does see herself exploring other areas in the future. 'I might go to grad school and get my masters in musicology and teach. I love to sing, but I'm ready to go do something crazy. Some scoring or something. I'm ready to do something a little more spur of the moment.' In addition, Martin has been writing a mass. For the past four years she has been working on it, and continues to do so.
Martin has many aspirations, though enjoys her time as a performer now, despite some of the conditions that come along with touring. 'It's a hard life. It's fun'it's so fun. Just the unknown of how you're gonna eat some nights is a little wearing. The music is what saves you.'
She has known the struggles of finding her niche as a performance artist. For Martin, the path was to L.A., and once there, she had to discover her music on her own before she could display it to the world. For other aspiring artists, she offers this advice: 'Keep doing it, and there's no set way to do it. I didn't have a demo; some people use demos. You'll figure out your path as long as you put one foot in front of the other, even though you have a blindfold on the whole time. And if you fall, just get back up, and try to find a light switch. Sometimes, it comes on."
That night, Martin quietly takes the stage and sits gracefully behind her baby grand piano, and when she begins to play the chatter in the room begins to fall silent. Her music expands in the ballroom, the cavernous echo of a haunting voice dancing along the crowd, a timid reflection of her shadow on the wall. Her music brings chills to those in the audience, and those who had not known her music before become quiet. And then to all, it is obvious the immense prowess that this artful young musician has. No matter what path she chooses now, it is apparent she is a masterful musician, and wherever her talents take her, she will put her all into it and live for the music'with a piece of halibut on the side.
Nicole Roberge is a freelance music/entertainment journalist. She can be contacted at [email protected]