Country Singer Carly Pearce Talks About Her Hit "Every Little Thing," Her Debut Album And Writing Her Songs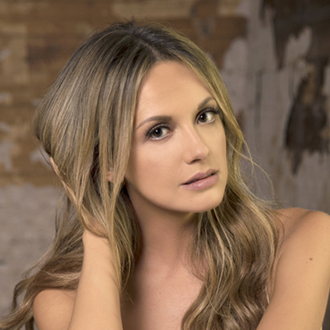 Carly Pearce's breakthrough with her single "Every Little Thing," a Top 10 hit on Billboard's Hot Country Songs chart, is not only a literal fulfillment of the expression "an overnight sensation that took 10 years," but a lesson in taking the time to find one's true voice as a singer/songwriter.
When she was 16, Pearce (who is from Taylor Mill, Kentucky) headed to Pigeon Forge, Tennessee and began performing six shows a day, five times a week. Signed to a development deal with Sony, Pearce's love for Allison Krauss led her management team to steer her into becoming a bluegrass star, a decision that led to her losing a label deal. She subsequently paid her dues during eight years in Nashville, a stint that included 35 invitations to the Grand Ole Opry, including sharing bills with Martina McBride, Cole Swindell, Hunter Hayes and Lucy Hale. In 2016, she scored an opening slot on Kelsea Ballerini's tour and celebrated her first Top 40 Country Airplay hit as a featured guest on the Josh Abbott Band's single, "Wasn't That Drunk."
Pearce ultimately landed a new label deal, signing with the Big Machine Records. In addition to the single "Every Little Thing," Big Machine had a unique rollout of five promo singles by Pearce from June through October of this year—"If My Name Was Whiskey," "Color," "I Need A Ride Home," "Dare Ya" and "Hide the Wine"—leading to the October release of her debut album Every Little Thing, which was produced by busbee, a pop & country hitmaker who's had success with Maren Morris, Pink, Jason Aldean and other artists
A few years ago, Pearce was told that appearing in a music video and becoming a backup singer with Lucy Hale as the Pretty Little Liars TV star was launching her own singing career, would hurt her own chances for solo stardom. Fortunately, the opposite happened, as her work with Hale led to meeting writer/producer busbee and music publisher Daniel Lee, who is now VP Creative, BMG Nashville. The two signed her to a publishing and artist development deal.
"It's funny that once I moved beyond the bluegrass phase, I've always made the same kind of music and always wanted to be the kind of artist I am now," Pearce says. "But I finally had this amazing team in my corner who understood who I wanted to be and could make things happen. The funny part is that they signed me based on a bunch of bad demos. Daniel (Lee) will tell you that the songs they heard from me were just not that good. But he and busbee had been looking for three years for an artist they wanted to work with. When they signed me, it was probably the worst time to be signing a female solo artist, but they liked my drive and sense of knowing who I was as an artist. I had persevered for years up till that point, and was willing to let them help me. I knew who I was but still wanted to be guided."
Five of the 13 tracks on Every Little Thing are co-writes by Pearce and busbee with other songwriters, with each co-writing three songs with other writers. "He and I work so well together," she says. "He's an amazing tracking person, knows the right pace to work at and edits brilliantly as we go. He's the overall backbone of the songwriting experience who understands my voice, my phrasing and what makes me sound best. It's exciting and inspiring to bounce ideas off him during the process."

Here's the video of Carly Pearce's hit single, "Every Little Thing."
The hit "Every Little Thing" is a collaboration between Pearce, busbee and songwriter Emily Shackelton, who also wrote the song "Careless" with Pearce and has worked with the singer for five years. "Every Little Thing" is based on the true story of the singer's heartbreak, and an opportunity to tell her story in a vulnerable way that draws slightly on her love for Allison Krauss' haunting sound. Pearce says, "I went to Emily first to help me write a soulful ballad about the situation. She tapped into the emotions I had and helped me develop my original idea. She's my go-to person who like busbee knows the kind of artist I am. I feel comfortable sharing personal details about my life with her. On this song, busbee did the edits and tracking and put everything together."
"If My Name Was Whiskey," a song co-written by Pearce, busbee and hit Nashville songwriter Shane McAnally, was the final one composed for the album. Pearce started to sing the melody of the chorus, and then she and McAnally started bouncing lyrics off each other. "It's hard to explain the rapid fire that was going back and forth," she says, "but I would say something, Shane would say something, and then busbee would edit. Everything literally poured out in an hour, and busbee created an amazing vision for the backbone of the track. The title was Shane's, but it came from me thinking about the fact that a lot of people in love feel like they're playing second best to alcoholism, or that they're anything but #1 in their partner's life. It was easy to tap into that subject and create images related to whiskey."
Reflecting further on the songwriting process for her album, Pearce says that the most important aspect was her willingness to be daring, pour her heart out and be vulnerable and transparent about the experiences she had been through and all of the emotions surrounding them. "Some days you can be in the studio and literally nothing comes out, and other days there's this creative magic in the air like when we wrote 'Every Little Thing.' The stars align and everything happens the right way. The most important part of songwriting and co-writing in particular is making sure you know your role in the room. The perfect songwriting team is one where there's a meshing of everyone's strength to create that magic together."
With Pearce's emergence, there have been stories in major media outlets that have chronicled aspects of the struggle and frustration the 27-year-old singer had endured since she landed in Nashville just shy of her 20th birthday. Her reflections on the multi-faceted journey easily double as advice to others who have similar aspirations: "I think success comes from being there for the long haul process and remembering it's not going to happen overnight. At my core, I know that this is what I was meant to do, and I think when you're wired this way and your family and God know you're wired this way, you keep fighting every step of the way, even through those moments where you're wondering, 'How do I do this?'

Here's the audio of Carly Pearce's song, "I Need A Ride Home."
"I feel like God gave me those little cracks in the door to let me know that this was the path I needed to be on. I put in so much work and waited patiently until I found the right development team even before I got a record deal. That patience ultimately allowed me to make an album that represents 100% of who I am. This is all I've ever wanted. Just the thought that one day I could be one of the female artists that could make an impact kept me going."
Jonathan Widran is a free-lance music/entertainment journalist who contributes regularly to Music Connection, Jazziz and All Music Guide. He can be reached at [email protected]. He is also on Google+