Pop Band Capital Cities Talk About Their Hit "Safe and Sound," Their Debut Album, And Writing Their Songs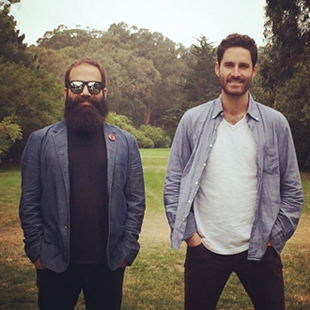 Fresh off their two-month stint as opening act on the North American leg of Katy Perry's Prismatic World tour and gearing up for their Fall 2014 U.S. headline tour, Ryan Merchant and Sebu Simonian—collectively known as indie pop/alt-dance group Capital Cities—have been on an exciting roll since the release of In A Tidal Wave Of Mystery, their 2013 debut album on Capitol Records. Its lead single, the infectious, trumpet laced synth-pop driven "Safe and Sound," became the band's breakout hit, reaching #8 on the Billboard Hot 100 and Top 10 in many other countries.
Capital Cities' latest single "One Minute More," was not released as a stand-alone track. Instead, the band included it on the recently released Deluxe Edition of their debut album, which also features remixes of several songs and a cover of the Prince-penned Sinead O'Connor hit "Nothing Compares 2 U." Simonian explains that at the time of the official release of In A Tidal Wave of Mystery, the production they had of "One Minute More" wasn't up to their exacting standards, so they waited until they had it right to release it. The song is featured in the commercial for BRP's new Sea-Doo Spark watercraft and was tapped for the soundtrack for The Weinstein Company's film The Giver, starring Meryl Streep and Jeff Bridges. It is also included on the Iron Man 3: Heroes Fall (Music Inspired by the Motion Picture) collection.
The duo's dedication to sonic perfection also led them to create a total of seven or eight versions of "Safe and Sound" with different tempos and instrumentations, until they nailed one that was perfect for radio. The defining trumpet line that runs through the track was only included after eight previous takes. A discussion of these numerous approaches to this massive hit leads Simonian to discuss how he and Merchant, who met via Craigslist in 2008, evolved from their successful jingle writing partnership into writing and producing tracks that would make them pop stars. Their jingle career included accounts for Honda, Walmart and Home Depot and included a piece that required a cover of David Bowie's "Space Oddity," which was approved by the rock icon himself.
"Throughout that period, we kept working on our solo projects and writing songs together and decided to started a band," Simonian says. "The experience of writing songs for commercials made us much more proficient in our pop songwriting. From writing so much music from commercials that wasn't used, we had a back catalog of ideas and melodies already recorded. We started writing our album in 2009 and it took three years to complete, because we weren't signed so we took our time and followed where our inspiration took us."
Unlike the advertising world where jingles are most often written on assignment, Capital Cities' songs generally emerge from what Simonian calls "a whim depending on the mood of the day." The process usually begins with an interesting synth sound and a melodic idea, and the duo lets the mood and the music dictate the topic. "The lyrics are really important to us," he says, "so once we hone in on a hook or a lyrical idea, we start fantasizing and brainstorming on a story or a lyrical kind of motif. Then comes the beat. We spend a lot of time on creating danceable grooves that we can loop and listen to over and over and not get sick of. Then we put everything on the table and see what sticks."
Simonian and Merchant wrote "Safe and Sound" in 2009 and it was first released on their self-titled, independently-released debut EP in 2011. As with some of the other songs they wrote, it took a while to complete. The two wrote the first verse, then created on synth the sounds that later became the trumpet part—and something of a hook of its own. They set it aside for a time, and upon revisiting it later, wrote two more verses and let some friends hear it as a work in progress. Encouraged, they wrote the song's hook and got to work on all the various productions of the song.
"Ryan and I have a very equal, back and forth type partnership," Simonian adds, co-writing both lyrics and melodies and all the deep programming parts. He focuses on the guitars and I do the keys but both of us sing, write and program. 'Safe and Sound' grew out of our desire to write something positive, but with a dark twist."
The 123 million-plus viewers who have enjoyed Capital Cities' Grammy-nominated "official" video for "Safe and Sound" may not be aware that Simonian and Merchant actually created several for the song before this one was shot, including a lyric video. They self-produced and edited the first one, which featured dramatic "then and now" alternating historical film clips of dancing and war from the last century. Another clip depicted the duo being led through a junkyard by a monk. The official clip, directed by Grady Hall, was shot in the Los Angeles Theatre and shows them performing as dancers on the stage from different time periods in the theatre's long history spring to life and compete in dance-offs. The video for "One Minute More" shows the two performing the song with a group of jet skiers, mixed with scenes of a woman coming to terms with her emotions in light of divorce.
"Making videos is part of the artist experience and we love making them," says Simonian. "For the first video of 'Safe and Sound,' we had a great time collecting old and new footage of people dancing in wartime. For the official Capitol Records clips, we spent the whole day at the L.A. Theatre, doing choreo of old school styles as scenes of people dancing in various eras run behind us. The official one was a slight variation on our original concept of showing war and dance happening at the same time, which expresses the yin and yang of life—how you can't appreciate the good without the bad. It was sort of a life observation.
"We organized the clips chronologically to show that even as we evolve, nothing has really changed," he adds. "Humanity has always had dancing and always had war. It was great working with Ryan on these just as it is writing and producing songs together. When two artists collaborate, it helps to have overlapping tastes so there's not a lot of head clashing. If your musical influences are on the same page, most likely you'll forge a fruitful collaboration as we have been fortunate enough to have."
Jonathan Widran is a free-ance music/entertainment journalist who contributes regularly to Music Connection, Jazziz and All Music Guide. He can be reached at [email protected]. He is also on Google+