Brandy Clark Talks About Her Dual Career As Rising Country Artist and Hit Songwriter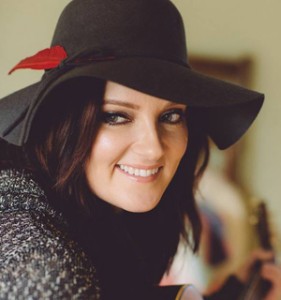 Singer-songwriter Brandy Clark is starting to see what it's like to be on the other side of the fence. The co-writer of Miranda Lambert's Grammy-nominated hit "Mama's Broken Heart" and The Band Perry's chart-topper "Better Dig Two", has seen her schedule kick into overdrive over the last few months. For years she was  the silent voice behind other singer's hits like Kacey Musgraves ("Follow Your Arrow" and "It is What it Is"), Keith Urban ("Come Back To You"), Darius Rucker ("Love Without You"), and Sheryl Crow ("Homecoming Queen") to name a few. Now, she is stepping into the spotlight as a performing artist.
"Most songwriters start out wanting to be artists," Clark said. "You get into it and then you start to see that you're more of a songwriter. An artist is a way different job. By the time I got a chance to make a record and do the artist thing, I didn't think I wanted to do that anymore."
However, her manager, Emilie Marchbanks-Glover, who worked for the Nashville artist management firm Fitzgerald-Hartley, heard some of her demos and offered for the company to pay to record an album. "It was like this dream that I thought I had quit dreaming," Clark recalls. "It took about two seconds for me to say yes."
The resulting album, 12 Stories, has met with rave reviews (Rolling Stone, New York Magazine, American Songwriter, and NPR) and propelled the Morton, WA native from writers' rooms to a road more traveled.
"Making this record and going out touring [in support of] it has given me a lot of respect for artists," she says. "I never really thought about what they have to do and the travel, which is fun, but it's also exhausting. If this does nothing else for me, it's given me a lot of empathy for artists."
"We do have a side of us that's a performer," she added. "That gets to be fulfilled being an artist. The highs are higher and the lows are lower. The rejections are bigger if you're an artist. It's heart-breaking as a songwriter when you have a song that doesn't do what you think it should do but as an artist, it's even more heart-breaking. But the adulation is bigger. You get to stand up in front of the crowd at night, and you're the one who gets to hear the applause for those songs."
Clark got another taste of the limelight in March when she appeared on The Ellen DeGeneres Show in New York. The following day she was in back in Music City for the 22nd Annual Tin Pan South Festival where the people behind the songs are in front of the spotlight. Stuck in traffic, she made it back with only a few minutes to spare  before hitting the stage at the Listening Room Café. With her guitar, she sat in the middle of a songwriting round with two co-writing buds, 2014 ACM Songwriter of the Year Shane McAnally, and Grammy winner Josh Osborne.
"When I said tonight that they've written so many better songs that it makes me want to write better songs, that's the truth," Clark said backstage after the show. "When Josh (Osborne) comes in playing something, I'm going to be touched by it and vice versa. It's funny—Josh always says we were a bunch of misfit toys that nobody really knew how to play with, and Shane knew how to play with us. Shane is possibly the best collaborator I've ever met. He can write with a lot of people because he pulls the best out in people, and he's a great editor. He knows what's right and what's not. Josh can write with anybody. He comes in with a half finished song every day, I feel like, when I write with him."
Clark says penning a song with pals prevents her from squashing good ideas and also can help push her muse down a different path.
"There's a song called "Crazy Women" that Shane (McAnally) and Jessie Jo Dillon and I wrote. I had completely written that song by myself. It was a completely different song, but I had that idea that crazy women are made by crazy men, and I just knew it wasn't right. I took just the idea to them. I never showed them the lyrics or any of the music I had because I knew it was wrong, but I knew what roads not to go down already. So, that was kind of invaluable."
"I used to write a lot more by myself, and I'd like to venture back into that more," Clark admits. "There are certain songs like "Get High." I wrote that by myself. It wouldn't have been right to co-write that song because I knew that story. The closer it is to the truth, the more I'm able to write it by myself. But most songs aren't the truth. Honestly, I get lonely. I like a co-writer. It's hard to sit in a room by yourself all day. It's way easier to sit in there and bounce things off people. The energy that a co-write brings is huge."
Clark first tried to write songs as a little girl. As a teenager, she fell in love with the movies, Sweet Dreams and Coal's Miner's Daughter and attempted to pen songs in that vein until a friend's opinion turned her in another direction.
"A friend of mine said how cool it is when bands write their own songs," Clark remembers. "I thought, I'm going to have to write some songs for our band. I wrote my first songs with my mom, who was also in that band. People loved those songs. That's when I really thought, 'I do have a little knack for this'. Now, they weren't great. They were as great as anybody's first songs ever are. Then, I moved to Nashville. Every step along the way something would remind me that 'oh, I know how to do this', and a lot of times it's people I respect like Shane or Josh. when they love a song I've written."
As a new artist, Clark is able to record songs with taboo topics that other singers wouldn't be willing to tackle like "Get High" about a woman who survives her life by getting stoned. Fortunately, it's that dark comedy side of Clark's writing that is part of her appeal.
"You've got to find laughter in the tragedy," Clark believes. "I think that's just kind of the way I look at the world. It's not something I try to do. I think my family is a little that way. We've had a lot of tragedy, and we've just learned how to cry and laugh until you cry again. My mom always says, 'Sometimes when you want to cry, you just have to laugh.' I think that the truth is a little more palatable. The truth is funny, especially the stuff that's so true you couldn't make it up."
Clark's unique look on the world helped her co-write her single, "Stripes," with Matt Jenkins and McAnally during a writer's retreat.
"These people weren't at their house and their deck was locked. We jumped over the gate and started to write on their deck. Matt and I were really nervous. Every time a car would pass, Matt and I would jump up. As time went on, I got less nervous, and Matt continued to stay nervous. Finally, we were trying to work on a song, and him getting up was kind of getting in the way of it. I said, 'Come on, Matt' I mean the worst that could happen is we'll be wearing orange jumpsuits. Shane says I've always wanted to write a song called "Orange" about a woman who wants to shoot her husband, but she doesn't like the color orange. But nothing rhymes with orange. I said, 'yeah, but everything rhymes with 'Stripes'."
"Stripes" is played in the launch campaign for Beats Music featuring a Super Bowl ad with DeGeneres. Clark also is warming up the crowds for Jennifer Nettles of Sugarland on her solo tour (named after her hit "That Girl"), and touring with Eric Church on The Outsiders World Tour. While she works to build the performing end of her career, Clark continues to write songs as time permits. She offers rising tunesmiths this advice.
"Study the songs and not just the songs that are hits," she said, "but songs you love and why you love them, and then write your song. I started to have success when I would allow myself to write songs like 'Get High,' 'Stripes,' and 'Take a Little Pill.' For a long time I stayed away from writing those songs because they're not real commercial, but I had success. The songs that I've had hits are a little left of center really, but that's the way I think. I can't write somebody else's song better than them, and they're not going to write mine better than me."
Bill Conger is a freelance writer for various publications including Bluegrass Unlimited, GACTV.com, Bluegrass Music Profiles and ParentLife.. He can be reached at [email protected].He is also on Google+