Bebe Rexha Talks About Her Debut EP, Writing Hit "The Monster" (Eminem & Rihanna) And Songs For Other Artists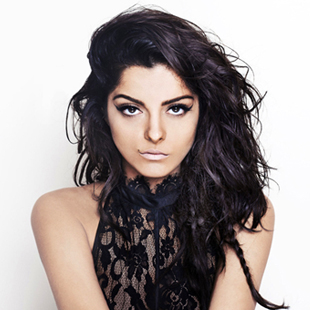 Bebe Rexha's breakthrough as a co-writer of the Eminem & Rihanna's #1 worldwide hit "The Monster" in 2013 should inspire all singer/songwriters to write honestly about the dark, uncertain times in their lives and careers.
While working on developing her own vibe as an artist, the New York born & raised performer—currently working on her debut album for Warner Bros. Records in the wake of two popular solo singles, "I Can't Stop Drinking About You" and "I'm Gonna Show You Crazy"—formed the alternative-electro band Black Cards with Fall Out Boy's Pete Wentz. The group achieved success, opening for artists like Travie McCoy, Panic at the Disco and Bon Jovi. Not long after Wentz disbanded the group to return to Fall Out Boy, she was dropped by her original label (Island Def Jam) and started doubting herself and her direction. She channeled a wide range of emotions, ranging from fear and anxiety to self-acceptance, into a song she called "Monster Under My Bed."
Produced by Frequency (aka Bryan Fryzel), the song originally met with some blank stares from label executives, but when Riggs Morales, A&R exec for Eminem's label Shady Records heard it, he loved it immediately. Eminem got right on board and wrote his own story around Rexha's infectious hook, which was sung by Rihanna. The new track topped the charts in 12 countries (including Australia, Canada, France, Ireland and the UK) and reached #1 on the Billboard Hot 100 chart.
"It was a breakthrough for me because the song is about accepting myself and coming to terms with my anxiety, the panic, all my flaws," says Rexha. "Having led a sheltered life growing up in an Albanian-American family in Brooklyn, I thought people were naturally nice and that my hard work would be rewarded. I was naïve to think as a young girl, someone should save me. So when I wrote the song, I was dealing with being bitter over the harsh reality of being rejected by many in the music industry. Nobody calls you if you're not the hottest thing. It took me a while to realize that all you have is your family and God and what's most important is to love yourself.
"To help me through this struggle," she adds, "I went online to look for inspirational quotes. I found one that said, 'We stop looking for monsters under our bed when we realize they're inside of us.' I started to look within and realized that I had to think about myself, my music and my career differently."
Rexha signed with Warner Bros. in 2013 after a three-label bidding war, and has laid an interesting foundation for her emergence as a solo artist with numerous high profile features and collaborations. She appeared on Cash Cash's platinum-selling dance hit "Take Me Home," Pitbull's "This is Not a Drill" (which she co-wrote) and two David Guetta tracks, "Yesterday" and "Hey Mama," which also features Nicki Minaj and Afrojack. She also performed numerous shows with Usher, including a headlining performance at Summerfest 2014.

Here's the video of Bebe Rexha's single, "I'm Gonna Show
You Crazy ."
While continuing to pen songs for other artists like Selena Gomez ("Like A Champion"), Def Jam artist Nikki Williams ("Glowing") and Tinashe's new "All Hands on Deck," Rexha finally scored a hit of her own in 2014 with "I Can't Stop Drinking About You," an EDM driven anthem produced by The Monsters & Strangerz about drinking through a breakup. The track, which scored remixes by Chainsmokers and Quintino among others, hit the US Top 40 Radio chart, sold over 150,000 singles and has more than 14.5 million streams on Spotify; likewise, its video has over 3.9 million views. Her latest single "I'm Gonna Show You Crazy" scored over 11 million Spotify listens its first month and currently stands at over 27 million. Recently, MTV dubbed her "the anti Katy Perry of pop."
While continuing to address and deal with her personal demons, Rexha draws from her personal experiences with romance, family difficulties and personal challenges to infuse her electrifying tracks with toughness, vulnerability, and above all else, honesty. She calls "I'm Gonna Show You Crazy" a song about "accepting all your flaws and imperfections and embracing the weirdo that you truly are…that I wrote one day in my bedroom as therapy for myself."
The singer is on the record as saying that she didn't expect people to like it, but she's happy to know "I'm not the only one that feels crazy sometimes. All of my writing is based on real things, little sections in my life, and it's all very conversational. But I like to use metaphors and even gimmicky, attention-getting titles to convey certain things."
Explaining her songwriting process further, Rexha adds, "I usually write when something makes me extremely happy or sad, or inspires me to share what's on my mind. I write everything I'm going through in my journal and have pages of notes on my computer to draw from. The stories I've written down can inspire me just as easily as if I'm playing certain chords on the piano and they spark a lyrical idea I want to write to them. In general, I like to write songs that are insightful and deep, but I have my moments when I'm in the mood to write one that's glossy, not so deep and not so gray—the term I use for emotions that are confusing and ambiguous, yet fit just right into a song. The material I'm working on for my album is pretty gray, but there's some of what I call yellow too—for tunes that have more clarity for me. My next project will probably have me emerging from the gray completely."

Here's the video of Bebe Rexha's single, "I Can't Stop Drinking
About You."
When an artist like Rexha can create a hit out of a hook in which she calls herself "Loco, maniac, sick bitch, psychopath, Yeah I'm gonna show you…" it's clear that she's all about laying their heart on the line and holding nothing back.
She's happy to pass along advice to songwriters wondering about the value of this kind of authenticity: "What I've learned is that you need to be true to who you are. If your story is 100% real and you're not trying to be anything else, it will connect. The only way to achieve that is to accept and love yourself. If your goal is just to be a pop star or hit songwriter, you're going to fail because that's not an honest goal. But the moment you stop following someone else's formula, go into the studio with friends you can be honest with and write a song that you truly love, you'll find a joy in the process nobody can take from you. Keep it raw and real. Doing this has helped put me in a much better head space than I was in when I was bitter and dark and wrote '"Monster Under My Bed.' I just want to be myself and not fake it. If people accept me, that makes me happy."
Jonathan Widran is a free-lance music/entertainment journalist who contributes regularly to Music Connection, Jazziz and All Music Guide. He can be reached at [email protected]. He is also on Google+