Songwriter Brett Beavers Co-Writes & Produces Hit Songs For Dierks Bentley And Other Artists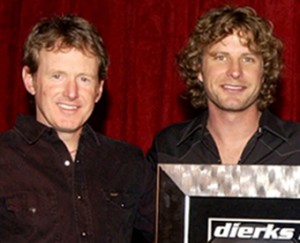 The day Brett Beavers graduated from college with a bachelor of science degree in secondary education, he says he hung his diploma up on the wall and took a guitar down off the wall.
These days, after years of educating himself in the art of songwriting, he's hanging gold and platinum CD awards on his wall as the producer of country artist Dierks Bentley and co-writer of Bentley's #1 hit, 'What Was I Thinkin'.' Bentley's self-titled debut CD on Capitol Records was certified platinum in April. The first single 'Lot of Leavin' Left To Do' (from his second album Modern Day Drifter), also co-written by Beavers, Bentley and Deric Ruttan, is currently in the top 10 on the country charts. And if songwriting and producing don't keep Beavers busy enough, he's the bass player and bandleader for country star Lee Ann Womack's road band.
Juggling the duties of producing, songwriting and touring can be challenging says Beavers, but his songwriting benefits from the varied routine.
'Even though I'm busy and kind of frazzled and there's always these details floating around, it kind of keeps me uncomfortable enough that it helps me write. If I did nothing but write all week I might become too settled. Staying just a little out of control and a little on the edge keeps a creative bubble going. That's probably the reason I'm still playing live. It keeps me out of a routine.'
Beavers' remembers the day he first knew he wanted to play in a country band. He was still in school at the time.
'I had a moment in college where I was at a club and I saw these guys playing music on stage,' says Beavers. 'It was like an epiphany; I thought if I could do anything, that's what I want to do.'
So that's what he did, learning much about the finer points of songwriting and arranging while playing bass in a country band that traveled to dance clubs and honkytonks anywhere within a day's drive of his hometown, Waco, Texas.
'I was getting my musical feet wet and my hands dirty every night in the structure of songs,' says Beavers. 'I began to think like a songwriter. Even driving around in my truck, I would time an intro when a song came on the radio. I knew an intro was between 10 and 15 seconds long. I knew that you had to get to that first chorus in under a minute. I knew all these little things because I was thinking, 'Why is this a hit? Let's break it down.' Slowly these things start seeping in and you start making them your own tools.'
By the time he moved to Nashville in 1991, Beavers' toolbox was well equipped enough that his self-taught skills began to pay off. While continuing to hone his musical abilities by playing bass in Martina McBride's band, he had songs recorded by Billy Ray Cyrus, Ricky Van Shelton, Tim McGraw and Brooks & Dunn. In 1998 he signed a publishing deal with Sony ATV/Tree, and it was there that he was introduced to Bentley by Sony exec Arthur Buenahora, who suggested that the two write together. From the beginning it proved to be a good match-up.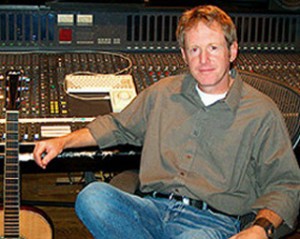 'We hit it off right away,' says Beavers. 'We had a lot in common. We liked the same music and we were fortunate enough to have a good chemistry in the room writing songs, cause it doesn't always happen that way. Sometimes you get together with someone for the first time and it's a labor. This was easy.'
By the time Bentley secured his recording contract at Capitol, with Beavers as his producer, the two had demoed several songs together, five of which made it onto the first CD. However, the song that was to prove to be Bentley's breakout single, 'What Was I Thinkin',' was written last, and then, only at the suggestion of Capitol A&R exec Larry Willoughby. It was Willoughby, says Beavers, who thought the project could benefit from one more up-tempo song. So Beavers and Bentley enlisted the aid of a third co-writer, Deric Ruttan, and the three set to work.
'I knew what I wanted to write,' says Beavers. 'We knew what kind of energy we wanted to have. We wanted a high level of testosterone with a kick-butt track. We started talking about how much we loved Garth Brooks' 'Ain't Goin' Down Till The Sun Comes Up,' which is just slamming with rapid-fire lyrics. We got together and wrote 'What Was I Thinkin'.' We never even demoed it. Dierks played it for Larry Willoughby on guitar and he just loved it.'
While working under a deadline may cramp the creative muscles of some writers, the pressure of time constraints appears to have a positive influence on the collaborative efforts of Beavers, Bentley and Ruttan. The first single off Bentley's new Modern Day Drifter CD, 'Lot of Leavin' Left To Do,' was again the last song written by the team for the project. With just days left before the completed CD was due at the label, Beavers and Ruttan boarded a tour bus Beavers had rented and hit the road to track down Bentley, who was on tour and unable to return to Nashville to write.
'I'd drag Dierks onto our bus and we'd write,' says Beavers. 'I'd get him to write with us everyday. We were on the bus one of those last mornings and Deric and I started playing this groove while Dierks was in his bunk resting. We started to sing this nonsense thing to the groove and it felt so good that we heard this curtain rip open, and Dierks sticks his head out and says, 'Dude, what's that?' I said, 'I don't know; it's just this great groove and you better get out here." So he came out, got a guitar and a couple hours later we had it. It was one of those great, magical, songwriting experiences everybody hopes to have because songwriting is such an ambiguous thing and a lot of days it's not there.'
And not only is it often difficult to have a great songwriting experience, Beavers says, it's also hard to know which songs will become hits. In the case of 'What Was I Thinkin',' Beavers didn't know it was a hit when he wrote it.
'I wish I could say I knew we had a hit right away, but I didn't,' he admits. 'I knew we'd written a rocking little song. I knew we were getting a lot of good reactions from people at the label, but I didn't know it would do what it did. I didn't.'
At least part of his reluctance to predict the song's hit potential might have stemmed from a psychological defense mechanism against disappointment that songwriters often develop.
'You tend to level out the peaks and valley,' he says. "After a while you get tired of getting fired up and going, 'This is it; I've got it,' because, almost invariably, the song won't get cut. And then a song that you only kind of half like will get cut. So you quickly figure out that you really don't know and you try not to go to the highs and the lows.'
Beavers points to another of his songs, 'Something Worth Leavin' Behind,' which he wrote with Tom Douglas, as an example of a song that he expected great things from but which proved to be a commercial disappointment. Recorded by Lee Ann Womack and released as a single, it reached #16 on country charts before stalling.
'That song was a really valuable lesson for me,' says Beavers. 'I was extremely proud of the song and hung a lot of hope on it. And then, when Lee Ann Womack, one of the greatest singers in this town wanted to cut it, and it was going to be the first single after 'I Hope You Dance' sold all those records, it was like, 'All right, there's no way this can miss.' So I did not resist the temptation to get excited. I thought, 'this is gonna shoot to the moon. This is gonna be a smashola."
Beavers cites a personnel shakeup at Womack's record label at the time the song was released as one likely reason for its failure to meet expectations. Or, he says, perhaps the lyrics were more metaphorical and less accessible than the lyrics of most country songs. Still, the experience was enlightening for him.
'It taught me about surviving in Nashville,' he says. 'You tell yourself not to get excited because you get let down so much, but until you get kicked in the gut you don't learn it. Looking back, my lesson was that even when it looks like a sure thing you have to stay in the present and remember that you're fortunate and blessed if you love doing the work day to day.'

Hit songwriter Jeff Crossan is a recipient of the BMI Million Air Award for one million broadcast performances of a single song. Crossan, who is based in Nashville, is also a freelance journalist and cartoonist. He can be contacted at: [email protected]