Ali Tamposi Talks About Her Breakthrough Hit, Co-Writing "Stronger (What Doesn't Kill You)" for Kelly Clarkson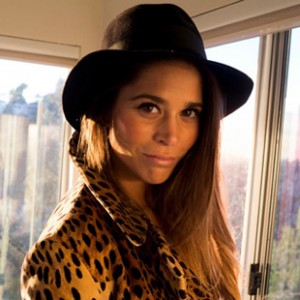 Looking back on the creative spark that led to "Stronger (What Doesn't Kill You)," Kelly Clarkson's #1 Billboard Hot 100 hit that recently earned co-writer Ali Tamposi her first Grammy nomination for Song of the Year, the emerging Los Angeles-based songwriter is grateful for a simple bit of advice her mother gave her while she was in a session with veteran writer/producers Jorgen Elofsson and David Gamson.
The night before, a girlfriend had told her that her longtime boyfriend'who she had maintained a long distance relationship with after moving from her home state of Florida'had gone out with another girl. Her mother consoled her: "Ali, it's not going to kill you. It's going to make you stronger." As he often did when they worked together, Elofsson, who signed Tamposi to her first publishing deal, asked her to read off some titles from a list she kept. He latched onto the initial concept of "Stronger," and the three emerged from the studio that day with a raw piano and vocal version of the song.
Because Tamposi was a newcomer and Elofsson, best known in the U.S. for his hits with Britney Spears ("Sometimes," "(You Drive Me) Crazy") and Kelly Clarkson ("A Moment Like This"), was just emerging from a hiatus, they faced a lot of hurdles in trying to pitch the song to Clarkson or any other appropriate A-list artist. "When we finished the session," Tamposi says, "we weren't really thinking where it was going to go. We were so used to our songs being turned down left and right that no matter how much we liked it, there was no guarantee we would find someone to record it. About two-and-a-half months after that session, we got the finished demo back from David, and soon a lot of publishers and managers were freaking out over it. It was a real adrenaline rush, knowing something big might happen but having no clue when or just how.
"We were most excited that Kelly Clarkson's A&R guy Jeff Aldrich loved it," she adds, 'and he sent it to Kelly's manager who got it to Kelly herself. Kelly wanted to record it but Jeff thought it would work best with an edgier production. The song was synth and piano driven, even a bit dancey as it was. Eventually, they gave it to Greg Kurstin, who was doing other production on the album, and he murdered it with those drums, that faster tempo and pulsing guitar. Kelly recorded it, and we hoped it would be an album cut. Instead, it became the most popular song on the album. The whole experience completely blew our minds'how this tune based on something my mother said was now this phenomenon."
Although at the Grammy Awards, "Stronger (What Doesn't Kill You)" recently lost Song of the Year honors to Fun's "We Are Young," the track's success is opening major doors for the songwriter to work with other great songwriters and a mix of well-established and up and coming artists. In addition to the upcoming release of her songs by Demi Lovato and Ciara, Tamposi's current agenda includes everyone from Selena Gomez, Diplo and Shakira to (Swedish DJ/Remixer) Avicii and Cassadee Pope, winner of Season 3 on NBC's The Voice. Tamposi also worked recently with X-Factor finalists Fifth Harmony, Leona Lewis and Swedish DJ and pop duo Icona Pop. She also wrote track with Adam Levine and Maroon 5 lead guitarist James Valentine for Rozzi Crane, one of the artists on Levine's 222 Records.
Earlier credits include songs for Christina Aguilera and Cher Lloyd and participation in one of the few co-writes on Gary Clark, Jr.'s hit album Blak and Blu, "Glitter Ain't Gold (Jumpin' For Nothin')."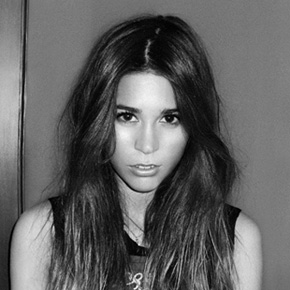 Tamposi began laying the groundwork for her burgeoning career back in South Florida, where she hooked up at 17 with Grammy-winning songwriter/producer Jim Jonsin. Though Jonsin signed her as a developing artist, her natural ability as a songwriter naturally led to to embrace a more behind the scenes role. One of the songs they did in Miami, "Save The Hero" (co-penned with Rico Love) was intended for Tamposi's solo album but ended up as a digital bonus track on Beyonce's iconic I Am'Sasha Fierce album. Though her work with Jonsin provided the springboard, Tamposi credits Elofsson with helping her focus on being a songwriter instead of an artist.
"I came out to L.A. four years ago, still wanting to be an artist," she says, "and while trying to figure everything out I continued writing songs. Just before I was about to give up, in the middle of packing to go back home to Florida, I met Jorgen, who immediately focused on developing me as a songwriter instead of an artist. He proved to be an amazing mentor."
While Tamposi is equally adept with writing "topline" melodies and lyrics, she believes it is her strength with words that will ultimately drive her success as a songwriter. "For me, lyrics are what makes the difference between a hit song of today and a copyright that can be recorded by many artists and stand the test of time. I think we're back in an era of meaningful songwriting, and I think artists like Adele, the Lumineers and Gotye totally get that. Good songwriters are just being true to their emotions and feelings and finding ways to spit them out brilliantly on paper. That's all I aspire to every time I sit down and write. I'm one of the most competitive people ever, so losing the Grammy is fueling my goal to someday win in that category. Getting a chance to work with so many amazing songwriters and artists also helps me up my game. The pressure is on. It's a bit stressful and there are on and off days, but that's really my driving force."
Tamposi adds that the advice she gives aspiring songwriters echoes what Elofsson told her when they first started working together: "It's not a hop, skip and a jump to being successful. Put your head down and watch one foot move in front of the other, taking it one step at a time. It gets easier, then it gets hard and the rollercoaster ride can be grueling at times, exhilarating at others. Looking back, the journey here was actually more enjoyable than the destination, so embrace every moment. And make sure you understand the importance of sending some sort of universal message with your songs, because songwriting is an incredible way to touch and impact people's lives."
Jonathan Widran is a free-lance music/entertainment journalist who contributes regularly to Music Connection, Jazziz and All Music Guide. He can be reached at [email protected]. He is also on Google+