Digital Music Leaders Discuss the Future at BMI's "Content, Copyright & Commerce" Symposium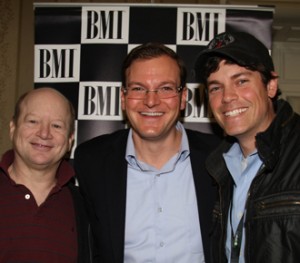 On October 20, 2010, the performance rights organization BMI (Broadcast Music Inc.) presented a timely one-day symposium entitled 'Content, Copyright & Commerce' as part of the Digital Hollywood Fall 2010.
The four 75-minute panel discussions, which included top thought leaders from the worlds of media, technology, business and the arts, featured provocative conversations analyzing and predicting the evolution of entertainment in today's fast paced, multi-platform digital world. The hot-button topics were couched in four uniquely titled sessions. 'Music Downloads vs. Streaming: Who's The Winner?' took a look at the benefits and challenges of each way of delivery. 'Disruption and Innovation: How To Change The Model and the Market' addressed the idea of creating a game-changing digital media start-up. 'Getting Paid, Getting It Made: Creating Viable Music Business within the New Digital Media Ecosystem' was about redesigning the music industry's payment structure in the digital space. Finally, 'The Digital Globe: Copyright Landscape Around the World' featured an international, expert-led conversation about copyright protection.
BMI's stated goal with this first-time event was to spark a dialogue about the future of content and copyright in the digital age, and how artists and songwriters (and the labels and publishers that work with them) can increase their income from digital music sales. 'This event explores the current state of entertainment with an eye to the future,' said Richard Conlon, BMI Senior Vice President, Corporate Strategy Communications & New Media. 'Content, Copyright & Commerce was created with all facets of our increasingly interconnected industries in mind. Our goal is to foster a meaningful dialog about change.'
Michael Drexler, BMI Senior Director, Business Development, says, 'Content, Copyright & Commerce's mission is to bring people together. In addition to highlighting trends in digital media, we'll explore how a healthy copyright market actually cultivates viable businesses for all the stakeholders involved. Our purpose is to educate writers, publishers and copyright holders actively involved in the industry about the latest developments in digital media and point them into directions of future growth potential. Drawing on the expertise of our esteemed panelists, we achieved our goal of summarizing the current state of affairs and where we think the digital media world is heading. BMI wants to position itself as a market leader and thought leader in digital media. Outreach education is important to our affiliates and other professionals in the industry.'
Among the major players in digital music media that were represented at the conference were executives from Dada Entertainment, EMI Music, MTV Networks, 7digital, Landmark Digital Services, Copyright Clearance Center, Bug Music, Rightsflow, Tradescape, AFTRA, Harry Fox Agency, Christian Copyright Solutions (CCS), Guvera, StageIt, Live365, BMI and Tunecore, among others.
Beyond discussions of piracy and the spectrum of digital media consumption that runs from linear to non-linear and interactive to non-interactive, Drexler seemed excited about new "freemium" music subscription services such as Spotify in Europe that offers different service tiers featuring varying degrees of functionality, interactivity and portability at different price points with a free-to-the-user, ad-supported basic tier that can attract a critical mass of users.
'Another very exciting point that came up during the conference was the fact that the demand for music is as high if not higher than it ever was,' he says. "We're creating more value to the consumer by creating better business models that cater to the habits of music fans and allow them to discover and share music in a legal environment. The biggest shift is from product to service and literal ownership to access models. Ownership of product is still important to people but decreasingly so. A lot of this has to do with the way people define themselves through music. In the pre-social media world, music fans loved to show off their CD collections. Now they can substitute that with sharing their playlists on social networking sites that use personalization tools.'
Some highlight quotes from the panel discussions follow:
Jeff Price, CEO of TuneCore: "Record companies have traditionally placed bets on the artists they sign, capitalizing on the fame of those they editorially select to sign and whose product they decide to release. Technology allows us to create infinite shelf space and to replicate product on demand with no upfront cost. My goal is to provide education, opportunity, information and access to people to use us, and the technology allows me to do that in a way that has never been done before. The digital music world is more efficient than the traditional industry because companies don't face product returns. Their gross margins are thus better than before, and so we've adjusted the economy of the label system into a model that allows us to be more successful. There are more ways for people to engage, interact, share music, listen and create playlists now. The challenge is, how do we monetize this in a way that's fair and equitable for everyone? Music is going through a shift but it's very exciting. Stats from the Digital Money and Copyright Act streams show that the money generated from non terrestrial outlets went from $6.4 million in 2004 to $155 million just four years later. People can engage with artists, songwriters and publishers like never before and everyone is getting paid."
Sam Gilchrist, President of Tradescape: With a confluence of technologies, distributors are able to provide a variety of different interactive services, whether streaming of content, tethered or untethered services or, continued electronic sell-through to download services. Each represents something vital in the digital marketplace to consumers to access and consume music from a variety of modes and models. If you look at where dollars come from, it's either the consumer's wallet or subsidized distribution. In the consumer model, it's the pay for play model, where subscription or download content is subsidized through interactive streaming services where an advertiser is trying to access a specific audience. Matching content to audience eventually allows you to increase value. You can't stop this trend, you just have to figure out how to get your content involved in these distribution models. The ownership model is not going away, but the value of ownership is changing, and the right issues with the requirements of who you have to pay is still there.'
Jonathan Widran is a free-lance music/entertainment journalist who contributes regularly to Music Connection, Jazziz and All Music Guide. He can be reached at [email protected].