Timbaland, Melissa Etheridge, OMI, Nate Ruess, Rob Thomas, Charles Kelley, Greg Kurstin, Andra Day, Ashley Gorley Headline This Year's ASCAP EXPO

Here's the video trailer for this year's ASCAP EXPO.
The upcoming 11th Annual ASCAP "I Create Music" EXPO," which takes place this April 28-30 at the Loews Hollywood Hotel, puts attendees face-to-face with some of the world's most successful songwriters, composers, producers and music industry leaders, all of whom willingly share their knowledge and expertise to help up-and-comers take their music careers to the next level.
This year's EXPO will feature many top artists, hit songwriters, producers, A&R and music publishing execs, music supervisors and managers as guest speakers and panelists. There will be a Keynote Interview featuring Grammy-winning writer/producer Timbaland (who's had hits with Beyonce, Jay Z and Justin Timberlake, and is Executive Music Producer of the hit Fox TV series, Empire. There will also be a Keynote session featuring Lady Antebellum's Charles Kelley, chart-topping artist OMI ("Cheerleader), Grammy-winning songwriter Dan Wilson (Dixie Chicks), Rob Thomas (multi-platinum songwriter, solo artist and Matchbox Twenty frontman) and "King Of Reality TV" composer David Vanacore.
To register now, please click ASCAP EXPO REGISTRATION.
In addition there will be a conversation between Nate Ruess, songwriter & vocalist for the Grammy-winning group fun. and ASCAP President & Hall of Fame songwriter Paul Williams. There will also be an attendee song feedback session with top songwriters Desmond Child and Antonina Armato. The lineup also features Master Sessions with rock royalty Pat Benatar & Neil Giraldo, gospel hitmakers Warryn & Erica Campbell, James Fauntleroy (Rihanna's ANTI co-writer), Ashley Gorley (athree-time ASCAP Country Songwriter of the Year); Greg Kurstin (songwriter-producer behind Adele's "Hello" and Sia's "Chandelier"), Ariel Rechtshaid (producer for Adele's "When We Were Young" and Vampire Weekend's Modern Vampires of the City), and an interview with Salt-N-Pepa, the boundary-breaking trio that opened up rap for women.
Other top songwriters, producers and artists who will be panelists and/or attendees at the 2016 ASCAP Expo include: Dave Bassett (writer/producer for Rachel Platten and Elle King), Chris DeStefano (top country writer & producer), Kevin Kadish (writer/producer for Meghan Trainor), Brett James, Jacob "JKash" Kasher (hit pop songwriter), Brian McKnight, Suzanne Vega, Darrell Brown, Andrew Cedar, LaShawn Daniels, The Futuristics (Joe Khajadourian & Alex Schwartz), Sam Hook, Poo Bear, Priscilla Renea, Harmony Samuels and Eric Whitacre.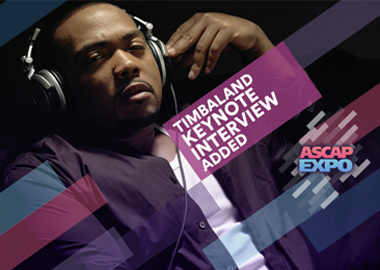 Top A&R and music publishing execs, artist managers and industry pros include: Katie Vinten (Warner/Chappell Music), Eesean Bolden (Epic Records), Amanda Berman-Hill (Sony/ATV Music), Linda Newmark (Universal Music Publishing Group), Gary Miller (Universal Music Publishing Group), Ben Maddahi (Unrestricted Music, Angie Pagano (Artist Publishing Group), Ed Machuca (Atlantic Records), Thomas Crottinger (Prescription Songs), Brandon Kitchen (Disney Music Group), Rachel Jacobson (SONGS Music Publishing), Nick Haussling (Razor & Tie), Gary Greenberg (attorney), Jeff Gray (music supervisor), David Gray (Universal Music Publishing Group), Melissa Emert-Hutner (Nettwerk Music Group), Yvonne Drazan (peermusic), Arionne Davies (ICM Partners), Wende Crowley (Sony/ATV Music), Ian Cripps (Atlantic Records), Allison Wright Clark (music supervisor), Jon Chen (Warner Bros. Records), and Ashley Calhoun (Pulse Music Publishing).
Launched in 2006, ASCAP EXPO is the first and only national conference dedicated to songwriting and composing. Selling out in its inaugural year, the Expo immediately provided a unique opportunity for songwriters, composers, publishers, producers–and those in the industry that support them–to come together in an unprecedented way to share their knowledge and insights. In its short history, the innovative programming offered to attendees has grown to include celebrity Q&A's, master classes, songwriting and composing workshops, publisher and business panels, One-on-One sessions, D.I.Y. career building workshops, showcases and performances, song feedback panels, state-of-the-art technology demos, as well as leading music industry exhibitors. It has grown in scope and star power tremendously in its relatively brief history.